Whether you are remodeling your bathroom or starting from scratch in a new home, no one likes a dripping faucet with lime crusted around its neck.
A poorly fixed faucet looks tacky, is unclean, and also wastes water, whereas a flawless fixture elevates a bathroom.
Given the tremendous amount of hardware options available, it is easy to get overwhelmed regarding what the best fit for your bathroom is and whether size truly matters.
Bathroom faucets are not universal, meaning you'll have to either get a custom one to fit your bathroom specifically, or buy a pre-measured one that fits your brand and style of sink.
All faucets are not the same size and are designed to fit sinks differently, depending on various factors such as sink type, number of holes in the sink, and distance between these holes.
The spacing configuration is particularly important in determining the faucet size and its compatibility with your bathroom.
Though bathroom faucets are not universal, they can be broadly classified into five types:
Widespread

Centerset

Wall Mounted

Single Hole

Vessel
The way your plumbing, fixtures, and bathroom are set up decides which of these are optimal for you.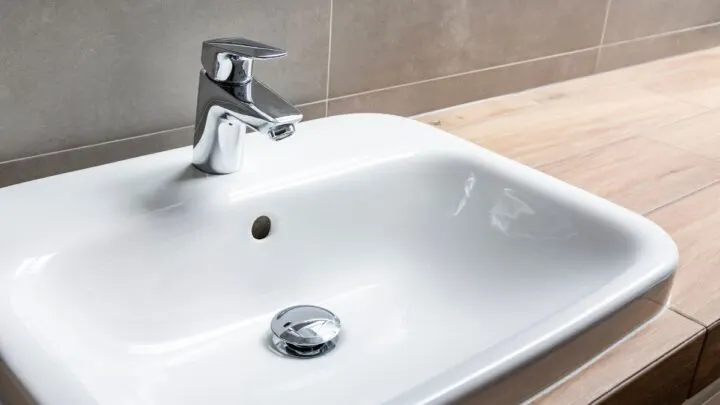 Choosing A Bathroom Faucet
There is no point in splurging on an expensive bathroom faucet if it's not compatible with your layout.
You need to pay close attention to your sink, how your pipes are set up, and the configuration of your mounting and this article will help you do just that.
Sink Type
Although you will not be making changes to the sink or the countertop layout, it is what will eventually collect the water that sprouts from your faucet.
Therefore, its compatibility with the faucet has important ramifications on water flow rate, convenience, and the aesthetic of your washroom.
If you can observe your sink's edges hanging on the countertop, your bathroom has a drop-in sink, whereas an under-mount sink is secured tightly into the countertop's underside with no discernable edge.
On the other hand, a vessel sink is an elevated piece of hardware that is simply placed onto the countertop.
Think about how a low faucet will be accessed on a high vessel sink which would do much better with a wall-mounted faucet.
In this way, the type of sink installed plays a huge role in determining the ideal bathroom faucet.
Holes In The Sink
Each type of sink comes pre-installed with drilled holes, easily viewed from above or below, that facilitate a smooth and easy setup of plumbing connections.
Counting the number of these holes and accurately measuring their distance from each other is critical to determining bathroom faucet usability and compatibility.
In most cases, simply examining the built-in faucet from above and counting the holes is more than enough.
Distinct handles for hot and cold, along with a separate water sprout, is a telltale sign of three holes in the sink.
If you are unable to count the number of drilled holes due to a mounting plate or base that obscures your view, you can try getting a look from the bottom.
If a flashlight from the bottom does not work either, you may have to remove the fixture to identify the holes.
The next step is to measure their spread. The spacing between the center of the outermost holes is what you are looking for, and this may range from four to sixteen inches.
If there are pre-installed handles for hot and cold, gathering the distance between the center of the handles with a tape measure is a good enough estimate.
A three-hole system with a distance of six inches or higher between its outermost holes calls for a widespread faucet, while a lower measure warrants a center set system.
A single hole design demands a different bathroom faucet altogether, clearly illustrating how important the number of holes in your sink is.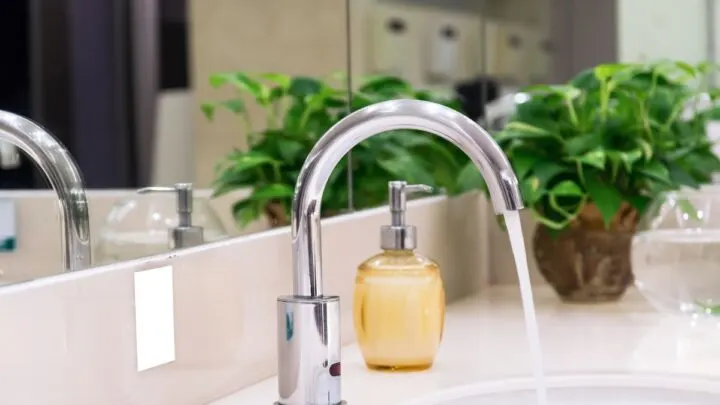 Types of Bathroom Faucets
Once you have identified your setup and layout, choosing a compatible bathroom faucet is as easy as if bathroom faucets were universal.
Widespread Faucets
When a sink has three pre-drilled holes, a three-hole faucet is what you are looking for. A widespread design is one of its most common types.
Any three-hole faucet arrives with a standalone appliance and two separate hot and cold handles, with the double handle system enabling improved control over water velocity and temperature.
The nozzle and valves are combined into a single pool, but cutting and installing three different pipes drives up the installation price.
As the name suggests, the handles for hot and cold are spread wide from each other, and this distance is typically eight inches.
However, a spacing anywhere between six and sixteen inches on a three-hole configuration calls for a widespread bathroom faucet.
Centerset Faucets
Just like the widespread faucet, this three-hole design also contains spouts and handles on a single base unit with distinct handles for hot and cold water.
Simple, modern, and economical, this type of sink is a perfect addition to any washroom.
The only (and major) difference here is the 4 or 6-inch spacing between the outermost holes. Therefore, the handles are also closer to each other than in a widespread faucet.
Wall Mounted Faucets
Somewhat similar to the above two types, wall mounted faucets also require three holes and three pipes for installation.
Why you might opt for these over the other two depends on bathroom layout, sink type, and design needs.
A wall-mounted, over-the-counter, or vessel sink goes well with a wall mounted faucet but either way, this category of faucets looks sleek and gorgeous in any washroom.
The ability to position it at any height allows for greater flexibility, and its look adds the modern finish you may have been looking for.
Single Hole Faucets
Compatible with any number of holes, it just needs one of them and one pipe for installation.
A single hole faucet comes with single or dual-handled options, the former being one pole with one lever and the latter being a sole post with two handles.
Unlike the above three designs where different handles fit in different holes, everything here is linked to the water sprout.
The easiest installation of all, the minimal and simple aesthetic of a single hole faucet is unparalleled.
Adaptable to most washrooms, it is crucial to note that you do not always need to cater to all the holes.
Exposed ones from previous faucet fixtures can be elegantly concealed with base plates.
Vessel Faucets
Also called "tall spout" faucets, this two or three-hole system is tall enough to accommodate vessel sinks that sit atop the counter.
It also contains the spout and handles on one base unit, making it the perfect choice in a situation where you have limited wall space for a wall-mounted bathroom faucet.
The Bottom Line to Bathroom Faucets Being Universal
A bathroom faucet may not be universal to all sink types, but finding the best fit for your washroom is not complicated.
Identifying your sink and assessing its configuration to measure the number of holes and their spread is all you need to do before heading into the market.
Once the size is out of the way, the market is yours to explore.
With abundant designs having handles in all sorts of shapes to endless materials like polished chrome, brushed nickel, Tuscan, and rustic bronze, there is no shortage of options.
The quality of the faucet is also an important consideration but at the end of the day, none of it matters if you have the wrong size.