Working around food restrictions is a pain. But if you accidentally eat some food that does not agree with your body, you could spend all night on the toilet, or worse, in the hospital.
One of the most common dietary restrictions is dairy. Many people around the world cannot consume milk or cheese. Pasta is a popular dish that often has dairy in its sauce, but do pasta noodles have dairy?
Pasta noodles do not have dairy. Fresh pasta is usually made with eggs or egg yolks, but there is no dry pasta which has dairy in it.
A good deal of pasta recipes have milk and cheese as an ingredient. Some canned pasta sauces can also have milk, cream, or cheese. If you make your own pasta dishes, you can substitute the cheese or cream for vegan alternatives.
There are many milk and dairy substitutes to add to or on top of your pasta. It's always good to have dairy substitutes on hand so that you can adapt any recipe and transform it into a delicious dairy-free dish.
Does Pasta Have Dairy?
Pasta is a universally beloved food.
It is so versatile and can easily be adapted across various cuisines.
There are hundreds of different pasta noodles and sauces. The ingredients in pasta recipes all the time to fit dietary restrictions, lifestyle, ingredient availability, and preferences.
So you may wonder if there is dairy in pasta. It is not a stretch of the imagination to believe that some chef in Italy created a dairy-based pasta noodle.
Dairy is added to pasta recipes all the time, so why not pasta noodles?
Overall though, no, dairy is not a common ingredient in pasta noodles. Common ingredients in pasta noodles are salt, certain flours, water, and eggs or egg yolks.
Making pasta with cream or milk is not something to worry about if you want to eat Italian food.
However, there are pasta dishes that have cheese and dairy stuffed into them as a filling.
Some egg noodles may also have butter as an ingredient. If you purchase eggs noodles, check the ingredients list for butter.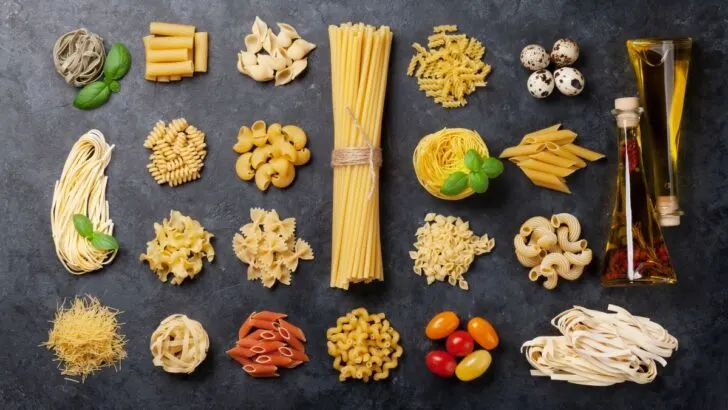 Can You Make Pasta With Milk or Cheese?
You can make pasta recipes with dairy ingredients, like whole milk or shredded cheese.
I'm sure if you were to go to Italy and ask an Italian chef to make pasta with milk instead of water, you would be kicked out of the country. The chef's mother would throw you out herself. They take their pasta seriously.
Which Pastas Have Dairy Filling?
There are so many delicious pasta dishes in the world! You could eat a different pasta dish every day and not repeat a single dish for weeks. Some pastas have a filling inside and those fillings are often made with cheese.
Here are the most common types of dairy filled pasta:
Ravioli – a popular square shaped pasta stuffed with cheese and meats

Tortellini – ring shaped stuffed pasta that usually has a cheese filling

Tortelloni – the most common filling for this type of pasta is spinach, mushroom, and cheese

Cappelletti – cheese or meat dumpling usually cooked in a broth

Agnolotti – this may have a cheese filling, but it usually has meat or vegetable as a filling. But the meat filling could
have cheese added.

Cannelloni

Manicotti – an open round pasta usually stuffed with cheese

Pansotti

Faggotini

Conchiglie
Which Common Pasta Dishes Have Dairy?
This list is not comprehensive by any means, as there are more pasta dishes than there are US presidents and vice presidents. But these dishes will have dairy as one of their ingredients.
Carbonara

Ragu

Chicken Alfredo

Cacio e pepe

Fettuccine alfredo

Gnocchi

Butter noodles
Commonly Used Dairy Ingredients in Pasta Dishes
These are the most common dairy ingredients found in pasta dishes. If you purchase or make a pasta dish, then it is likely that one of these ingredients will be part of the dish.
Burrata cheese

Mozzarella

Pecorino romano

Gorgonzola

Cheddar

Ricotta

Feta

Ricotta salata

Sour cream

Cream cheese

Whipped butter

Butter

Cream

Heavy cream

Half and half

Clarified butter

Asiago

Blue cheese

Goat cheese

Pesto – a basil and pine nut sauce made with a hard cheese like parmesan cheese or pepperoni cheese.
Can Italian Restaurants Alter Some Dishes?
If you want to try a local Italian restaurant's famous ravioli, but you have dairy allergies, they may make an exception for you.
The next time you and your significant other or sibling or friend visit an Italian restaurant, let the server know you have a dairy allergy when they take your drink order.
The sooner the kitchen knows their customer has a dairy allergy, the more prepared they can be to prevent cross-contamination.
If the restaurant has a delicious ravioli on their menu, ask the server if the kitchen can do a dairy-free version.
Some kitchens can't work around cheese, while other kitchens are ready and willing to accommodate their dairy free patrons.
If the kitchen cannot do it, the server will let you know. You can also check Google reviews or Yelp and research Italian restaurants with vegan options.
Any dish marked vegan should be dairy-free. Vegetarian Italian dishes may have some dairy, as vegetarians eat milk, cheese, and eggs.
It is also important to consider that nearly all Italian restaurants will add cheese to pasta sauces or place cheese on top of the dish. So if you order a dairy-free dish, they may put cheese on top of it as a garnish.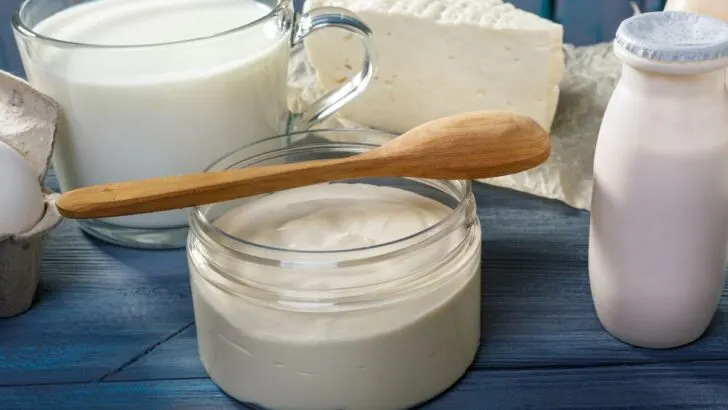 Dairy Substitutes
Some people have dairy allergies that are so terrible, they cannot trust any restaurant or any kitchen staff to cook their meal safely. The last thing they want to do is spend a night or two on the toilet.
It is common for dairy free people to learn to cook dishes and substitute the dairy in recipes for other ingredients.
What are some substitutes you can use to remove the cheese and milk and still make delicious ravioli or tortellini?
For heavy cream, use coconut milk, coconut cream, or a soy milk and olive oil mix

Cheese is hard to substitute, as cheap vegan cheese still tastes like glue. Adding a cheesy flavor to a pasta dish is easier. Just add nutritional yeast to the pasta's sauce or sprinkle powdered cheddar cheese on top of the dish.

Some lactose intolerant people can handle Greek yogurt as long as it is plain and doesn't have any additives. But yogurt has a sour flavor.

If you are in the mood for ravioli, choose a vegetable or a mushroom ravioli.
Conclusion to If Pasta Is Made With Dairy
Pasta noodles are rarely to never made with dairy. But there are many pasta dishes that have dairy as part of their ingredients.
There are over 100 different cheeses and each cheese can be part of a certain pasta dish. Some of the most common pasta dishes have cheese as one of its ingredients.
Cheese not only in pasta sauces but also inside stuffed pasta noodles like ravioli and tortellini.
There are ways to make a dairy-filled pasta dish dairy-free. Some Italian restaurants do have vegan options for their dairy-free guests.