If you are renovating your bathroom and have opted to use tiles, one question that might come to your mind is how high should tiles be on a bathroom wall.
Most bathrooms have tiles, at least in the wet areas, like the shower or bathing space, though you can opt to fully tile your bathroom as well.
In fact, the bathroom is the only place in the house where you can tile any surface you want.
So when designing your bathroom, there will be a number of decisions that you will need to consider, like tile height.
The most common tile height or wainscotting for your bathroom can be anywhere between 36 to 54 inches from the base. You can also opt to do many other designs, according to your preference.
For a modern look, you can choose to tile your entire wall from the bottom to the top.
I can help you understand what kind of tiled looks are good options for your bathroom and how much wall you need to tile in wet places as well as in the rest of the bathroom.
As an interior design enthusiast, I believe the bathroom is one of the most fun places to renovate.
I have designed all the bathrooms in my home in different styles and know how much tiling is practical and pleasing.
What is the Most Popular Height for Bathroom Wall Tiles?
Typically, if you do not want to tile your walls fully from top to bottom, the most common tile height is 36 inches from the floor.
Having said that, you can go anywhere between 34 to 54 inches for a half-tiled wall. This will protect your wall from splashes of water and it will be easier to clean.
In addition, it will reduce the cost of tiling, both in materials and labor. However, there are a whole lot of tiling options to choose from.
Base Tiles
These tiles are placed at the very bottom of the wall in place of a wooden baseboard.
The tiles are about four inches high and are laid in a single layer to protect the bottom of your wall from moisture.
Many people often choose bullnose tiles that have a rounded edge for their base tiles to give it a finished look.
Floor-to-Ceiling Tiles
If you are a tile lover, there is no reason why you should not tile your bathroom walls all the way from the bottom to the top.
This will give your bathroom a sleek and modern finish and will make it easier to clean the space.
Tiling your entire bathroom wall can enhance the room's practicality and aesthetics.
The best part is that you can experiment with a wide number of sizes, shapes, and colors, which will be all the more fun for you.
Keep in mind though that since your entire bathroom wall space will be tiled, it may get costly for you.
But if you have the budget for it, I suggest going for it.
Tiles Covering 3/4th of the Wall
Another very popular option for tile height is bathroom tiles that stop a few inches shy of the ceiling.
This kind of wall tiling offers a very contemporary look. In addition, walls that are 3/4th of the way tiled may also make your bathroom look taller.
For a more dramatic look, I recommend you use neutral or light-colored tiles and pair them with a high-contrast darker top section of the wall and ceiling.
Classic Wainscotting
If you prefer to be a little more conventional, then you can opt for wall tiles between 34 and 54 inches high.
One of the characteristic marks of a classic wainscotting is that it has a decorative border, trim, or bullnose edge.
Additionally, fixtures like bathroom mirrors, showerheads, soap dishes, and towel racks are installed above the wainscotting.
Although this is a traditional look, it still remains very popular even to this day.
Contemporary Wainscotting
Contemporary wainscotting typically has the same height dimensions as classic wainscotting at 36 inches.
However, it does not feature the border placed at the edge of the tiles.
Instead, the edge cuts off abruptly giving your tiles a clean and sleek look.
Since there is no trim to be installed on the border, this type of styling may be slightly more affordable than classic wainscotting.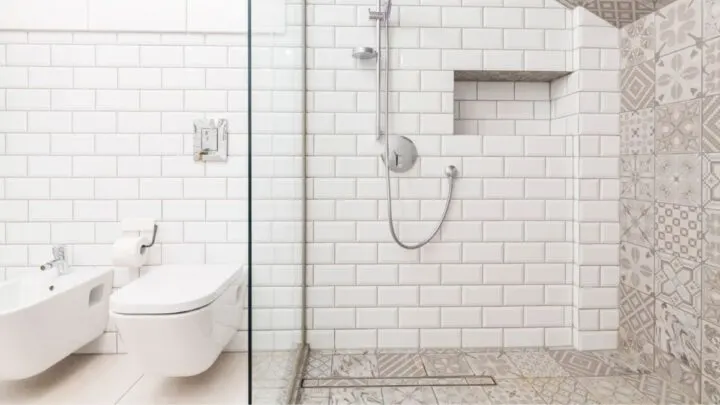 How High Should I Tile the Walls in The Shower Area?
If you want your shower stall to have a clean and crisp look, then I highly recommend you do a floor to ceiling tiling for your shower.
This will make your shower walls appear taller as well.
Tiles are the best option for lining wet areas like shower stalls and bath spaces.
It is important that you do not tile these spaces only halfway or up to 36 inches since the water can result in wall damage, decay, and mold.
In short, your shower space can benefit a lot from floor-to-ceiling tiles. However, if you do not want this option, you also have other choices as well.
The minimum code height for a waterproof covering for shower enclosures and bathtubs is six feet above the floor.
Any less than this and your bathroom walls can become a safety and health hazard.
That is why your shower and bathing space will need to have wall tiles at least this high.
However, if you have a high ceiling, you can always opt to go higher than six feet and stop a few inches below the ceiling or at three-fourths the height of the bathroom.
These tiled bathroom layouts are very simple and easy and can turn up the glam in your bathroom.
Depending on the style you choose to tile your walls, you can give your bathroom a timeless, classic look or an ultra-modern and sophisticated vibe.
Keep in mind, though, that no matter what tiling style you choose, it must always adhere to the bathroom codes for the sake of your health and safety.
Summing Up How High Tile Should Be
This is really up to you and your design preferences, but most bathrooms tend to have tiling anywhere from 36 to 54 inches from the base. The minimum code height for waterproof coverings, however, is six feet above the floor.
You can also opt for a different look and only tile a few inches from the floor. Whatever you decide, research your plan first to make sure it's affordable and will look great with your bathroom!