Have a lot of work with blenders? Feel the need to juice out anything and everything in your kitchen? We've got the perfect suggestion for you: a Vitamix!
The popular blender has been a family favorite for many years, which is precisely why it has so many concerns regarding it. The most common query about Vitamix blenders often revolves around how many watts the machinery has.
The maximum watts that a Vitamix blender has is roughly 1400w, while the lowest is 750w.
Knowing the exact watts becomes an important factor to consider when buying a blender. If your usage is excessive, you shouldn't buy a blender with low watts because it won't be able to put up with the load for a long time.
If blenders are a usual part of your everyday life, consider buying a Vitamix model which has 1400 watts or above!
Blenders that have higher watts don't come cheap, though. While they are best for long-term and heavy usage, buying them might not be affordable for many.
You wouldn't need to research any further, though because this guide has all your answers:
How Much Power Does a Vitamix Have?
There are plenty of companies out there who have been churning out blenders out of their factories; however, Vitamix is known for its quality and durability.
The brand has been modeling powerful blenders for years, making it one of the few trustable choices.
If you prefer quality over quantity, Vitamix blenders are definitely your best friend. Many blenders claim to have high wattages, but when it actually comes to performance, they do a poor job.
To play it safe, powerful blenders like Vitamix 7500 are a good deal for people who need to do excessive blending work.
The model has over 1400 watts and is quite durable as compared to other options available.
If you only use the blender occasionally, Vitamix ONE will be a worthwhile investment. This product has 750 watts and also comes at a very low price.
The wattages you require only depend on the number of times you use your blender. Higher wattages work for people who use the blender every day or two.
Otherwise, it's just throwing your money for nothing. There's no harm in using the blender often, though, because it pushes you towards a healthier lifestyle with all the fruit and vegetable juices.
If you're willing to take that leap, consider investing in a high-power blender immediately!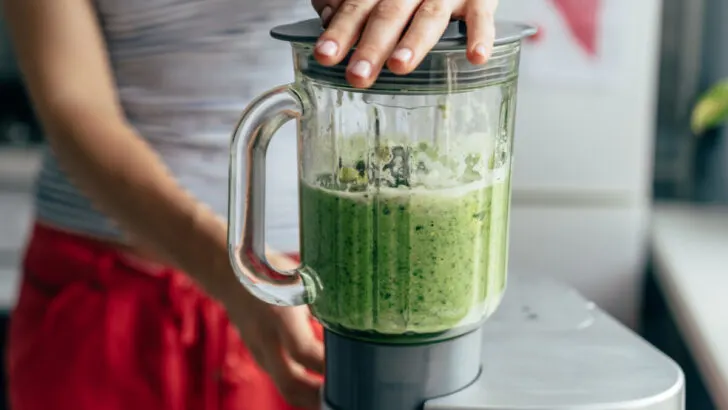 Does A Good Blender Need To Be 1,200 Watts?
The most important thing you need to remember about wattages is that if it's between 1200-1500, it's good enough.
If your blender's wattage falls within that range, you can easily create any liquid-based recipe within minutes.
What you're blending also plays a major role because soft and mushy fruits can be blended easily within 1200-1500 watts.
For thick fibers such as leafy greens or hard fruits like apples and pears, you need to have a blender that has a wattage above 1400.
Hence, break down your methods carefully before buying a blender so that you end up investing in a model which actually meets your requirements.
Is a Vitamix a Good Choice?
Vitamix blenders have proved to be pioneers of durability for many years. However, affording them is not everybody's cup of tea.
If you're looking for cheap or affordable options, Vitamix might not be the right choice for you.
However, if you're willing to spend a good chunk of money for quality, there's no better option than Vitamix blenders!
It depends on your budget and whether you're willing to take the leap for quality and durability. Lots of people who're on a budget choose blenders from Ninja or Blendtec and have a satisfactory experience.
How Durable Are Vitamix Blenders?
If you're buying a Vitamix blender, forget about replacing it for almost a decade. Even if you use it every day, the machine won't ditch you anytime soon!
To ensure that your blender's durability is not hindered, remember to follow all the instructions in the manual.
Clean it properly after every use, don't overload it with material, and make sure the food has enough liquid to break down properly.
Take care of your blender, and it'll last you for even more years than it promises!
Final Words on How Many Watts a Vitamix Is
It's natural to get attracted to the Vitamix aisle in the market, but make sure you do your homework! It's important that you know exactly what you require from a blender so that you don't end up buying an over-performer or a substantial one.
Also, remember to pay attention to the wattage because anything under 1200 watts won't do the job efficiently!