If you are a wine connoisseur and want to have proper storage for your bottles, converting your closet into a cellar is the most practical approach.
Whether you have got a walk-in closet or a simple coat closet, this is the perfect area in your home for storing and organizing your wines.
However, wine cellars can be quite dynamic and you want to create a system based on your budget, closet space, and ideal storage conditions.
To build a wine cellar in a closet, you need to create a design based on the amount of space that you have available and how much bottle capacity you want to achieve. You then need to insulate the wine cellar with either a refrigerated system or polyurethane foam and moisture-resistant flooring.
For connoisseurs, drinking wine is a way of life and with so many different variations and quality levels out there, it is easy to understand why.
Once you dive into the world of wine, you begin to understand that preserving and enhancing its quality is of the utmost importance.
Achieving this requires a lot of attention to detail, which makes wine drinking not just a fun hobby, but also an art form.
Wine needs to be handled and stored properly if you want to maximize its taste potential, which means keeping it in an ideal environment until you are ready to uncork.
Although most homes do not come equipped with built-in wine cellars, converting your closet into one is the next best thing.
To help you understand how to build a wine cellar in your closet, we are going to take you through our complete guide.
After extensively researching wine cellar closet conversions, I have been able to gather enough information to create a guide on how to build one in your home.
Building a Wine Cellar in a Closet
Before you begin dismantling your closet and throwing wine bottles inside, you should first try to consider all of the different factors for your design.
There are a lot of ways that you can approach this project and you can get pretty creative with your wine cellar.
The key is to create ideal storage conditions for your wine, which generally implies that you will need to commit to some basic reconstruction of your closet.
In addition, you need to properly assess your closet space when making a design, as this is going to greatly dictate the style and capacity of your wine cellar.
Let's break down the process of building a wine cellar in a closet.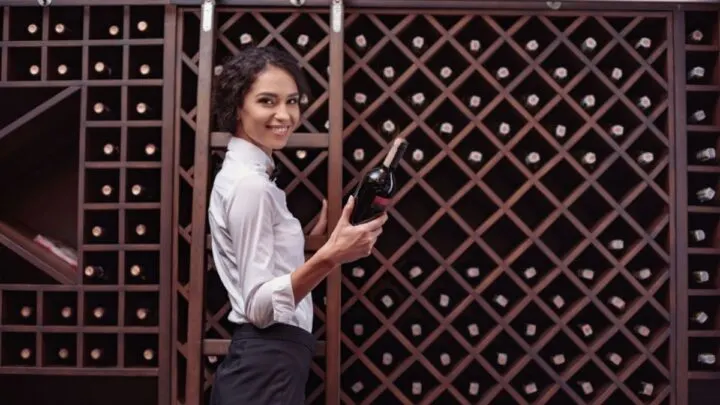 Storage Capacity & Shelving
Each closet is different, which means that the amount of wine bottles that you can ultimately store is going to be dependent on how much room you have to play around with.
Take some measurements of your closet space and try to get an estimated figure for how much wine you can keep.
If you want to maximize your storage, you should create a shelving system that enables you to keep as many bottles as possible based on the layout of your closet.
We have found that the best way to store wine is in a horizontal position.
This not only increases your cellar's capacity but also provides better conditions for the wine, given that the cork will not dry out in this position.
Shelves will come in different styles and sizes, which is why you want to consider an option that is going to be suitable for your cellar.
Some people like to design their shelves from scratch, whereas others, simply opt for pre-designed shelves that are easy to install.
Storage Conditions
No matter what kind of closet space you are working with, the most critical component of a proper wine cellar conversion is to create optimal storage conditions.
Storing wine can be a delicate process, as there are a lot of different variables that can tamper with its quality.
You need to create an environment that is going to be stable and ideal for long-term storage with the following conditions in mind:
UV protection (no sunlight)

55 – 60 degrees Fahrenheit

50 – 70% humidity

Vibration-free
There is no set-in-stone approach for creating this kind of environment, which is why there are so many different types of wine cellars in the world.
However, if you want to have ideal storage conditions, you need to ensure that your cellar is set up properly.
Insulation
The most important characteristic of any wine cellar is insulation.
You need to create an insulation system that is going to ensure the stability of your cellar but you can approach this in a number of different ways.
Some people like to go all out with their wine cellar closets and install a refrigerator system.
This is going to give you the best possible storage conditions and it also enables you to observe the humidity and temperature of your cellar so that you can make adjustments as needed.
However, a refrigerated wine closet can cost a lot and it is not always necessary.
If you want to minimize costs, you can always opt for a more budget-friendly approach and use closed-cell polyurethane foam.
You will need to install this material on your walls and ceiling.
In addition, you need to insulate your floors so that they are moisture resistant.
There are a number of different materials that are ideal for this, and you can select a type of moisture-resistant flooring based on your tastes and budget.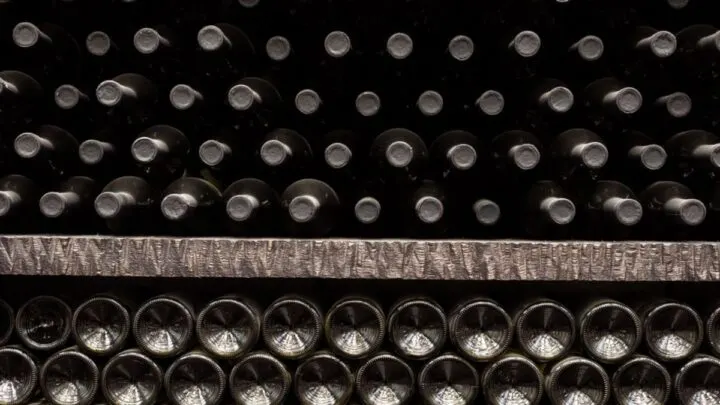 Cost to Build a Wine Cellar in a Closet
The amount of money that you can spend on a wine cellar closet conversion can fluctuate dramatically based on the storage conditions that you want to achieve, as well as how luxurious you want the space to be.
Most people end up spending anywhere from $10,000 to $20,000 on a wine cellar closet.
This gives you optimal storage conditions with a pleasing aesthetic.
If you want to keep costs low and are willing to put in most of the work yourself, you can cut this figure in half.
However, this kind of project can easily end up costing upwards of $50,000 (or more) if you want to create a luxurious space that is equipped with seating.
Summing Up How to Put a Wine Cellar in a Closet
If you want to have a wine cellar in your closet at home in order to store your wine bottles, it's definitely achievable. Just make sure you take the amount of space you have into account and then insulate it properly, as wine has to be at a certain temperature to make sure that it stays good for a long time.
Budgeting can be difficult, but as long as you set some money away for it, you can plan this out no problem. Good luck with creating your wine cellar!