Cabinets are kitchen essentials, no matter how big or small your kitchen might be.
The kitchen is one of the most visited parts of the house, meaning you have to make sure that the cabinets are aesthetically pleasing and go well with the overall kitchen appearance.
One common question, in this case, is should kitchen cabinets be glossy or matte?
Glossy kitchen cabinets look good in modern kitchens and are easy to maintain, while matte cabinets go well with traditional architecture but tend to make kitchens look smaller. The most popular finish for kitchen cabinets is a semi-gloss finish.
If you're uncertain as to what type of cabinet finish you should use to complete the look of your kitchen, read on to find out what the advantages of the different kinds of cabinet finish are.
What Is A Finish?
Since kitchen cabinets are one of the most used pieces of furniture in your house, it will need a finish or a sheen to act as a protective layer in order to make the cabinets durable and long-lasting.
What Sheen Looks Best On Kitchen Cabinets?
A glossy finish is one of the best looks for contemporary kitchen cabinets and also gives a spacious look to the kitchen. However, a semi-gloss finish is also great because of its resistance to scratches, heat, and water without being too glossy.
Before we explore the best type of sheen for kitchen cabinets, let's take a look at the most common types of sheens available.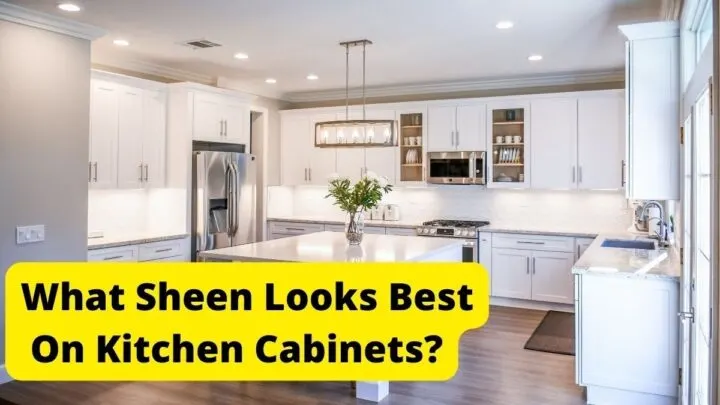 Gloss Finish
Gloss finish is a high-trend finish in modern kitchens. It will increase the kitchen's luxurious look and feel.
Gloss finishes like lacquer prevent the cabinet's paint underneath from flaking and chipping. The beautiful sheen will give a smooth and finished look to your cabinets, which is well paired with contemporary kitchen architecture.
Satin Finish
A satin finish is mildly glossy and is often defined as having a velvety look and feel.
While gloss finishes are quick to show scratches and discoloration, a satin finish is much more durable.
This type of finish is recommended for busy kitchens and when applied well, this finish does not give application flaws. However, it does not hold up well to mold and mildew compared to the other two types of finishes.
Semi-Gloss Finish
A semi-gloss finish has the benefits of the gloss as it reflects light when it hits it, giving that spacious look to your kitchen. It is also not overly glossy.
It also has easy application and is resistant to water, fungus, chemicals, scratches, and heat. It also goes well with any kind of wood and it allows easy cleaning of the cabinets.
What Is The Most Popular Finish For Kitchen Cabinets?
The most popular finish for kitchen cabinets is a semi-gloss finish. This is because of its easy application and its resistance to heat, water, mildew, and scratches, making it perfect for most kitchens.
It is also the most popular finish because it can easily be cleaned.
However, the type of finish you choose for your kitchen also depends on your personal preference the style of your home.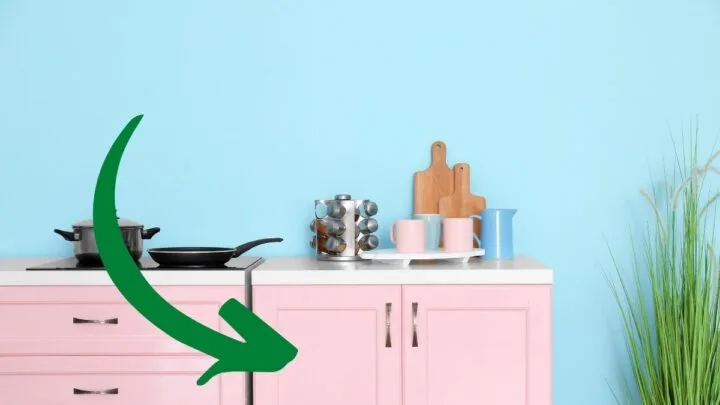 Are High-Gloss Kitchen Cabinets In Style?
High-gloss kitchen cabinets give a modern and contemporary look to your kitchen, and they've tended to become more popular over the past few years.
While these cabinets are quick to show imperfections like scratches and finger marks, they can also be cleaned of grime and dirt pretty easily.
However, oak cabinets are also coming back in style because homeowners are looking for warmth and authenticity in kitchen spaces.
So, whether you choose natural wood or a glossy or semi-gloss finish for your kitchen cabinets, it depends on the look you are going for and the type of upkeep you're able to do.
Frequently Asked Questions (FAQs)
Should Kitchen Cabinets Be Matte Or Semi-Gloss?
Matte kitchen cabinets absorb light, meaning they can tend to make a kitchen look stuffy or dark.
However, matte cabinets are perfect if you want to style your kitchen in a traditional way, as gloss and semi-gloss finishes give a modern and chic look to your kitchen. Gloss and semi-gloss finishes also reflect light, therefore making your kitchen look spacious.
Should Kitchen Cabinets Be Gloss Or Satin?
Satin is a toned-down glossy look, which is perfect if you want to give a slight touch of modernity to your otherwise traditional kitchen. However, it is less durable than the gloss finish and cannot be cleaned easily.
Is Satin Good For Kitchen Cabinets?
A satin finish is much more durable for kitchen cabinets since it shows the least amount of imperfections like grime, dirt, or scratches.
This is a good finish if your kitchen is particularly busy throughout the day. However, if not applied well, it can leave application flaws like brush strokes that do not look good.
Summing Up If Kitchen Cabinets Should Be Glossy or Matte
The newer trend in kitchen cabinets includes a modern and chic look, meaning high gloss and semi-gloss finishes are great if your kitchen fits this style. However, if you want to go for a traditional look with only a slight hint of modernity, you can go for a satin finish.
Oak cabinets and natural wood are also making a comeback recently, as homeowners are searching for that traditional and small kitchen feel.