Having an outdoor kitchen pergola is the ultimate way to transform your backyard into an inviting dining and cooking area to entertain family and friends.
The modern BBQ feels so much more appropriate in an outdoor kitchen pergola, and there are so many different ways that you can personalize the design of this space to complement the aesthetic of your home.
However, you should try to pick a style that is in line with your tastes.
There are a few great outdoor kitchen pergola ideas, including creating a BBQ countertop featuring a grill and bartop seating area, utilizing a contemporary design with smooth surfaces and sharp edges, incorporating a Spanish Colonial and Mediterranean aesthetic complemented by volcanic rock, and also creating a lounge deck featuring wooden materials and a stone counter.
The summer season is right around the corner, and the perfect place to enjoy the warmest time of the year is right in your backyard, which is why so many homeowners are reinventing their outdoor space by building outdoor kitchen pergolas.
An outdoor kitchen pergola can be as simple and budget-friendly or luxurious and expensive as you want it to be.
This kind of flexibility enables virtually anyone to set up an outdoor kitchen in their backyards, which is why this is becoming such a growing trend.
You would be amazed by how much a simple design complemented by a cooking and eating area can make your backyard feel so much more inviting to host family and friends.
After extensively researching outdoor kitchen pergolas, I have been able to gather enough information to determine the best ideas for this kind of backyard setup.
4 Outdoor Kitchen Pergola Ideas
Before you begin weighing out your options, you should try to envision your ideal backyard kitchen pergola.
Do you want to create an outdoor space that can host family members for large dinners and events?
Are you looking to take your grill game to the next level by establishing the ultimate BBQ pit?
Or are you simply longing for a peaceful area to lounge on summer afternoons, sip wine, and chat with friends?
There is no right or wrong way to approach an outdoor kitchen pergola, but you will find that by designing your outdoor space based on your tastes, the end result will be much more satisfying.
Let's dive right into our outdoor kitchen pergola ideas.
1. BBQ Countertop
There is nothing wrong with simplicity, and setting up a BBQ countertop in your backyard is a go-to for many homeowners who want to have an inviting outdoor eating area.
This is a great option for anyone looking to take their lonely BBQ station and turn it into a minimalistic kitchen setting that is equipped for countertop dining.
The idea here is to take your grill and incorporate it into an L-shape countertop.
Given the outdoor setting, a lot of people prefer to use brick or a stone of their choice for the base of the counter and then add a slab of granite to the top of it.
You should try to pick an area of your backyard that feels the most practical for this kind of setup, as the size is small enough to stay flexible.
You can extend the length of the counter to fit however many people you want to seat, but 3-4 is usually the magic number for this kind of design.
If you are feeling ambitious, you can add a patio cover over the space to enjoy the area on hot days.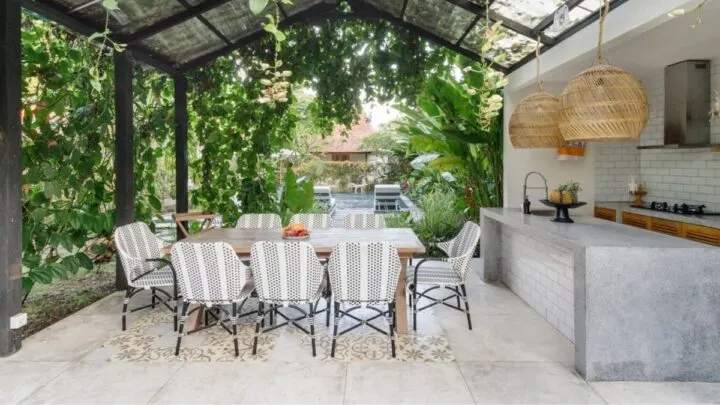 2. Contemporary
Any contemporary design should be clean and minimalistic.
Although you can implement this kind of design in a lot of different backyards, the style will fit particularly well with outdoor areas that have a modern aesthetic.
Focusing on a specific type of shape for a contemporary design is generally the starting point, but we find that rectangles are popular for outdoor kitchen pergolas.
Creating a comfortable space that has a couple of L-couches, a long countertop equipped with a grill, and a flat-screen TV will make this kind of design cohesive.
Smooth concrete flooring and wood of your choice for coffee tables are going to accentuate the minimalistic look of a contemporary outdoor kitchen even further.
3. Spanish Colonial
A Spanish colonial concept is a warm and inviting setting for an outdoor kitchen pergola.
You want to create a Mediterranean aesthetic that uses brick and volcanic rock throughout, which is complemented by soft and cozy lighting.
A BBQ is going to be essential, but you should also consider adding a stone fireplace into the mix, as this can make your outdoor kitchen pergola more appealing during the cooler months of the year.
If you are feeling very ambitious, you can even incorporate a fountain into the outdoor space to tie the Spanish aesthetic together.
A long dining table is a very appropriate seating area for a Spanish colonial theme, which makes this a great pergola idea for anyone who enjoys hosting family for large gatherings.
Based on your tastes, you may also want to add Mediterranean plants around the perimeter of the kitchen pergola space.
4. Lounge Deck
A lounge deck can be a very dynamic kitchen pergola idea, as you can approach this design in a lot of different ways based on what you want to achieve.
If you already have a wooden deck, this is an easy transition, but you can get experimental if you are starting from scratch.
Wood flooring and a patio cover are going to be essential for this design, as you want the space to feel as loungey as possible.
A stone counter equipped with a grill, sink, and cooking station will make your lounge deck versatile for various meal settings.
You can add a dining table to make your lounge deck dynamic enough for large gatherings, or you can keep it simple and just use a coffee table.
Your lounge deck will not feel complete without a patio cover so that you can enjoy the area even in hot weather.
You can install a flat-screen TV and a wine fridge into your counter area to seal the deal on the lounge setup.
Summing Up Outdoor Kitchen Pergola Ideas
Knowing what to do with your outdoor pergola can be daunting, but it doesn't have to be. We listed off a few great ideas on how to turn your outdoor kitchen into a great and inviting space.
Some ideas include Spanish colonial, a lounge deck, and a BBQ countertop, but the possibilities are really endless. Make sure you consult a professional for any difficult installation!