Although most people use their RV garages solely for parking and storage, this space can also be converted into ideal living quarters.
If your RV garage is not being used to its full potential, one of the best ways to make the most of it is to turn it into a living space so that you can add an extra room to your home or property.
However, before you begin any kind of planning or construction there are some things that you should be aware of.
Before you turn your RV garage into living quarters, you should research the zoning laws of your local area so that you can design your project in adherence to regulations. Next, you will need to consider your budget for the project, as well as the utilities and features you want the living quarters to have.
It is so easy to overlook the convenience of having additional living quarters on your property, with garage space being the perfect area for an extra room.
Whether it is to house guests when they visit or pursue a business opportunity by renting out a room, an RV garage equipped with living quarters is the easiest way to expand the comfort of your home.
With that being said, if you want to create a suitable living space in your RV garage, you need to approach this project with careful consideration.
To help you understand this further, we are going to take a closer look at everything you should know to successfully convert your RV garage into living quarters.
After extensively researching RV garage living spaces, I have been able to gather enough information to determine the procedure for this kind of development.
RV Garage Living Quarters
There are so many different ways that you can approach your RV garage living quarters. Before you begin making any rash decisions, you should sit down and do some planning.
Given that you are creating a living space, it would be wise to have a design in mind so that you have a vision for the project.
Each person's RV garage is different and it is often the case that you need to put in quite a bit of work to ensure that the space is livable.
There are legal requirements that need to be fulfilled, as well as basic levels of comfort that are standardized in living quarters.
How much time, money, and energy you put into your RV garage living quarters can greatly vary depending on how homey you want the space to feel when complete.
Zoning Laws
One of the biggest obstacles to turning an RV garage into a living space is zoning laws.
Each city and county has specific zoning laws in place that dictate what you can and can't build on a property.
These laws can greatly vary from place to place, which is why you will want to do some personal research for your area to find out exactly what kind of guidelines you need to adhere to.
Zoning laws can be much more intense and regulated in urban areas, especially those that are densely populated.
However, rural regions tend to be more relaxed with zoning laws and will not be as strenuous.
The basic guideline behind zoning laws for garage living quarters is that the space needs to be livable.
Get in touch with your local building authority to find out the essential requirements that you need to be aware of when approaching your project.
Failure to do so can result in complications with authorities and even legal issues that can sabotage your project.
If you want to play things safe, one of the best ways to approach building laws is to hire an architect to help you with your design, as they will know exactly what needs to be done to fulfill your local area's zoning requirements.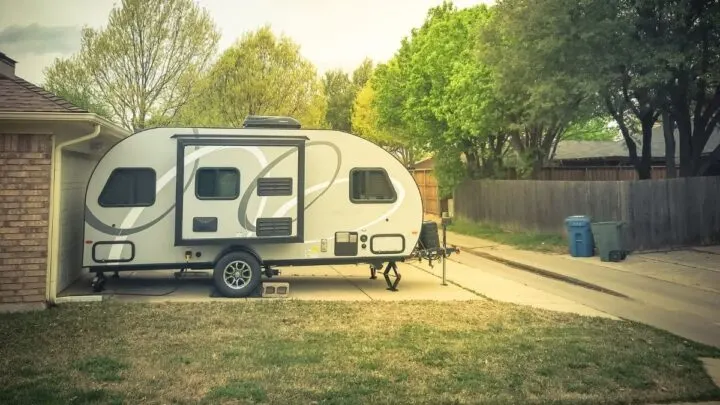 Utilities & Features
Depending on the zoning laws of your local area, you will most likely need to have certain kinds of utilities connected to your RV garage living quarters.
However, you may want to add some extra utilities that are not mandatory in order to make the living space more comfortable and homey.
If your RV garage is connected to your home, then you probably already have basic utilities connected.
However, if your RV garage is detached, you could be missing a lot of the essentials.
These are the utilities and features that you should consider connecting:

Electricity

Water

Plumbing

Gas

WiFi/internet
Having the right utilities available in your RV garage living quarters is going to make all the difference between a homey environment and an uncomfortable living space.
This is particularly the case if you plan on hosting someone in your garage long-term, especially if you are renting it out.
Anyone that is looking for a room to rent will want to have the basic essentials of a home environment, even in a converted garage.
With that being said, you will want to add some additional features for tenants, such as a kitchen and private bathroom.
A friend or family member should be satisfied with a shared kitchen and bathroom in your home but renters may want a bit more privacy – and you may too.
Adding extra utilities and features to your RV garage can get pricey, but you should keep in mind that every extra bit of effort will not only make the living space more desirable for tenants, but it will also increase the overall value of your home.
Costs
Before you commit to any official planning or construction, the first thing that you want to do is consider your budget for the project.
RV garage conversions can get as luxurious and expensive as you want them to but most people pursuing this kind of development are trying to keep their costs reasonable.
When you factor in fulfilling zoning requirements, adding utilities, and features, your costs can easily get to be as much as $20,000 to $30,000.
This is usually how much people pay when creating a living space that has all of the essentials of an average home built by contractors.
Labor costs add up quickly, and you will find that you can easily end up paying 50% of your total costs on contractors alone.
With that being said, you can greatly mitigate these costs if you are willing to roll up your sleeves and do the work yourself.
Taking a DIY approach with your RV garage living quarters can easily save you tens of thousands of dollars on the project, which you can either keep in your pocket or invest in additional features for the development.
If you are willing to put in the work and take a minimal approach with your RV garage, you can end up paying $6,000 in total for the conversion (or even less).
On the other hand, before you get out your tool belt, you should make sure that you are up to the job.
Making miscalculations and mistakes with your construction can result in time and money wasted, which is why a contractor is still the safest bet for many people that want to create RV garage living quarters.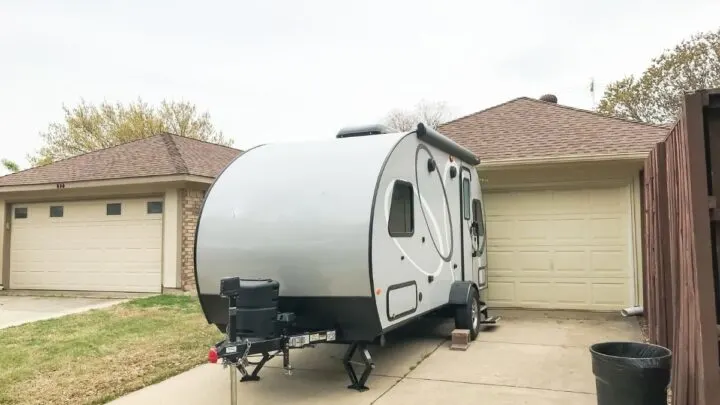 Other Factors to Consider
There are so many different ways that you can approach your RV garage living quarters.
To create an adequate living environment there are some essential requirements that you need to fulfill but, all in all, you also have a lot of flexibility and freedom to design the area the way you see fit.
Adhering to zoning laws, connecting utilities, and adding some living features are going to be mandatory if you want your garage to feel homey.
However, there are also some additional factors that you should consider for this project.
Heating & Air Conditioning
Most RV garages do not have a heating and air conditioning system installed.
This can be a critical factor for creating a comfortable and livable area for a guest or tenant, which is why you want to assess how hot or cold your garage gets throughout times of the year.
Insulation is half the battle for having a balanced temperature in your living quarters, and most RV garages do not have adequate insulation installed.
If you live in a region that has a mild climate, you may be able to get away with creating a balanced hot/cold environment with proper insulation alone.
However, if your region gets very hot in the summer and cold in the winter, installing heating and air conditioning in your RV garage living quarters may be unavoidable.
Garage Condition
Before you begin doing any formal planning, you should properly evaluate the condition of your garage.
This will help you identify exactly what you need to do to create a comfortable space, especially given the fact that most garages are not designed to a livable standard.
As you assess your RV garage, you should watch out for any repairs that need to be handled before you can begin construction.
This will include things like cracks or holes that need to be patched up, which is common for older garages that have weathered over the years.
One of the most common things that garage conversions require is that the flooring needs to be raised.
This can be a zoning requirement in some cases but not always.
The floor of the living space needs to be a specific height for safety reasons, which is why most garage living quarters are raised to the same level as the home they are connected to.
In addition, assess how much natural light you get inside your garage. If lighting is an issue, you may need to install windows into your project design.
Parking Space
Given that you are converting your RV garage into living quarters, you need to consider that you will have less space to park your vehicle.
This is especially the case if you are doing a full conversion that requires you to park your vehicle on the street.
If you live in a neighborhood that has a lot of parking spots, this should not be a major concern, as you can easily find something on the street.
However, if parking spots are limited, this can pose to be a major issue for you and your neighbors.
Look up the restrictions that your area has on parking. Identify if you are allowed to park your vehicle long-term on the street and also confirm how many vehicles you are allowed to park off-property, as this can vary in each county and city.
Summing Up Creating an RV Garage With Living Quarters
Many people choose to install living quarters in their garages, and you can do the same if you have or are planning to build an RV garage. This not only gives you more space for your family or for guests, but also drastically increases the value of your home.
Make sure you follow these tips to know what you need to prepare for in order to make your RV garage a great and livable space.