There are a few major stars in the world of kitchen design, but maybe none are as significant as shaker style and flat panel cabinets. As a result, when homeowners are looking for kitchen cabinets, shaker and flat panel cabinets are two common cabinet types that are frequently misunderstood when planning to replace, reface, or refinish existing kitchen cabinets.
This makes perfect sense, given that kitchen cabinets are one of the most noticeable components in the kitchen space and a crucial component of the overall kitchen design.
Modern kitchen designs may incorporate any style, and since shaker or flat panel cabinets don't have many frills, you can choose one of them to save money on your kitchen renovation.
What, though, distinguishes the two, and which is better for your kitchen? Let's start now.
What's the Difference Between Shaker and Flat Panel Cabinets?
Shaker cabinets are constructed of five major wood components. They are the two rails at the top and bottom, the recessed center panel, and the two stiles on either side. The cabinet panels thus receive a unique trim with a consistent border on all sides.
The four wood pieces are placed around a single area to resemble a picture frame. The center is sunken to highlight those rectangular shapes and raise the sides with unparalleled elegance.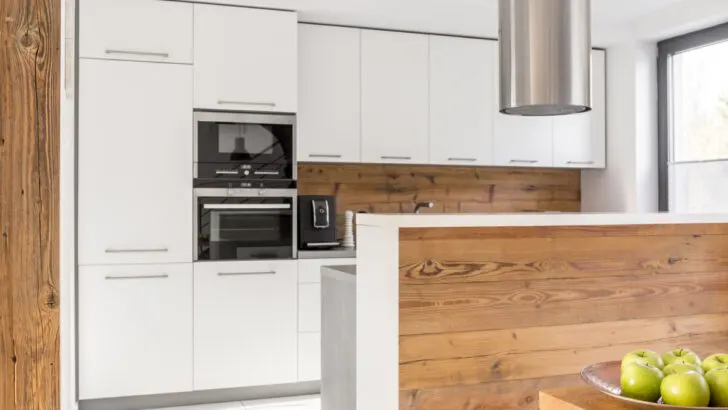 Shaker cabinets typically split the entire cabinetry into smaller rectangles due to the higher edges to provide the impression of wealth. For several decades, shaker cabinets have given your kitchen a posh ambiance at affordable pricing.
Shaker cabinets are well-liked for their classic design and versatility in both conventional and modern kitchen layouts.
What Are Flat Panel Cabinets?
Flat panel or slab panel cabinets feature a totally flat front. While other designs of cabinets have more ornate trim or like shaker cabinets feature a plain edge trim, kitchen cabinets with flat panels have no trim at all. Depending on the kitchen's general design, they may not feature hardware.
Unlike a series of trimmed doors, a row of flat panel cabinets will seem like a smooth plane. Although the doors may still be distinguished from one another, they look to be seamless overall.
There are several flat panel cabinets produced from both wood and laminate that are inexpensive solutions, and they suit in modern kitchen designs extremely well.
Flat panel cabinets are occasionally installed by homeowners to display attractive knobs and pulls that represent a distinctive aesthetic or to draw attention to any other essential feature they wish to accentuate.
Which Is In Style Now?
The minimalist, classic, and timeless design of shaker cabinets has kept them in vogue for more than 60 years. With a beveled dip that gives a simple and clean design, they mix the aspect of classic cabinets with modern cabinets.
While shaker-type cabinets may be used in both contemporary and modern kitchens, flat panel cabinets' popularity fluctuates with the popularity of modern kitchen designs and hence, keep going in and out of fashion.
Key Differences to Consider
Let us look at the comparative discussion on which is most suitable for your kitchen aesthetic. However, you should be aware that you can utilize either shaker or flat panel cabinets in your kitchen areas, or a combination of both depending on your home's design.
Some key differences to consider include:
Shaker cabinets have a timeless and vintage minimalist appeal to their design that flat panel cabinets cannot mimic. Flat panel cabinets can be too simple for some homeowners, although they are preferred by owners that are looking for more a sleek, contemporary look.
Due to its clean look, your hardware can be quite prominent with a flat panel cabinet as opposed to a shake cabinet.
Flat panel cabinets are quite easy to clean. Shaker cabinets can trap dust, food particle, and grime in their trims and edges, which can be difficult to clean.

Flat panel cabinets require less material and hence are inexpensive and so are shaker cabinets despite their designs.
If you want to personalize your kitchen area, shaker cabinets, and flat panel cabinets are both fantastic options. Even though shaker cabinets have their own distinct style, you still have room to decorate your kitchen with them too.
You may also experience some difficulty when mounting knobs or pulls in shaker cabinets. However, with flat panel cabinets, you may easily adjust the positioning to put the hardware in a practical spot.
Final Words on Shaker vs. Flat Panel Cabinets
Shaker cabinets have come a long way and have always exuded elegance and beauty. They are a preferred option for those who love history and tradition. This is why they continue to be popular despite having many varieties.
Flat panel cabinets, due to their sleek, contemporary design and unparalleled ease, are capturing the attention of young people.
Unfortunately, flat panel cabinets continue to fall out of style. On the plus side, irrelevant of what cabinet design you chose, trends change and return.
In the end, given that this is a matter of personal choice, a definitive judgment can be incorrect regarding which is better for you. The most important factor is picking a cabinet type that complements the look of your home and works properly.