Bi-fold closet doors have been a go-to option in home designs, but they are slowly but surely going out of fashion, which is why many people are searching for alternatives.
Some of the best alternatives to bi-fold closet doors are sliding doors, French doors, barn doors, and various other options as well. It's important to find what works for the style of your home!
There are plenty of alternative options to bi-fold closet doors, so read on to learn more about what you can do!
What Are Bi-Fold Closet Doors?
Bi-fold doors have been a common fixture found in many people's homes, and they continue to be one of the most standard closet door designs that you can opt for. A bi-fold door is characterized by its folding and sliding panel doors, which can be quickly and easily folded to open up closets.
Although bi-fold closet doors were traditionally used with large walk-in closets, their dynamic design makes them suitable for virtually any closet big or small. In addition, bi-fold doors are often used as room dividers and even as replacements for standard doors.
Best Alternatives to Bi-Fold Closet Doors
Bi-fold closet doors are becoming much less common these days, and homeowners are searching for alternatives to make their living spaces feel complete.
With that said, one of the key features of bi-fold closet doors is how universal and neutral they are in a home setting. When picking out an alternative to a bi-fold closet door, you need to carefully evaluate the design of the rest of your home. 
You will find that some closet door alternatives are going to be much better suited for your home than others. At the end of the day, creating a living space is about cohesion and making the environment feel comfortable.
1. Sliding Doors
Sliding doors are a classic closet door design that is as popular now as ever. This is a very simple and aesthetically pleasing solution that is easy to install and use.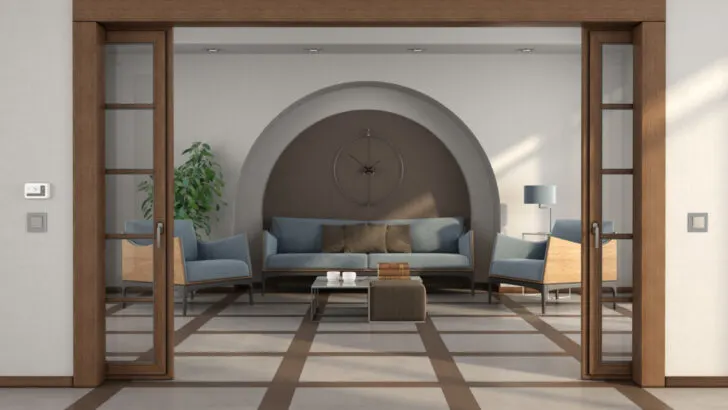 Much like the name suggests, you can slide a sliding door either left or right to reveal a specific area of your closet.
One of the best qualities of sliding doors is how dynamic their designs can be. You can choose to opt for a modern sliding door made with glass or metal, or you can go with a traditional wood finish.
2. French Doors
Installing French doors is a classic and stylish solution to a bi-fold design. The French door design features two standard doors on each side, with a handle or lock on each, so that you can open the entire closet space at the same time.
Traditionally, French doors would be very fitting for a quaint living space. However, with modern French door designs, you can make this kind of closet door feel appropriate for virtually any household.
This is a great way to give your closet and living space a sophisticated look, but you should be mindful of how much room you have, given that French doors can take up quite a bit of space when fully opened.
3. Barn Doors
Whether you live in the countryside or not, there are few closet designs that look as cool as barn doors. A barn door design is one of the most unique and stylish alternatives to bi-fold doors, which is why they are currently among the most popular choices in households.
Despite their barn house aesthetic, barn doors can be installed in so many different homes without disrupting the cohesion of the design. To ensure that the barn doors feel appropriate and natural, a wooden finish can help make them look great.
However, you have so many different options to consider for the type of wood that you choose, as well as the coating that you finish it with. Closet barn doors can also be selected as either a single or a double entry option.
If you have a larger closet space such as a walk-in, a double barn door will ensure that you have plenty of room for access. Alternatively, a small closet will look great with just a single barn door.
Much like traditional barn doors, the sliding door design is generally the best option for closets.
4. Pocket Doors
A lot of people have a hard time deciding between bi-fold doors and pocket doors. The key reason for this is that both of these closet door designs are great for optimally utilizing space and not overcrowding living environments.
Pocket doors are hung along the access point of a closet and slide from left to right along a track. As the name suggests, the door slides into a "pocket" in your wall so that it takes up virtually zero space in your home.
Once it's installed, a closet with a pocket door design is incredibly efficient and stylish. There are a ton of different door options that you can consider based on the material and look that you are going for in your home.
The biggest drawback to pocket doors is that you need to create an alcove (or pocket) for the door to slide into. Unlike most other bi-fold closet door alternatives, pocket doors often require professional installation, which makes them a pricier option.
5. Saloon Doors
Want to feel like an outlaw in the wild west every time you enter your closet? If so, there is no better solution to a bi-fold design than saloon doors.
The classic saloon doors that you see in old westerns are a very popular choice for closet doors and home designs in general. Saloon doors are simple, effective, and look too cool to pass up for many homeowners.
With a saloon door design, the door automatically opens and closes on itself, making access very convenient. The saloon doors generally only take up about half of the space of the entire entryway, which results in slightly less privacy.
Although you can choose any material that you want for this kind of design, a wooden finish is a perfect option to capture the western feel of a saloon door.
6. Curtains
Are you having a hard time choosing the right door design for your closet? Perhaps a door is not what your closet needs at all.
Many people looking for temporary and even permanent solutions for their closets prefer to use curtains instead. This can be as stylish or as simple as you want it to be, but the bottom line is that it's a lot easier and more affordable than opting for a closet door.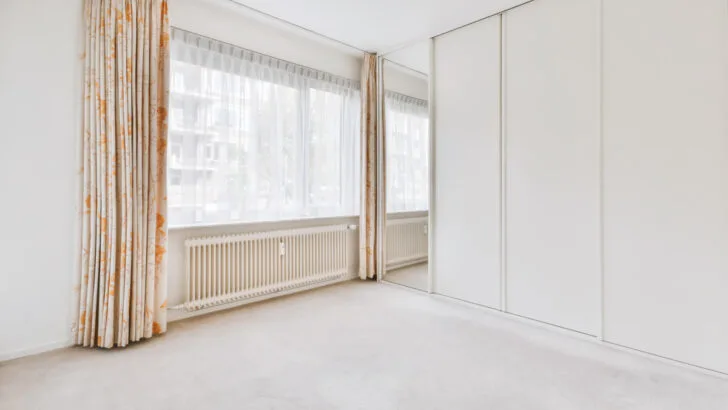 All you need to do is hang up your favorite curtains along the entryway of your closet to close off the space. Opening and closing curtains is incredibly simple and they hardly take up any space, which is why people living in apartments sometimes prefer this kind of design.
7. Accordion Doors
Accordion doors are a slightly more flexible and dynamic solution to bi-fold doors. This closet door design resembles an accordion with multiple small doors folding in on each other to open or close the space.
As the doors open or close, they follow tracks on the bottom and top of the closet's entry. There are a lot of different accordion door designs that you can consider, and they vary in price and materials.
With that said, accordion doors can be one of the most affordable options for your closet, with some costing as little as $50 to $200. Naturally, you can choose a more unique material for your closet, but you can expect a higher price tag.
8. Beads
If you feel that closet doors are overrated, you are not alone. Many alternative folks prefer fun and easy solutions to their closets, with beads being a very popular option.
This is as simple as it gets, and the most important thing is that it works. All you need to do is find some stylish beads that you can string along the walkway of your closet to create a barrier.
The beads do not provide the best privacy, which may not make this the best solution for all homeowners. However, if you are looking for a unique and simple alternative to bi-fold closet doors, beads should not be overlooked.
Key Takeaways to Alternatives to Bi-Fold Closet Doors
The best alternatives to bi-fold closet doors are sliding doors, French doors, barn doors, pocket doors, saloon doors, curtains, accordion doors, and beads.
Bi-fold doors are characterized by their folding and sliding panel doors, which can be quickly and easily folded to open up closets.
When picking an alternative solution to bi-fold doors, make sure to pick out a design that suits the aesthetic of your home.