Choosing a color palette that goes well with stainless steel appliances and your mood can be confusing, as there are several options to choose from. Also, it's not easy to find an accent color that conflicts with your stainless steel appliances because of its modernity and adaptability.
To go with stainless steel appliances, some of the best colors for cabinets are white, black, wood, gray, and vibrant color themes.
In this guide, we've called attention to a few color combinations that work well with stainless steel kitchen appliances. Read on to know more.
Color Combination That Goes Well With Stainless Steel Appliances
Here are the top 7 colors that you should use for your cabinets to pair well with your stainless steel appliances:
1. White
Stainless steel supplies look terrific in an all-white kitchen because they are clean, crisp, and modern. And if you pair your white cabinetry with stainless steel, it will give a timeless combination.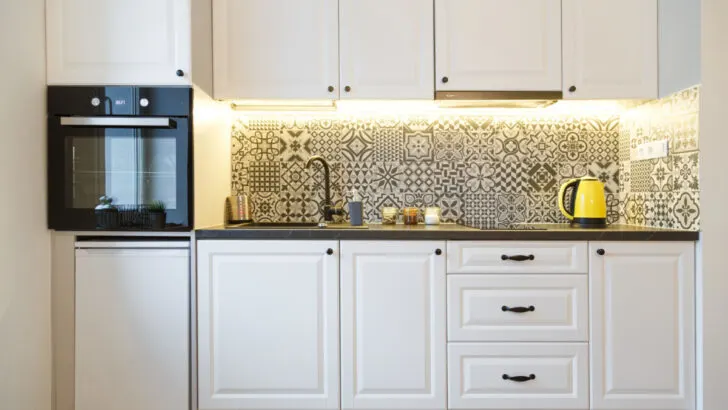 However, to prevent the clinical aspect of an all-white kitchen, it is important to ground the area with a warm accent, such as a honey-toned wood floor. Since an all-white kitchen has a timeless and streamlined aesthetic, you can choose a patterned granite countertop or a pink tile backsplash if you wish to add color. Another simple approach to add contrast between the appliances and cabinets is to change the hardware.
2. Black
Consider mixing stainless steel appliances with black cabinets for a striking contrast. A black hue gives your kitchen a fashionable statement; you can never undervalue the ability of black to give you a vibrant yet aesthetic drama.
The atmosphere they produce is one reason dark kitchens are becoming more popular. Deep, strong colors are relaxing and give a room a dreamy atmosphere.
To counterbalance the dark color, consider adding brass pendant lights, open shelving, light hardwood floors, and a big window.
3. White and Black
When coupled with stainless steel finishes, a black-and-white color scheme appears timeless and simple. To give it a modern look, ground the floors and frame it with a marble backsplash and a ceiling of natural wood slats.
4. Gray
Your kitchen cabinets can take on a variety of neutral styles depending on the gray color you choose. Gray cabinets offer a tonal approach and mirror the metallic surface of stainless steel, making them an excellent choice for a kitchen design. However, just be aware of the undertones.
If you want a stylish appearance, consider pairing your appliances with stale gray color cabinets. This way, your cabinets will stand more.
Other than this, light gray, matte cabinetry has a classy appearance that emphasizes the stainless steel appliances silvery brilliance.
5. White With Hints of Blue
Stainless steel appliances pop with the backsplash of vibrant colors. It makes it possible for additional characteristics to stand out when combined with a cool color palette. Stainless steel appliances can serve as a grounding neutral, where a color, or several colors, can shine. It allows color to breathe.
Similarly, vibrant colors like blue will provide a traditional, peaceful kitchen without going excessive. Stainless steel looks fantastic with either light or dark blue cabinets, which is a great combination. Or else navy cabinetry will seem cozier and give your kitchen a striking, upscale appearance.
In short, both light and dark tones of blue are good options for cabinetry, and they look great against white walls. If you want a more multifaceted approach, you can also complement your blue cabinets with an additional, complementary shade of blue.
6. Woody Shades
Choosing only natural materials for your cabinets is always a wise decision. It doesn't matter if you choose a dark oak or a somewhat lighter walnut—natural wood works wonders with gleaming stainless steel.
Oak is a multipurpose and stunning material that combines easily with various materials and metals. Stainless-steel cabinet pulls, and drawer handles would look great beside your stainless-steel appliances.
Whether you're designing cabinets for your kitchen, office, or living room, the rustic allure of oak wood is a classic choice. A kitchen outfitted in oak wood, which is both rare and costly, will look and feel luxurious and bucolic.
7. Bright Colors
Whether you're going for a warm or cool color scheme, stainless steel appliances will look great with a bright color scheme. For instance, choosing cool hues like aqua, green, and lime gives you a fresh and calm look and feel.
Alternatively, you might choose warm color combinations like red, yellow, and orange. To avoid a visual clash with the stainless steel appliances, consider including items in a grayscale color scheme, such as picture frames made from reclaimed wood, light grey painted showcases, tin countertop ornaments, etc. This color palette will result in a vibrant, cheery, and vivacious kitchen.
Pair It With Catchy Cabinet Hardware
Not only the color of your kitchen cabinets but also the color of your kitchen handles and knobs influences the overall appearance and atmosphere. 
Therefore, don't forget to change your cabinet hardware if you're replacing your cabinets to complete the look.
The following cabinet hardware complements stainless steel:
Matching metals, or ones that come close with brushed nickel, are a terrific way to relate your cabinets to your stainless steel appliances.
To get a mixed-metal effect, brass works well with stainless steel and stands out against bright or dark cabinet colors.
If you want to add a little bit of texture to your drawers, choose textured ceramic drawer pulls in a color scheme that matches the color palette of your cabinets.
Final Words to Colors That Go Well With Stainless Steel Appliances
Using stainless steel appliances, you can experiment with a wide range of maximalist and minimalist aesthetic profiles. To be safe, don't restrict yourself to tried-and-true combinations. Instead, embrace your inner artist by incorporating unique color combinations and patterns into your kitchen design.
Therefore, when choosing a color palette, you don't have to worry since stainless steel goes well with a wide range of hues.
This polished, svelte metal may fit in beautifully with any interior design and architectural style because of its adaptability. Therefore, keep yourself from engaging in as much creative experimentation as you like.