Gray walls are very in trend nowadays, as they give your room a sense of depth without being too gloomy. Also, it is a neutral color, so gray works well with many other colors. However, choosing curtains that go well with gray walls might confuse you.
If you're looking for good curtains to go with your gray walls, you'll ultimately have to decide between neutral or bold colors. Depending on your color palette and overall feel of the room, most anything could go with gray, so it's important to consider all your options.
If you also have gray walls and are confused about which color curtain to choose, keep reading to learn more about color psychology.
What Color Curtains Go Best With Gray Walls?
Grey goes nicely with many different hues and design themes. The greatest complementary hue for your living space will depend on whether you want to go neutral or make a dramatic statement. So, here are the best shades of curtains that go well with gray walls:
Neutral Colors
The main reason gray works well with various hues is that it is a neutral color.
This means that there isn't a natural complement for gray. All neutral hues, like black, beige, white, and ivory, share this property. These tones complement practically any vivid, strong color well because they are subdued and colorless.
For instance, a bedroom decorated in white and gray conveys serenity, optimism, and cleanliness, and a living room decorated in beige and ivory is sure to be light, traditionally charming, and inviting.
Gray walls may look fantastic with neutral curtains. However, it can take time to select the best neutral hue. There are, after all, a lot of neutral colors, like:
Gray
White
Brown
Black
Ivory
Beige
Tan
Your selected color scheme, style, and temperature will all influence which neutral shade is best for your curtains. You might wish to select brown or beige drapes for a cozier room.
Curtains in a cool neutral color, like gray, white, or ivory, can complement a room with a dark color scheme, minimalist design, or metallic accents. However, adding gray curtains to a room with gray walls might sabotage your aesthetics.
Bright Colors
Neutral colors are neither bright nor dark but are also not particularly striking. Contrarily, bright hues like red, yellow, and blue are hard to miss and frequently grab people's attention immediately. Because of this, road warnings and traffic stop signs are both bright red.
If you're going for a monochromatic look in a space with gray walls, consider using one or two bright colors as accents. A fantastic place to start is by adding vibrantly colored curtains.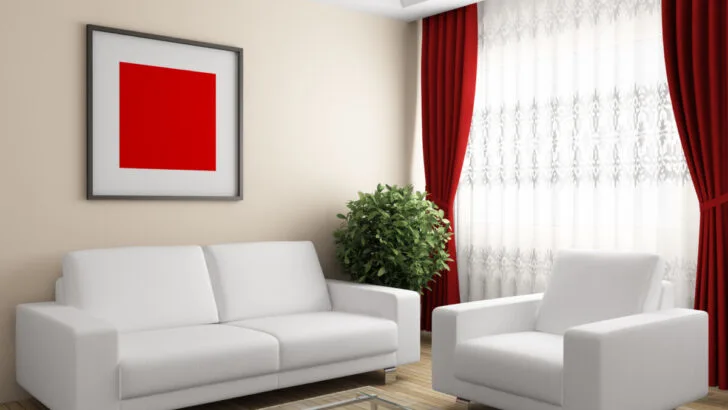 Consider the accent colors you'd like to use in your room before buying vibrant and colorful drapes. Each striking color has a certain temperature and a minor psychological impact.
To better understand how secondary and primary colors impact the design and aesthetic of a space, let's briefly look at a few examples.
Red
This hue is frequently used to indicate danger. Additionally, it's connected to thirst, ardor, good fortune, and alertness. It is frequently utilized in living rooms and dining areas.
Orange
This hue communicates friendliness and warmth. Many people connect orange with the seasonal symbols of change, such as pumpkins, autumn foliage, and other fruits and vegetables.
Yellow
Yellow is frequently tough to overlook, much like red. This color, however, evokes slightly more upbeat, cheerful thoughts. Many believe this color is among the most refreshing and inspirational shades.
Green
Green is frequently linked to healing, growth, and rebirth. The hue is frequently used in restrooms, bedrooms, and living spaces.
Blue
The qualities of intelligence, assiduity, and confidence are frequently linked to the blue shade. As a result, studies, bedrooms, and home offices frequently contain it.
Therefore, you might wish to pick orange, red, and yellow drapes and decorations for a cozier look and feel. For instance, rooms where more people congregate, like the living room or dining room, benefit greatly from these hues.
Naturally, colder hues can enhance the mood of a space with gray walls. For a blue-gray color scheme, drapes in those colors could be a wonderful touch. Additionally, cool colors often benefit offices, bedrooms, and study spaces.
Should Curtains Be Lighter or Darker Than the Walls?
The ideal curtain color has undertones comparable to the walls and is about one shade darker or lighter. For instance, deep, rich tones of dark drapes look wonderful against cream, warm white, light gray, or light taupe-painted walls. According to this rule, light window coverings contrast beautifully with darker blue, gray, green, or brown walls.
Do Beige Curtains Go With Gray Walls?
As stated earlier, neutral colors go well with darker shades. And as beige is a neutral color, it goes perfectly well with a gray color scheme.
To warm up the cool gray wall and create a welcoming and appealing atmosphere, beige drapes can be used to balance off the cool tone.
When choosing gray as the main color, it is important to prevent the possibility of dreary and uninteresting appearances. However, beige elements may be incredibly beneficial in bringing earthy and natural looks to the design.
What Color Do Curtains Go With Gray Walls and Brown Furniture?
If you have a gray wall and brown furniture, consider choosing the following colored curtains:
Tan Curtains
A tan curtain may make the room pop if you have gray walls and brown furniture. Enhance your home's aesthetic by adding a tan area rug and copper-colored decorative mirrors to the next wall. Combining these elements might create a calming natural atmosphere in the space.
Teal Curtains
Grey interiors with brown accents, such as sofas, stair treads, and dining tables, are common in modern-themed environments. In such a spare design scheme, putting teal drapes over the large framed windows can help direct the viewer's gaze to the far end of the hall. Or, a few ceramic vases in shades of gray and teal would be a nice finishing touch for the table.
Blue Curtains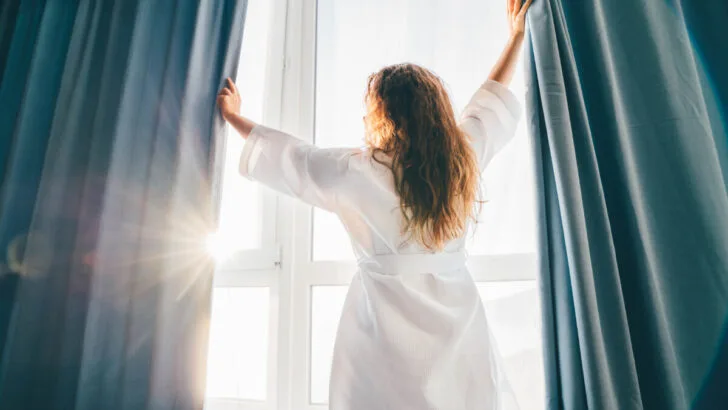 Blue curtains are an additional consideration. Also, they complement your brown furniture and gray wall wonderfully. For instance, a blue curtain works well in a living room decorated with a gorgeous leather sofa in a deep brown tone of furniture with a darker shade of gray.
With stylish lamps, side tables, and an area rug in a deeper shade of gray to bring everything together, you can further create the feel of modern beauty.
Final Words on What Color Curtains Go With Gray Walls
Knowing the mood you want the room to convey can help you choose the color curtains for gray walls. Since gray is a neutral color, it goes well with many different colors.
For instance, pair gray with a beige or cream shade if you want a cozy environment. Or, if you want your home to look inviting, pair gray walls with white curtains.