What is classier in a white or an otherwise monotone kitchen than a polished brown butcher block?
While butcher blocks are sturdy, durable, and can be sanded for a smooth and sanitary surface, getting a finished look means having neat cut outs for the stovetops, sink, and faucets.
So, will Home Depot cut butcher blocks for you?
Home Depot will not cut butcher block for you, even if you have purchased it from their store. This is because the retailer does not install wood countertops under its kitchen design service.
As much as you would want to save up by DIYing your kitchen countertops, you might not be able to neatly cut out a butcher block neatly unless you are a professional, an experienced woodworker, or have the right tools.
So, it is suggested that you leave the job to the professionals rather than messing up an expensive butcher block top that costs around $300 – $2500, depending on the type of wood you choose and the length of your countertop.
Alternatives for Butcher Block Cutting
Even though Home Depot does not offer butcher block cutting, there are some alternatives available:
1. Hiring a Handyman
If you are looking for a neat and professional woodworking solution to enhance your butcher block, you might as well get it cut from a handyman or a kitchen specialist.
2. Purchasing or Renting Woodcutting Tools
If you want to save up, you can get woodcutting tools from Home Depot or even rent them if you want to do a one-time job with them.
The employees at Home Depot can guide you regarding the tools you would need based on the type of countertop you want to cut.
For renting, you can ask the Home Depot employees for the equipment that you need and that are available.
3. Buying and Getting Butcher Blocks Installed by IKEA
One alternative is that you purchase butcher blocks from IKEA. IKEA offers cutting and installing butcher blocks in the kitchen.
This will probably lead to your countertops being cut accurately and neatly according to the measurements you provide compared to a DIY job if you are an inexperienced woodworker.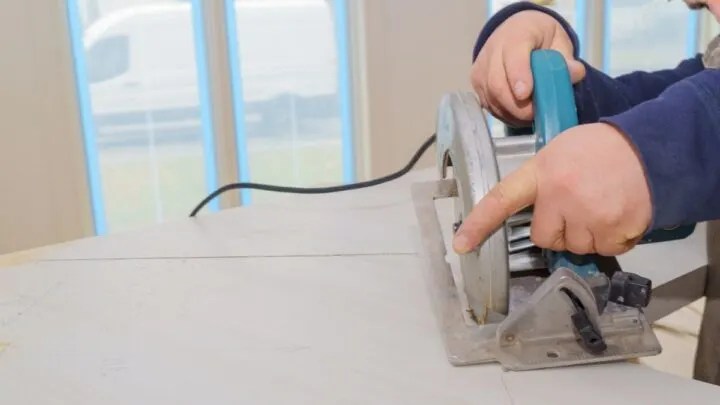 How Much Does it Cost to Get Countertops Cut?
The cost of the cut out depends on the complexity of the cuts.
For example, for a simple square or rectangle cut like that of a sink, the cost would come out to be $110-$200.
However, if you want to cut out a smaller hole, for something like a faucet or electrical outlet, a handyman would likely charge between $20 and $25.
The cost of the installation also depends on the store or the handyman.
IKEA might charge more for installing a butcher block than a handyman.
DIY Butcher Block Installation
Installing butcher blocks in your kitchen can be a cool DIY project to undertake. However, it is important to consider the following.
Wood Expansion
Wood expands in the summer, so your countertop may expand around the sink edges.
So, you need to account for this fact before measuring and cutting out the butcher block countertop.
If you don't leave room around the perimeter, your cabinet will warp or crack, reducing the life of your countertop.
It might also cause pressure on your faucet if you have measured and cut it to the tee without leaving room.
Making Room for Future Warping
You need to level the countertop with shims so the block rests properly to prevent warping. Since wood can warp due to moisture, you would want the block to rest in your home for a few days before you cut it out to install it on the countertop.
Resealing Butcher Blocks
While butcher blocks are highly durable as countertops, they do need maintenance to last at least 20 years.
They might need resurfacing to remove scratches, dings, and deep stains.
Also, to make sure they look polished and finished over the years, resealing them on a monthly basis is a must.
The resealing also protects from the scratches on the wood surface which saves you on the resurfacing cost and effort and makes it an occasional requirement rather than frequent.
Summing Up if Home Depot Will Cut Butcher Block
Butcher blocks are a favorite countertop type amongst many kitchen designers because of its beauty, functionality, and durability.
However, it also remains a challenging material to cut up and install as it has the expanding and warping properties of wood.
Therefore, if you have no experience in woodworking, it is recommended that you hire a professional to do this work so that your butcher block lasts for at least 20 years.
While Home Depot has a huge collection of butcher block countertops, it does not provide installation services of butcher blocks.
However, there are other competitors like IKEA and handymen that offer cutting your butcher block countertop as well as installing it.