Adding an outdoor fireplace has been the best upgrades that I ever made to my home! Between the expanded living space, extra time outside, and increased home value, what's not to like?
While I'm clearly a fan out outdoor fireplaces, let's take a look at their full list of benefits so that you can make the decision for yourself.
Benefits of Outdoor Fireplaces
I find outdoor fireplaces attractive as they add beauty to my landscape design. I can also stay out late in the night and gaze at the moon and stars.
Here are other benefits I enjoy from my outdoor fireplace!
#1 Value Add
Getting a good return on my investment can feel risky when selling a home with no enticing features. However, my outdoor fireplace's beauty attracts buyers who want outdoor living without incurring the upfront costs.
This means my fireplace can be a good selling point if I decided to sell my home as it can help me increase the value of my property.
#2 Perfect for Gatherings
Over the years, I have noticed that my friends' conversations liven up than when I am indoors. Gathering around a fireplace with my guests seems to encourage recounting past stories and sharing jokes more.
Installing an outdoor fireplace into my backyard also creates the ideal gathering spot that enhances relationships with my loved ones.
It's the perfect place to socialize and hold meetings with food.
#3 Gives My Home an Aesthetic Appeal
Before I installed my fireplace, my landscape was blank. However, it has now added instant beauty to my backyard and transformed it into a beautiful garden.
I have surrounded my fireplace with an attractive patio, garden-seated area, Jacuzzi, and a BBQ place to make my home look stunning.
I have also added some outdoor music and lighting to my fireplace to give it an appealing outdoor setting.
#4 Great for Cooking
I like cooking dinner outdoors because I enjoy the outdoor flavors. My fireplace allows me to grill and roast marshmallows perfectly with my loved ones by the fire.
The best part is that I don't have to be a renowned chef who knows how to control the flame!
During the weekend, I like organizing a camping trip in my backyard and roast some delicious meat for my family.
#5 Warmth
My outdoor fireplace is a great source of heat and provides me with warmth during winter. It also encourages my family and myself to stay outdoors often, even when it's extremely cold.
All I need is a good jacket to stay by the fire. My fireplace also warms my backyard to a comfortable temperature and encourages outdoor entertainment during the cold season.
#6 Creates Romantic Ambience
My fireplace creates the perfect romantic ambiance whenever I want to sit in silence and admire the stars at night or catch up with my significant other. It does make the evening a romantic one.
Sometimes, I use it as a place for relaxing or unwinding with my partner while discussing the day's events. It also sets the tone of the evening, making it a memorable one.
#7 Keeps Insects Away
One thing I don't like about summer is flying bugs and insects.
However, my wood-burning fireplace keeps these insects away, allowing me to enjoy my time with loved ones without any of these bugs!
Types of Outdoor Fireplaces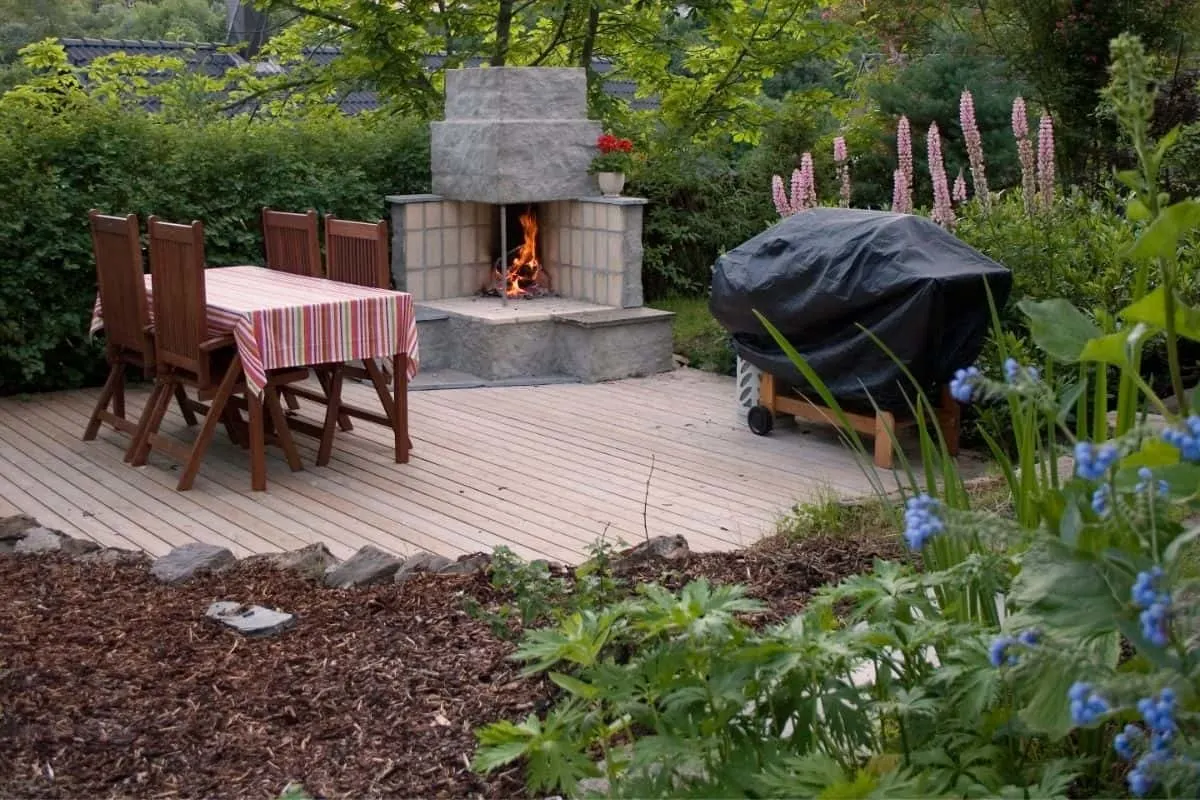 I like sitting around my warm wood-burning fireplace as I catch up with my family. There are also other types of fireplaces that I want to talk about.
Propane Fireplaces
Propane fireplaces offer homeowners convenience because they provide a beautiful flame without requiring wood.
Most propane fireplaces become the point of attraction for patios as they are large. They are also designed with glass, rock pebbles, or faux wood.
Below are a few types of propane fireplaces:
Fire Pit Table: Most propane fireplaces have a table-like design with a safety area that prevents children from getting close to the flames. The area is also perfect for placing a bowl of popcorns or drinks while relaxing around the fireplace.
Copper Bowl Fireplace: Propane fireplaces with copper design have a high melting point, making them durable. However, they are expensive.
Portable Propane Fireplace: Portable propane fireplaces are the best because they allow me to cook and also provide ambiance and warmth. What's more, I can move this fireplace in my backyard with ease. Some designs are light and easy to move around, while others have wheels.
Natural Gas Fireplaces
This fireplace is perfect for installing in a backyard with a natural gas line. Like propane fireplaces, this fireplace is a permanent fixture in yards. Natural gas fireplaces rarely run out of fuel.
Here are some ways to design this fireplace:
Tabletop, Round or Square Design: This design involves raising the fireplace above the patio using bricks or stones to add beauty to an empty space.
Sunken Design: This design is built down into the ground or patio. The only issue with the sunken design is that the flames tend to be close.
Wood Burning Fireplaces
These fireplaces are similar to a campfire and provide smoke and warmth while containing the fire.
Here are a few types of wood-burning fireplaces:
Stone or Brick Fireplaces: This is an affordable and easy DIY project that requires bricks or stones from the local hardware.
Outdoor Fireplaces: Outdoor fireplaces, whether built-in or portable, enhance patios while adding a stunning look to empty spaces.
Wood Burning Grill: Wood burning grills are ideal for grilling and cooking. They have a grill plate for connecting above the flame embers.
Gel Fuel Fireplaces
These fireplaces are ideal for adding ambiance to yards. They are versatile and can be carried anywhere in the backyard. The gel also burns without producing smoke.
Here are some gel fuel fireplaces:
Tabletop Fireplace: A tabletop design is great for a small fire and can be moved easily outdoors to make the patio table attractive.
Gel Fueled Logs: Gel fueled logs can be placed in any fireplace. They hide the gel fuel holders in the pieces of wood while creating the real feel of fire.
Factors to Consider Before Installing an Outdoor Fireplace
The popularity of outdoor spaces is gaining track as it extends the outdoor season while providing the perfect place for connecting with family.
Here are some of the things I had to pay attention to before building my fireplace.
Fireplace Purpose
Before buying my fireplace, I had to consider whether I needed it for family time, relaxing after a busy day, or entertaining guests.
Outdoor fireplaces are great for intimate settings with loved ones or unwinding from a busy day.
On the flip side, fire tables or fire pits are ideal for an informal setting like catching up with friends and storytelling. Since I love relaxing, an outdoor fireplace carried the day.
Heat Output
This is another thing I also had to think about. Outdoor fireplaces prevent blowing wind, thus minimizing heat loss. Additionally, the bricks and logs radiate the heat much better to keep the environment warmer because the flame is contained.
Unlike fireplaces, fire pits keep the warmth out of the environment due to the open flames. Fire pits also don't hold the heat for long since the heat isn't contained.
So, I chose an outdoor fireplace due to its ability to retain heat!
Home Design
My home décor style also played a crucial role in my decision-making process. I wanted a fireplace that could complement my home's existing features and reflect my style.
The good thing about a new outdoor fireplace is that it can be personalized to suit different tastes. So, I had mine customized to my liking.
Budget
I love comparing prices before buying anything, including fireplaces, since they have a different price range. I also considered factors like premium or basic models as they affect the price.
However, the most important thing I check is the finishing options and included features. Doing this helps me get a high-quality fireplace that's within my budget.
Safety
Safety is another factor that I don't overlook. That's why I chose an outdoor fireplace because it has a firebox for containing flames!
A Fiery Conclusion
Once again it's fair to say that I'm a huge fan of outdoor fire places. Flaming fan you might say 😉
While it's not the perfect choice for every homeowner, if you enjoy spending time outdoors than it may be a good fit for you as well.
Related Articles