When renovating your bathroom, you will likely spend some time considering a soaking tub installation.
But before you do, think if they are really worth it.
Some people believe that soaking tubs can provide health benefits.
Others think soaking tubs are just another luxury item that is too expensive for most people. We debate this issue below.
We believe soaking tubs are really worth the investment because they are healthier for you, more compact, easier to maintain, and they will help increase your home value too.
This means the upfront cost will be refunded later if you decide to sell your house.
For many people, soaking tubs are a luxury they can't afford.
These tubs can be costly to purchase and maintain, but there are ways that you can buy a soaking tub without spending too much money and still enjoy the benefits of this bathtub too.
This guide explains whether you should install one or not.
To provide this analysis, we considered the average costs for a soaking tub and how they impact home value to determine if they are worth it.
We also looked at the benefits and what homeowners say about them too.
Table of Contents
Elevate your self-care routine with a relaxing and therapeutic tub. My guide What Is A Soaking Tub dives into the features and benefits of this popular bathroom fixture.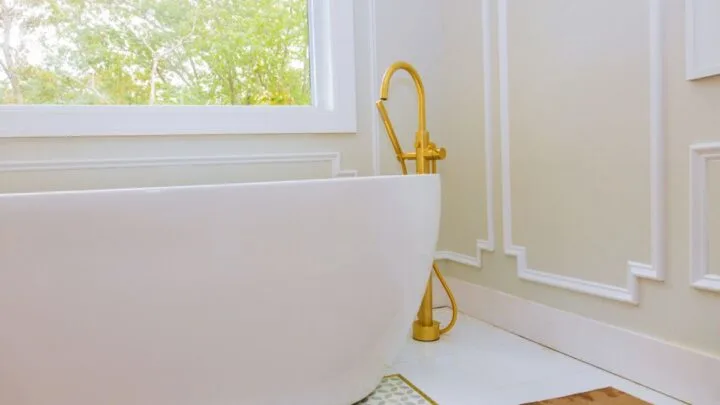 Are Soaking Tubs Really Worth It?
Soaking tubs are a popular trend in the United States, with many people opting for a soak in the tub to relax.
However, there is no clear evidence that soaking tubs really do anything for you.
Many people swear by soaking tubs as a way to relieve stress and anxiety.
Soaking is often thought to increase serotonin production and decrease cortisol levels, which could help with relaxation and sleep quality.
The real value is also in your enjoyment as the tub owner.
It provides a luxury bathing experience that relaxes you and allows you to unwind after a long day.
It is up to you to decide if this experience is worth the investment.
How Much Do Soaking Tubs Cost?
Soaking tubs are a luxury item that costs a lot of money.
There is no such thing as cheap soaking tubs. However, there are ways to reduce the cost of buying one.
There are also some highly technical soaking tub designs, like an exotic design, that will raise the price significantly.
Depending on the type, you can expect to pay anywhere between $500 to $4,000 for a soaking tub.
The basic soaking tub that requires nothing new for plumbing will cost even less, around $250 to $400. When plumbing adjustments are needed, expect to pay no less than $1,000.
Because of this high price tag, homeowners are unsure if these extravagant tubs are really worth the investment.
To determine if they are, consider some of the benefits they provide.
Benefits Of Soaking Tubs
There are many benefits to using a soaking tub in your home. Below we have listed the most common ones by homeowners.
1. Improved Health Benefits
Soaking tubs are a relaxing way to bathe and provides numerous health benefits.
They can treat tension and anxiety, improve sleep and relax your muscles.
A soaking tub is a great way to unwind after a long day or relax before bedtime.
It also provides numerous health benefits, such as helping with arthritis and back pain.
Soaking bathtubs have been around for decades but have only recently become more popular.
2. More Space
By putting a soaking tub in your home instead of a traditional tub, you save more space because they focus more on depth than width and length.
This means you have more room in the bathroom and a better tub. They even have a combination design that includes the soaking tub and shower design in one.
3. Excellent Heat Retention
A soaking bathtub is like a hot tub without the hassle of maintaining it.
It has an electric heating element that keeps the water at a pleasant and comfortable temperature for hours.
Running it once with hot water will maintain this heat level for quite a while and eliminate wasted water.
When you take a shower, the water runs the entire time.
4. Modern & Stylish Design
There is no debate that a soaking tub provides a modernized look with a stylish finish to a home. It is a low-cost way to give your bathroom a completely renewed look.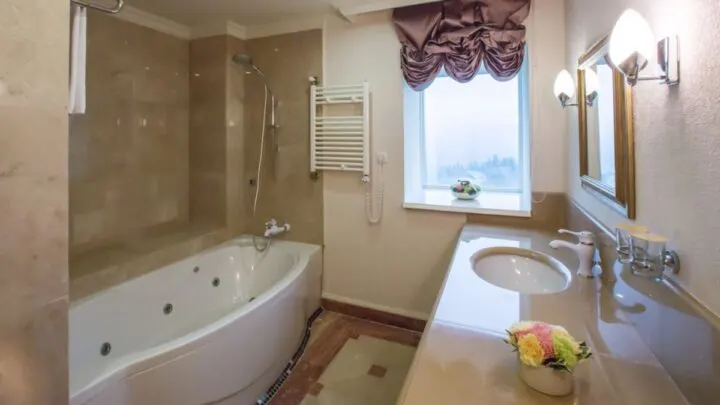 Does A Soaking Tub Increase Home Value?
This is a question that many homeowners ask themselves when they are thinking about selling their homes.
Real estate agents say home buyers prefer a master bathroom with a soaking tub.
A soaking tub is an integral part of a bathroom, but it can also improve the value of your home.
This is because soaking tubs are typically more expensive and therefore increase the home's value.
Soaking tubs are not just for relaxation but also for health and wellness benefits. They can help with muscle aches, pain relief, and stress relief.
A soaking bathtub is generally a large, deep, rectangular, or square vessel with a wide opening at one end, which can be filled with water to create a pool.
All these benefits will slightly increase your home value by making it a more attractive property when on the market.
Summing Up Soaking Tubs
If you found this article helpful and would like to learn more about soaking tubs, make sure to take a look at the related posts below!