A long hard day calls for something equally relaxing that can ease away the tiredness.
A hot cup of coffee, your favorite sitcom, or a warm scented bath can help you to ease your senses and pull away the pain as you stretch your legs in the mineralized water.
However, another more enriching and therapeutic way to unwind is soaking your entire body in a soaking tub.
Even though both may seem synonymous, a soaking tub offers tranquility at another level.
A soaking tub allows you to entirely submerge your body up to your shoulders, allowing for the ultimate relaxation experience. A soaking tub has a greater average height compared to the standard tub.
A regular tub is shorter than the average soaking tub, but it is a cost-effective alternative to the highly popular, thus highly priced soaking tub range.
Table of Contents
Discover the ultimate in bathroom luxury – learn all about the comfort and style in my full guide on what is a soaking tub!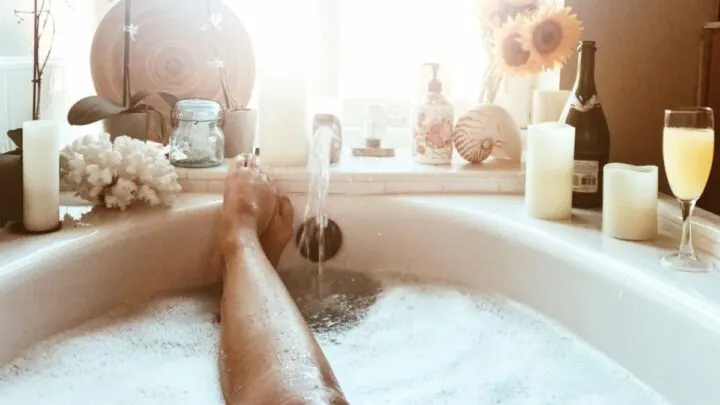 Major Differences between a Soaking Tub and a Regular Tub
A soaking tub and a regular bathtub are different in more than one way.
Based on your bathing needs, convenience, and budget, you might opt for a soaking tub or a bathtub.
However, to know which type of tub best fulfills your needs, you need to understand the differences between a soaking tub and a regular tub.
1. Design Differences
Relaxing in the water is a great way to relieve stress.
While both soaking tubs and regular tubs offer a relaxing experience, the major difference is that a soaking tub is taller than a regular tub.
While there are various tub designs in both categories, the height of soaking tubs averages 23 inches, and a regular tub's height averages 19 inches.
So, the soaking tub allows the person to fill water to the brim to cover their entire body with water, giving an almost floating experience that is stress relieving.
Length
The length of the soaking tub varies, and you can pick and choose the soaking tub according to the space in your bathroom.
Since the soaking tub is lengthier, it can have steps or a handrail system to help enter the tub.
However, this may be difficult for physically challenged persons.
2. Therapeutic Experience
There are numerous benefits of taking a hot bath. And if you add sea salts and other minerals like dried herbs to the bath, you can enjoy greater benefits.
Relaxing in a soaking tub allows one to submerge their entire body in the water.
So, it offers an improved therapeutic experience when compared to the feeling that you get when bathing in a regular tub.
A soaking tub offers skin exfoliation, improvement in circulation, and greater pain relief as compared to a regular bathtub.
As a result, you can enjoy better sleep at night, de-stress, and unwind better!
3. Water Usage
Since a soaking tub has a greater capacity, it might use more water than a regular bathtub.
Most soaking tubs also offer an overhead shower or a rainfall showerhead that aids in massaging the body.
Even though the added faucets and shower would add to the therapeutic experience, this feature may increase water consumption compared to bathing in a regular tub.
4. Seating
A soaking tub also offers a seat or a bench-like feature that might be fixed or adjustable, which offers relaxation in a better posture.
While the bathtub has an elevation to help support the back, the neck is still propped onto the bathtub and not supported by the shoulders as it is in the natural posture.
The seat in the soaking tub allows relaxation in the most natural way, where the head is supported by the spine.
However, the bathtub's elevated design may cause strain on the back and the neck.
5. Aesthetic Appeal
Aesthetics don't come cheap, whether it be a fancy bathtub or a contemporary style soaking tub.
However, with all the rage around soaking tubs in home design, it is probably the best investment if you want that fancy bathroom.
While soaking tubs come in a variety of designs and budgets, if you want a contemporary look, you might want to invest in a soaking tub that is made of concrete or steel and equipped with a showerhead.
Also, if you don't want to install steps and ease sitting into the soaking tub, you might have it installed partly or fully sunken in the floor.
But it may require renovating the bathroom from the ground up, therefore adding to the installation costs.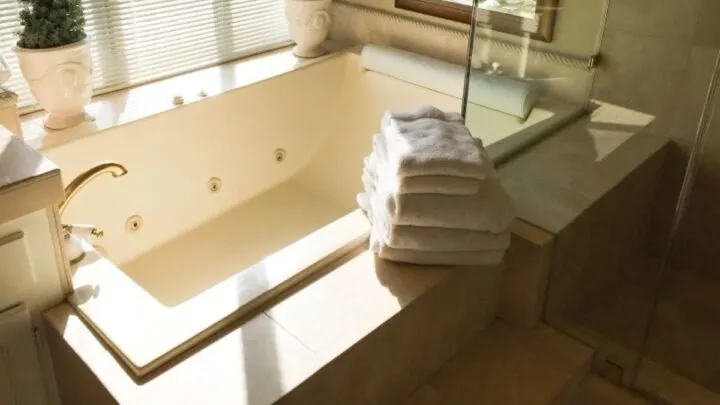 How to Choose Between a Soaking Tub and a Regular Tub
The choice between a soaking tub and a bathtub depends on your preferences and budget.
Currently, soaking tubs are getting highly popular because of their contemporary look and the heightened therapeutic experience.
However, you would want to choose a tub that offers functionality alongside your preferences and bathing needs.
Therapeutic Experience
A soaking tub offers a heightened therapeutic experience. So, it is a clear choice if you want to take baths that fully immerse all your senses.
You can go for Japanese soaking tubs, which are more relaxing and are also more compact when compared to a regular bathtub.
However, a bathtub within a budget can also offer a therapeutic experience if you add in sea salts and dried herbs.
You can also light a scented candle and enjoy some warm tea when in the bath to fully immerse in the experience.
Aesthetic Appeal
When it comes to aesthetics, both soaking tubs and bathtubs offer a great variety of materials and designs to choose from.
You can go for a wooden soaking tub or a bathtub, which adds a rich and unique look to your bathroom.
However, wooden soaking tubs and bathtubs ask for a lot of maintenance, apart from being highly expensive compared to other materials.
While excessive moisture can result in the wood warping or cracking, lack of moisture can also lead it to dry out.
So, you will have to use your wooden tub at least once a week to prevent it from drying.
However, even then, the life of a wooden tub is shorter than a stone or concrete soaking tub.
So, you can invest in a high-quality concrete, stone, or steel soaking tub to get a greater value for your money and a contemporary touch to your home since soaking tubs are becoming highly popular in home design.
Water Conservation
If you want to enjoy a relaxing bath without driving up your water consumption, choosing a compact soaking tub like a Japanese soaking tub can help.
However, if you want to enjoy a relaxation session with someone, it is better to invest in a regular bathtub as it will consume less water compared to a large soaking tub.
Summing Up Soaking Tubs vs. Regular Tubs
If you want to upgrade your current bathtub or invest in an experience different from the regular shower, you should first list down your priorities.
If you are on a low budget, you can invest in a free-standing soaking tub that can accommodate a single person.
This way, you can also save on water consumption!
Furthermore, if you want something that does not require physical effort, you may want to invest in a floor-mounted tub or a bathtub that has a short height.
In any case, make sure you select a tub that has the options that will help you feel relieved, relaxed, and get some quality sleep afterward since that is the essence of a tub apart from the aesthetic appeal, installation, and investment requirement.
If you found this article helpful and would like to learn more about soaking tubs, make sure to take a look at the related posts below!