The layout of your furniture in the living room can make a huge difference in the ambiance.
But how do you arrange two different sofas in your living room?
With one sofa, it's usually easy to find the right spot and then arrange the furniture around the sofa, since it's the one thing that takes up the most space. But if you have two, then you need to put in more effort.
With two sofas, how you arrange them depends on the size of the room, the function you want to carry out, and the size and design of the sofas themselves. You can opt to arrange them opposite, in an L-shape, diagonally, or even spread out.
There's no real one size fits all solution, but there are plenty of ways you can arrange your two sofas and not compromise on your interior décor.
We considered the opinions of professionals in the interior décor field and the general trend when it comes to arranging two sofas in one room while creating this guide.
The Best Arrangement
Before you decide to arrange your sofas in any way, you have to assess the room and the furniture itself.
How big is it, and how much other stuff do you need to keep in the same room?
Too much can make the room feel cluttered, while too little can make it look empty.
You'd also have to consider whether you're using the room for formal settings, or just to relax. The arrangement for décor and comfort aren't necessarily the same!
1. Facing Each Other
One option to arrange your sofas in the living room is to have them facing each other.
This is a good idea for living rooms where you frequently have to entertain guests and want a setting where it's easier to socialize and make conversation.
This kind of arrangement does need more space though, so it works better for living rooms with larger floor plans or those that are rectangular in shape.
It can also work if you have less furniture in your living room otherwise. Arranging the sofas face-to-face will help with giving the room a symmetrical design.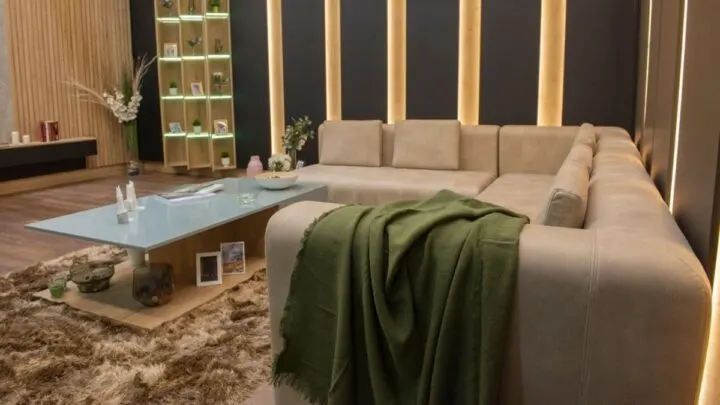 2. L-Shaped
An L-shaped sofa arrangement is a much cozier and more casual for your living room.
With the two sofas being placed at a right angle to each other, the atmosphere feels more inviting and is probably best for living rooms where you intend to spend time with family.
With an L-shaped arrangement, you can also have the sofas facing in mostly one direction, such as towards a fireplace or television.
However, because sofas are definitely not small, you do need a larger room with more space for this arrangement to work.
If you don't have enough space, such an arrangement can make your living room look small and stuffy. If you do have space though and want a cozy, comforting setting, an L-shaped arrangement works well.
3. Diagonally
When we think of furniture arrangements, we usually think in terms of straight lines and right angles.
These work, most of the time, but you can also shift things around a bit and make those angles a bit wider or smaller.
Instead of keeping the sofa in an L-shape at an exact right angle, you can also make the angle a bit wider.
Again, like the typical L-shape, this will take up space and is better for when you just want the sofas to face in one direction.
While a regular L-shape setting is relatively casual, it is still somewhat appropriate for entertaining formal guests, while a diagonal setting is not.
4. Spread Out
One way to make your room feel comfortable – if you don't plan on using it for formal settings – is to spread out your furniture.
Go for every angle and every position, and keep your sofas wherever you want them to be.
This makes the room feel a lot friendlier, and with such a setting, you can also add other chairs and recliners without the room feeling stuffy and cluttered.
Of course, this only works if you have enough space to spread your furniture out, but for the most part, many living rooms have enough space for two sofas.
Make sure to keep just enough space between them to make the space look bigger, and use up any empty spots.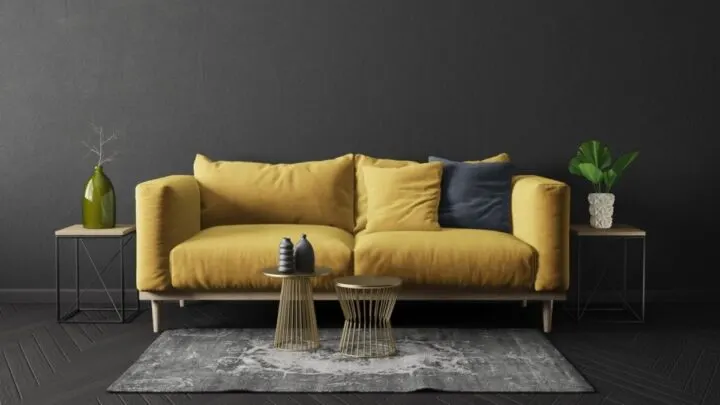 Consider Your Sofas
Before you decide on the sofa arrangement, you looked at the size of the room, and what you wanted to use it for.
But another thing you want to consider is what kind of sofas you have to begin with.
If they're identical, then you can go pretty much any way with them, without the colors and fabrics clashing too much.
The shape will also work well regardless of where you decide to put them.
You can even go for something completely different and put the two right next to each other in a line (though this will need your living room to be really big).
On the other hand, if your sofas are different, then you need to keep this in mind.
For example, if the sofas have different, contrasting fabric designs, you want to place them in a way that doesn't look haphazard.
The fabric, despite being contrasting, should end up complimenting each other. In such cases, the sofas should be placed opposite each other.
You also want to make sure the color combinations don't clash, otherwise, your living room can actually end up looking a bit messy.
Perhaps the color is even more important than design when it comes to sofas.
Having muted, solid colors are best for living rooms, but one brightly colored sofa in the middle of otherwise muted tones also works.
The shape of the sofa also matters. If, for example, you have one bench sofa and one sectional, it wouldn't make sense to keep the sectional placed separately.
In such cases, an L-shape is the best option.
The best arrangement for your living room sofas really depends on the room you're decorating, and the sofas you're decorating with.
Keeping both in mind, you can find something that works for the kind of atmosphere you're going for and looks good.
Summing Up Arranging Two Sofas In Your Living Room
There are many ways that you can arrange two different sofas in your living room, and it depends on the overall function of the room along with the size of your couches as well. If you're going for comfort and conversation, it's easier to have the couches face each other.
For other designs, you can have them even in one long line, if you have enough room. Make sure you think about the overall function of your room before arranging anything.