Do you need to know the dimensions of a bedroom closet? How can you know your bedroom closet is up to the standard size?
There are specified measurements defined for each type of closet design, whether it is a linen closet, walk-in closet, or reach-in closet.
There are various types of bedroom closet options available in the market, and there are both walk-in and reach-in closets.
A standard closet is 24-inches deep and half the width of the room. However, a walk-in closet would need to have a minimum measurement of 36- to 48-inches in depth.
The design will have varied proportions for each closet layout according to that type of storage and your unique choice.
There are various measurements for various closet designs as well as any regulatory regulations.
People should also go through the various measurements based on the style of the closet. It's often a great idea to check your local rules to ensure that you follow the guidelines.
A closet is not required in a bedroom, as per the International Building Code (IRC); however, construction authorities can amend the policy.
Federal Housing Administration Bedroom Closet Dimensions
You can breathe easy if you're concerned about whether the lack of or an existing closet would affect the value of interiors in your property for valuation considerations.
According to the common misconception, the Federal Housing Administration (FHA) does not need any room to feature a closet in order for it to be classified as a bedroom.
The Federal Housing Administration mandated this for the final time in 1994.
Some creditors may have different criteria, especially depending on the area or date of the property, so that is always a good idea to verify your building codes or guidelines.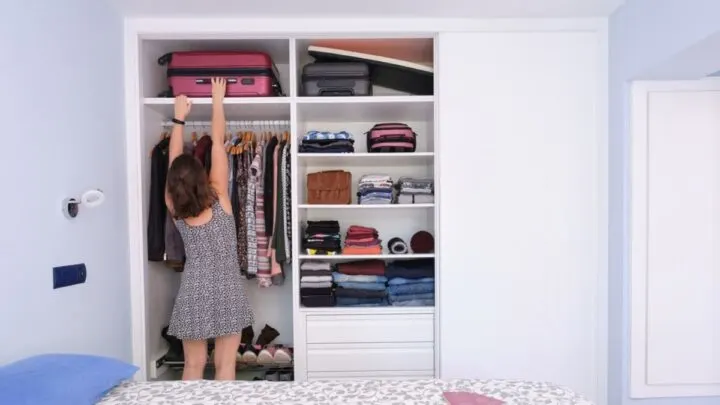 Measurements of a Reach-In Closet
A reach-in closet must be at least 35 inches wide and 21 inches deep. A typical reach-in closet is 35 inches wide and 23 inches deep.
If you aim to store mainly outerwear, other bulky items, or a coat, try expanding the depth to 29 inches.
Measurements of a Walk-In Closet
Small Walk-in Closet
A walk-in closet's least allowable proportions are 3 feet wide by 3 feet deep. Such a walk-in closet features only one rear wall for hanging clothing and one sidewall.
Compact Walk-In Closet
The key to determining the ideal walk-in closet size is to evaluate how much area will be useful to move around.
A walk-in closet must be at least 4 feet wide and 4 feet deep. Then, consider what types of items or shelves will be available in the closet.
Walking distance between drawers, shelves, or hanging items on storage items must be a minimum of 23 inches.
For the items put on the hanging clothes, hangers require an extra depth of 3 feet. A 6-foot-wide closet may contain shelves or hanging clothing across both sidewalls and the back.
Walk-In Single-Sided Closet
The smallest form is the walk-in single-sided closet. The design will offer enough clear area to enter into the wardrobe but just one wall of shelves or storage.
The traditional measurements of a walk-in single-sided closet are 3 feet deep by 4.5 feet wide; however, designers may adjust the width to match any area you have available.
Walk-In Double-Sided Closet
When designing a walk-in double-sided closet, designers have measurement choices based on the types of storage you want to include.
A walk-in double-sided closet has storage on both walls, including a clear area that makes a hall-like walkway dividing the storage.
If you want to include rods, shelves on one end, or a hanging rod, the breadth must be between 6 feet and 6.5 feet, depending on how deep your shelves would be and the traditional 5 feet deep measurement.
You'll need to make extra hanging room when you want both storage solutions. It makes the measurements 7.5 feet wide and at least 4.5 feet deep.
Walk-In Island Closet
The walk-in island closet is the biggest closet discussed in this guide. This closet has an island feature in the closet's middle that may be utilized as sitting, shelving, or a worktop.
All sides of the walk-in island closet must have enough space. Allow for three feet of space on both ends of the island walk-in closet.
The level of storage you would be adding must also be considered, whether it is for hanging items or shelves,
The actual size of the closet would be 12 feet by 12 feet if you had a middle island that was 4 feet wide by 4 feet long, a hanging cupboard area on each side of the island walk-in closet, and shelves along the rear wall.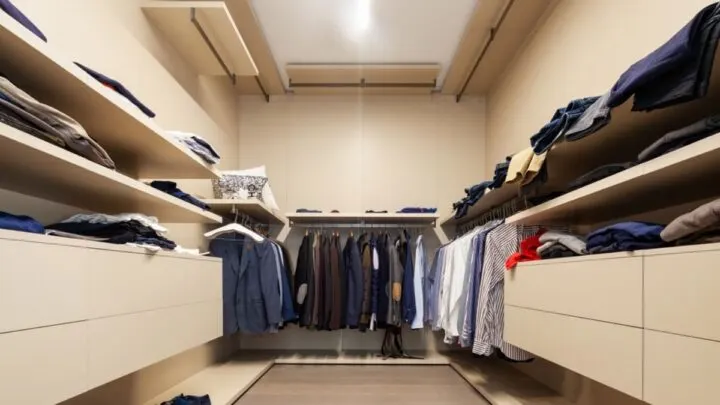 What Is the Ideal Depth for a Closet?
A closet, for example, reach-in can be as small as 18 inches in width by 17.5 inches deep.
It's great for a media closet, pantry, or linen closet.
1. Minimum Depth of Closet for Clothes Hanging
A closet should be at least 18 inches deep to accommodate the breadth of hangers. When you add clothes to the frames or hangers, you'll have a bit of a struggle, but it'll be doable.
To allow hangers with clothes to hang correctly, aim for a depth of at least 25 inches, which is the usual size for a reach-in closet.
2. Standard Height for Shelf and Rod Closet
The required height for a single closet and shelf rod for hanging gowns and jackets is at least 67 inches measured from the ground.
In an 8 feet tall closet, its shelf will be 68 inches tall.
When getting a double rod arrangement for storage, designers must install the lowermost rod 35 inches above the ground. At this height, a coat placed over a coat hook should not hit the floor.
The first rod must be placed about 42 inches long for hanging the clothes, and the second rod must be spaced by 44 inches.
Summing Up Bedroom Closet Dimensions
We believe this information was helpful in your efforts, regardless of your purpose for researching bedroom closet dimensions, whether you want to get an assessment or rework an existing main bedroom layout.
Depending on the size of the closet you want, what building codes you have to adhere to, and what kind of overall look you want, make sure you measure accordingly in order to fit all your clothes and whatever else you need to store!