Have you been thinking about painting your kitchen cabinets? Well, if you are wondering what is the best paint to use on kitchen cabinets, find out which is the best option here.
An oil or water-based paint with a semi-gloss, gloss, or satin finish is the best type of paint to use on kitchen cabinets. These options will give you the shine that you want without being too flashy, as well as the durability to withstand daily use.
If you want to know what is the best paint to use on kitchen cabinets, then keep reading and we will go over all the options and what will work for your specific situation!
Best Type of Paint to Use On Kitchen Cabinets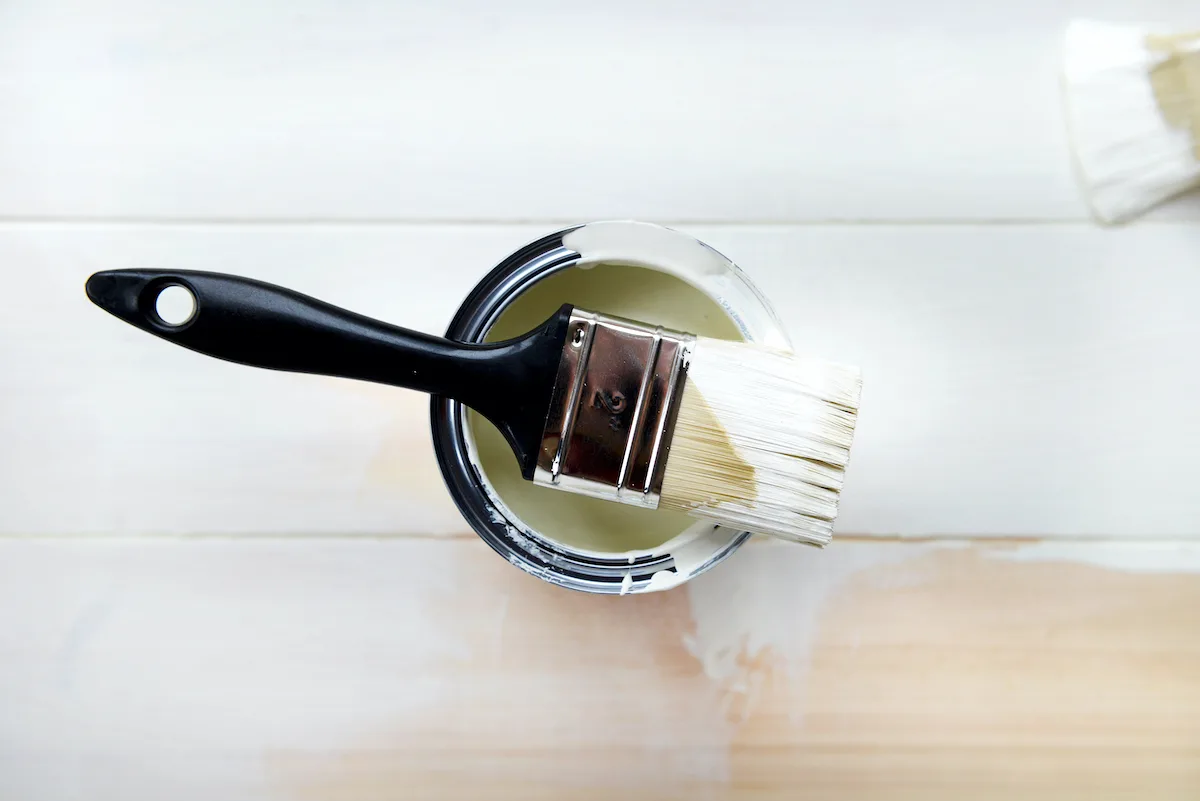 The types of paints that you use in your home will vary depending on what the room is used for. The paint you should use will also depend on what type of material your cabinets are made of!
However, the main choices that work for common materials used for kitchen cabinets are oil or water-based options because they are durable. These paints will be easier to clean without getting chipped and won't have a pungent smell while it is being done.
You will also want to ensure that the paint that you purchase is specifically designed for use on kitchen cabinets. This will allow you to paint without needing any additives in the solution and ensure that the paint will hold up over time in a space that is frequently used.
Other types of paints might need an added step for mixing, but cabinet paint won't require that. It will allow it to hold up against spills and varying temperatures!
This is important for a kitchen because with the temperature of the oven and stove can affect the paint of less durable options, but will not affect cabinet paint. This will allow it to last a long time and still look like it was freshly done.
Water-based paints are a popular option because they are water-resistant once they have completely dried, which is needed in the kitchen. It also doesn't take as long to dry, so it is ideal if you will need to use your kitchen shortly after painting the cabinets.
Oil-based paints are great because they are very durable, which is ideal for a kitchen. After all, it is a high-traffic space in the house. However, this option will take much longer to dry, which can interrupt your schedule, especially when it comes to cooking.
The material of the cabinet will matter too, but the good news is that wood cabinets have lots of options. However, laminate cabinets are a much pickier material to work with. If you have laminate cabinets, you will have a few extra steps to get the right look.
Wood cabinets will work well with both oil or water-based paints. So, you will have your choice of paint in this case.
What is the Best Sheen to Use on Kitchen Cabinets?
When thinking about what sheen your paint should have when you are repainting your kitchen cabinets, you will want to stick with semi-gloss, satin, or gloss.
These options will give your kitchen a nice sheen while keeping the color vibrant through frequent scrubbing and cleaning.
So, what are the differences between these sheens of paint?
Semi-Gloss
This type of paint is not as shiny as full gloss paint, but it has a bit of shine to it that brightens the color. This is because it reflects the light off the gloss.
This is a durable option for kitchens and bathrooms because it will last through tough cleanings and will not have any issues with mildew or mold due to moisture.
However, the issue with this option is that it will make any imperfections on the cabinets stand out even more. So, you will want to prep and sand down the wood before painting to help keep the paint laying as flat as possible.
Gloss
Kitchen cabinets need a paint that is as hard as possible, which is full gloss paint. This kind of paint hardens and becomes a very durable choice.
It will also be easy to clean and keeps the colors of the room look vibrant because of the reflection of the glossiness. Gloss paints also make a good choice for cabinets that will be dark or light colors, so you can choose whatever shade you want.
The glossiness of the cabinets will also make the entire kitchen feel a little bit bigger than it is, which is ideal for smaller areas.
However, this comes with the same problem of the semi-gloss paint as it will make scratches and holes more prominent and easier to see.
So, you will need to carefully fill any holes and sand down any uneven areas to avoid imperfection from being seen clearly.
Satin
This kind of paint is not as glossy as the other options, but still has a small amount of shine to it. However, because it is not as shiny, it doesn't make imperfections that much easier to see.
This works as a low-maintenance option that doesn't require as much sanding before painting. It will also stand up well against frequently scrubbing and cleaning of the area.
It is also a durable choice that will hold up to heavy use and tough cleanings often, which is needed in the high-traffic areas of the house like the bathroom or kitchen.
Can You Paint Kitchen Cabinets Without Sanding?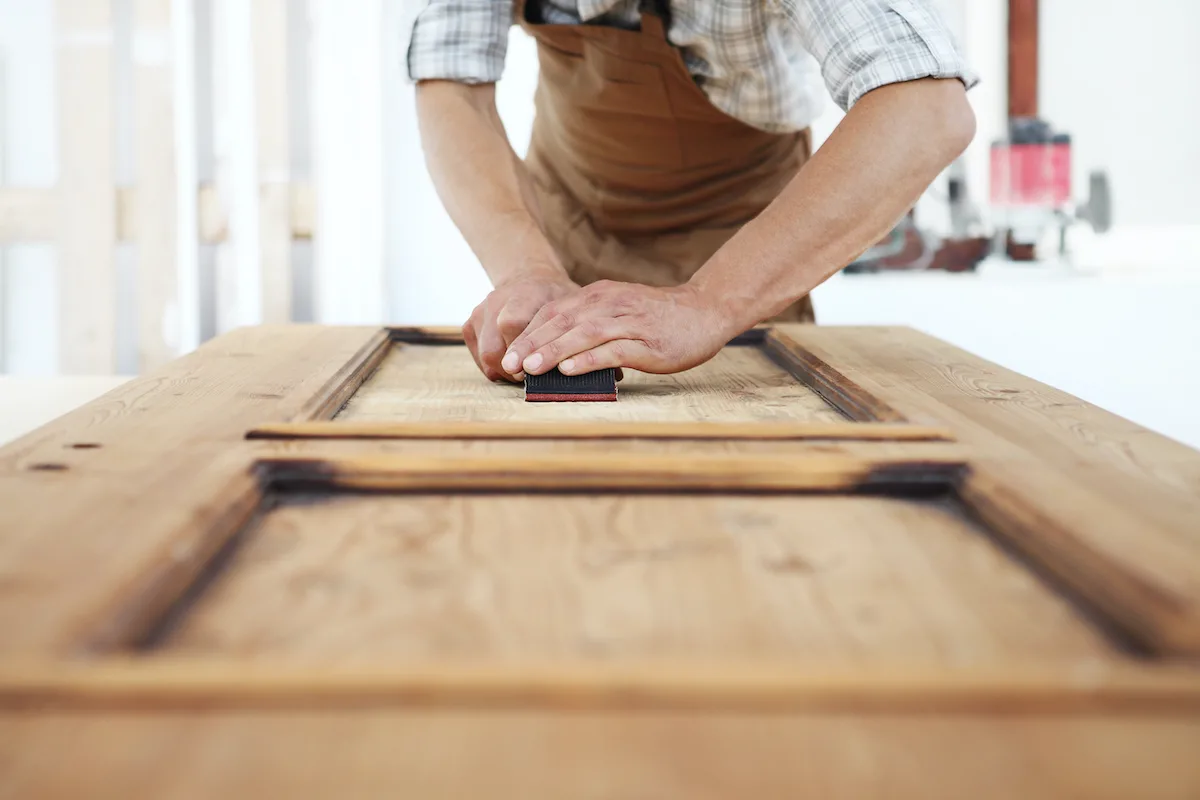 In most cases, unless you are painting newly-installed cabinets, you will want to sand down the wood. This is because the more durable options for paint that will only make the look of small nicks or holes even more visible.
This is also due to the glossiness that they come with, which is intensified when the gloss is higher. This means that you will have less of an issue with satin paints, and the hardest time with high-gloss paints.
If you have wood cabinets, you will want to at least do light sanding work to ensure that the material is as smooth and even as possible.
However, this doesn't apply if you are working with laminate cabinets. It is not always recommended to paint over laminate cabinets, but it can be done if you do not like the current color or style.
If you choose to do so, you will need to sand the cabinet, but you will need to put a primer on too. You will sand before and after doing this.
Do You Need to Prime Your Cabinets Before Painting?
One thing that you should do before painting the color you want on your cabinet is to prime the material. Just like with anything else, you want to prep the material for the new paint, and this requires priming!
When you add primer to the wood before you paint, you will get a more even color that looks more vibrant. This is because primers are typically light colors that other colors go over easily.
If your cabinets are darker, this is especially true because painting over a dark color will cause your initial paint color to darken a bit. This could make the entire cabinet look very different from the color that you purchased.
So, you should fix any issues with the cabinets and then use a layer of primer to ensure that the paint goes on smoothly and is the color that you expect it to be.
If your cabinets are in pretty bad shape, then you might even want to do additional coats of primer. This can help the paint stay smoother when it is painted on and it can help your cabinet look even though there might be small imperfections.
You want to make sure that if you put on multiple layers of primer that you do a light sanding of the cabinet between each layer. This will keep the even surface smoother even with drops of primer drying, and it can make the color of the exterior paint look smoother and brighter.
So, if you want to have the best-looking cabinet after you paint, you will want to do a bit of sanding if needed to fix all imperfections, then give it a layer of primer to ensure that the paint looks its best.
Final Words
Painting your cabinets can be a big job, but you can do it yourself and save a lot of money by not having to pay a team of professionals to do it for you. However, you want to ensure that you are using the right paint for the job.
So, what is the best paint to use on kitchen cabinets? Well, you have the choice between oil and water-based paints that are either semi-gloss, full-gloss or satin finish.
These paints will ensure that you have a long-lasting finish that holds up to the heavy use of the kitchen and the varying temperatures throughout the year. They will also make cleaning easier as they will wipe clean easily.
So, take your pick and you will get the best-looking kitchen cabinets for years to come.
Related Articles
If you found this article helpful, then make sure to also take a look at some of these related posts before you go!