Are you thinking about updating your kitchen cabinets, but don't want to deal with painting them? Well, we have 6 ways to update kitchen cabinets without touching a paintbrush.
There are several different options that you can choose from, including changing the lighting, adding inserts, and getting new knobs. All of the options mentioned here will not require you to tape off your cabinets and spend time painting them.
Want to find out the details about how to update your cabinets without dealing with the hassle of painting them? Then read more below to see the different ways to go about this project and get your kitchen looking more up to date.
How to Update Kitchen Cabinets Without Painting Them: 6 Ways
#1 Add New Lighting
The same old cabinets can start looking a bit dreary when you've lived in the same home for a while, but if they are still in good shape, then there is no reason to have to go through the hassle of painting or replacing them.
So, why not get some new lighting in the kitchen that helps make them pop?
By adding lighting strips underneath the bottom of the cabinets, you can make the lights shine upward and give the whole room a soft glow.
Some options will allow you to add lighting to the bottom of each cabinet, under the edge of the bottom cabinets which are closest to the floor, and options for the top of open cabinets that have room for décor items above them.
All of these lighting options can help change the entire look and feel of your kitchen with simple and easy installation processes. You can choose to have dimmers for those who want to have low-light options for a romantic meal, or you can opt for colored options that you can turn on for lively parties and celebrations.
This will not only make your cabinets look different, but they will have an illuminating look that makes you feel like you are at a restaurant for a fancy meal.
#2 Removing the Doors
When you think about changing cabinets, the process of removal and installation for the new cabinets is a lot of work, and it can cost you a pretty penny to have the work done. So, if you want a much cheaper option for updating your cabinets, then removing the doors is an option.
This might sound a bit strange, but this can be done to allow your dishes and glassware to be on display. It also opens up the room so that it feels a bit bigger than it is.
Open shelving is all the rage in today's design world.
Taking off the doors and hinges altogether will create a new type of shelving that will allow you to see what is inside the cabinet, making it easier to find certain items, but it also can create a new look.
You can choose to do this with only certain cabinets, or you can choose to remove all the top cabinet doors. Even with just one or two cabinets opened up, you can see a difference in the style and feel of the room itself.
However, keep in mind that the open cabinets will be seen at all times. So, you may want to only remove the doors of cabinets that you know will be kept tidy and organized, or else you may be showing off your disorganized dishware.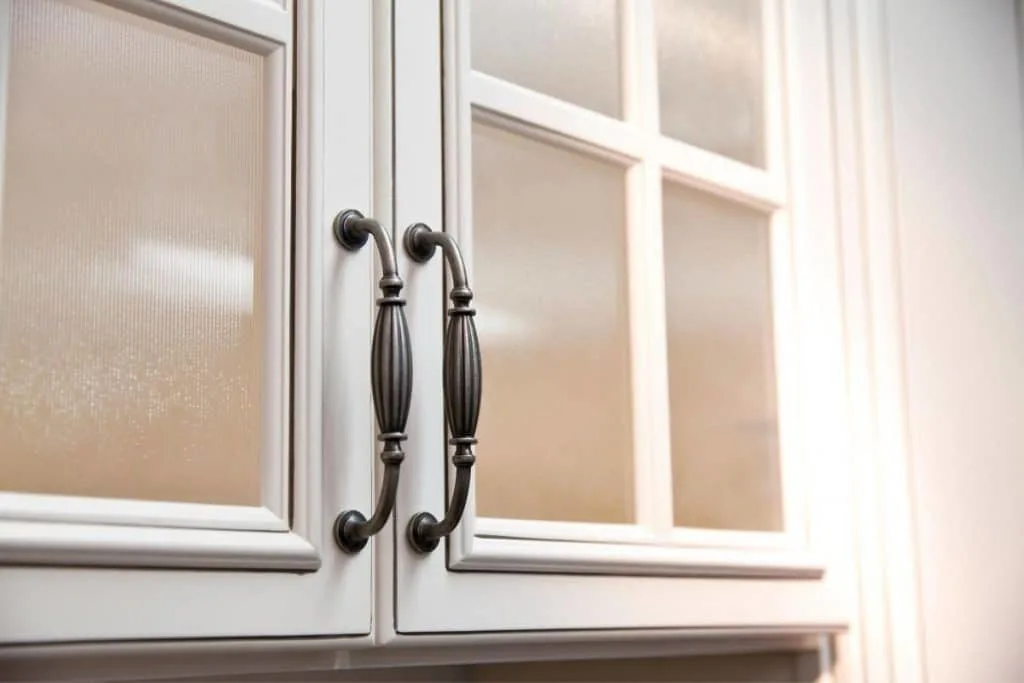 #3 Adding Glass Inserts
If you don't feel like having your cabinets completely open, but you'd like an option that could still open up the room a bit, then adding glass inserts as the doors might be a good choice for you. These inserts allow a peek into the cabinet without it being completely clear what is inside it.
You can have the glass frosted or clear, which will allow your dishes to be somewhat hidden or to be on full display. Whichever option you feel more comfortable with will be the best option for you.
They are rarer, but you could also choose to have your windows finished with a color that matches your kitchen if you like, which will give the glass a tinted look. This will work best in simple, highly-contrasted kitchens, like those with a black and white color scheme.
Some options offer a chance to add patterned glass to your cabinet doors. Any of these options will make a great addition to your kitchen, you just need to decide on the style that you want to go with.
Also, you could opt for a combination of glass inserts with new lighting to create a new look that offers a soft illumination with the new glass.
#4 Chicken Wire Inserts
If you like the idea of having inserts, but the glass look is too modern for your farmhouse-style kitchen, then using chicken wire will be a great fit for you. This adds a cozy farm-like style to your cabinets, while also making it easier to display your dishware.
Now, this style is not something that everyone will opt for, since it is not as modern. However, for those who want to have a French or Southern-style farmhouse, this is a unique and simple way to make a major change to your kitchen.
The installation is fairly simple, and it won't require you to not use your kitchen for any amount of time. The installation could be done in a day, and you will feel like you have a whole new kitchen.
Just take off the current doors and install new ones with open midsections. Attached the chicken wire to the inside of the door, and you are done.
Also, chicken wire is cheap and you can get a large amount for a little money. This means that you can do multiple cabinets without paying much for supplies or choose to do all of the cabinets without spending a fortune.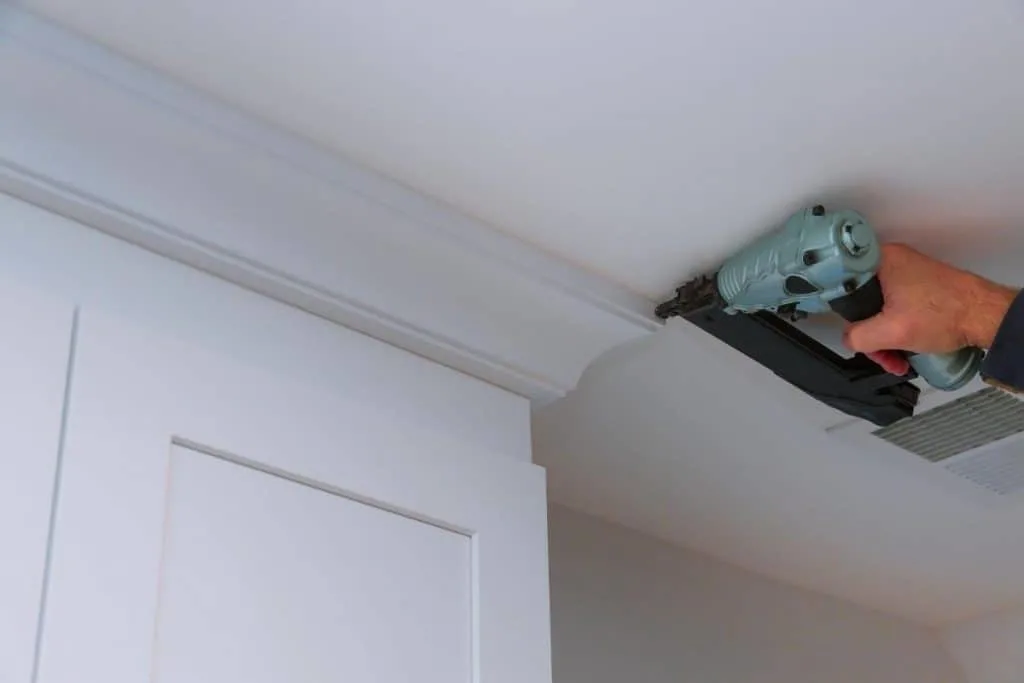 #5 Install Crown Molding
If you are thinking of ways to update your kitchen cabinets, but you like the ones that you have now, then you don't want to change them too much. One way to do this is by simply adding crown molding around the top.
This option will keep you from making any changes to the cabinets themselves, and will only require you to add the strips of molding around the top edge of the cabinets to create a new look. This is ideal for those who want to create a regal look.
The installation for crown molding is pretty simple, and as long as you level it and take the time to make sure that the length of the molding is even throughout the room, then it will make your kitchen look great.
The cost of the crown molding will depend on how detailed the option that you choose is. If you want a very detailed option with carving work, then you are looking at a higher price.
However, if you choose a simple but stylish option that is not customized, then you can get most of it for a fairly low price.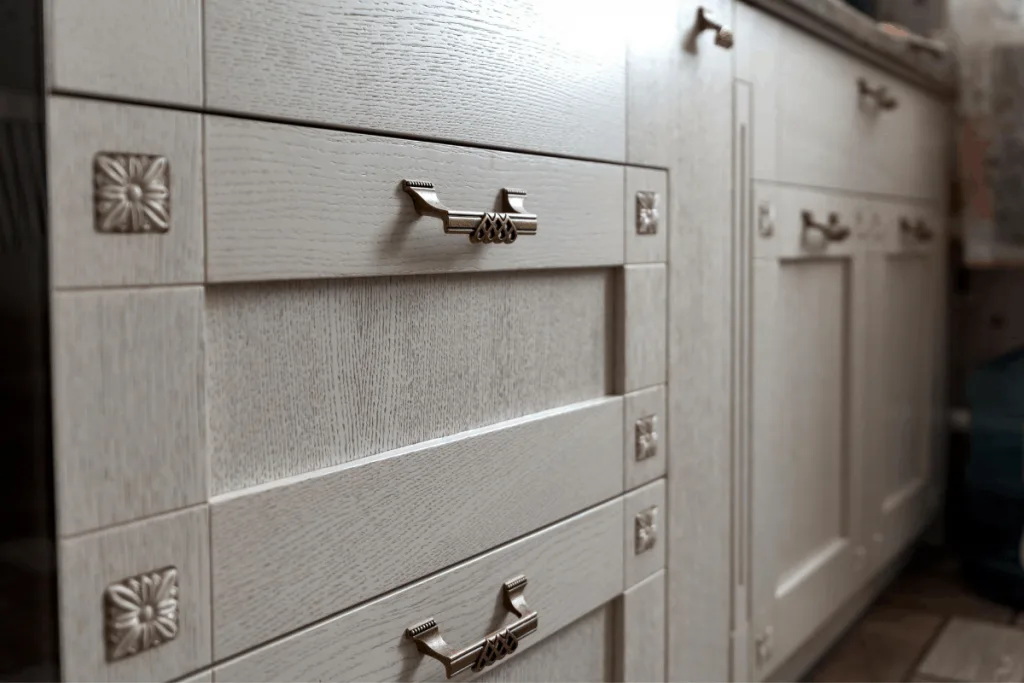 #6 Replace Handles or Knobs
Making any big changes to your cabinets doesn't have to be the only option for your kitchen. If you want to add a little something to boost the flair, then choosing to replace the knobs or handles on your cabinets can add that.
Some options look more industrial that is ideal for modern kitchens, but many unique vintage choices can be found at hardware stores or specialty craft stores.
If you want to go for a more eclectic look, then choosing various options and using them all will give your kitchen an old-world look and vintage style with character.
There are multiple high-end crystal and gem options that can be ordered if you want to have an elegant and sophisticated style for a modern or contemporary kitchen. You can even decide to have an artisan create custom options for you that are fitting to your personal style.
Any way you do it, this can make your cabinets look new, and add some extra design accents to the room without needing to do much work to make it happen. If you decide that you love the way they look, then you could even add new knobs and handles to all your drawers too.
Conclusion
If you wanted to know how to update kitchen cabinets without painting them, then you are probably happy to see all the other ways that you can make a big difference in your kitchen.
Whether you want to make your cabinets look different or you just want a small change, you can add something special to your kitchen and give it the update you are looking for.
Painting takes time and effort and requires you to not use your kitchen until the paint dries, but these options will let you use your kitchen as usual while adding the design elements that you want.
Related Articles
If you found this article helpful, then make sure to also take a look at some of these related posts before you go!