In any bedroom, the bed is the first thing you see. The duvet covers play a huge role in how your bed and the overall room look.
White duvet covers are a sure pick – they are classy, stylish, and straightforward.
Nevertheless, there are more shades of white than there are covers in your cabinet. You also don't want a cheap fabric duvet cover that will make your skin look like a tomato in the snow when you wake up.
To help you pick the right one, here are the best white duvet covers to spruce up your room and provide careless slumber.
Best White Duvet Covers: 13 Options!
One crucial aspect to keep in mind is your health. According to The American College of Allergy, Asthmas & Immunology, over 50 million Americans experience allergies each year, and allergies are the 6th leading cause of chronic illness.
If you suffer even from allergies, getting a hypoallergenic duvet cover is a sure way to enjoy a good night's sleep.
When it comes to design, it's up to you and what you feel can make your bed and your bedroom shine.
I'll start with a basic white duvet cover. If you want to feel like you're in a 5-star hotel every time you enter the bedroom, this classic white duvet cover is the way to go!
Besides the elegant look, Nestl Duvet Cover is light, and the cover won't make a hole in your wallet.
I found it very easy to put on, and the buttons ensure you avoid those annoying duvet slip-ups as you turn in bed.
A nice bonus is that the fabric is snag-proof, so if you have a dog or a cat, you don't have to worry about the pet ruining the duvet cover.
Pros
Corner ties let you attach the duvet or comforter
Incredibly soft to touch
The duvet cover is pet-friendly
The cover comes in five different sizes
Cons
The duvet corners might "peak out" if the duvet is slightly bigger
Besides durable, this Bioweaves duvet cover set is out of organic cotton. If you're looking for a super soft and warm duvet cover, cotton is the way to go.
Cotton lets your skin breathe while keeping a stable temperature to avoid waking up in a sweat.
After a couple of washes, the cover maintained the original softness you'd expect from a cotton duvet.
The design is the classic white that will go well with any room. It's a great piece to have whenever you need a quick fresh cover without overthinking it.
Pros
Buttons come with little hiding pockets
The lightness feels as if wearing a soft summer t-shirt
Made out of organic cotton
The duvet cover comes in a stylish packaging
Cons
Might collect pet's fur balls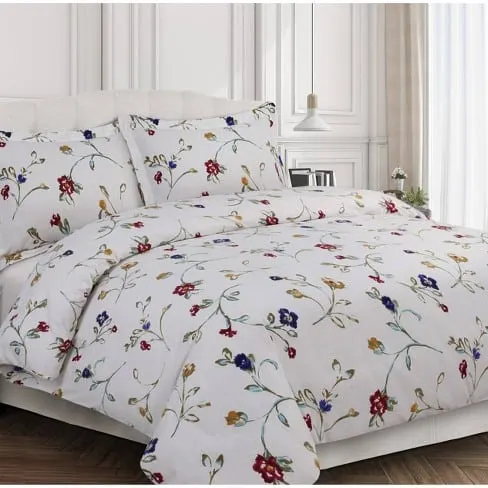 For people living in colder areas, I'd always recommend going with a flannel duvet cover. Flannel is a combination of wool and cotton, so it's sure to keep you warm on a cold night.
The additional perk of a flannel cover is that you don't have to iron after washing and drying since it's wrinkle-free.
Although the cover comes in basic white color, it has a stylish floral design that adds extra to your room.
The Tribeca white duvet cover comes only in king size. Also, I'd suggest avoiding flannel duvet covers if you live somewhere hot or have scorching summers. But for the folks living in the mountains or just somewhere cold, flannel is a great choice.
Pros
Flannel provides an extra layer of warmth
Simplistic floral design
You can wash and dry without having to iron
Cons
Not suitable for hot summer nights
Silk duvet covers scream luxury. More importantly, a silk duvet cover is excellent both for cold and hot nights.
The satin feels great on the skin. Imagine sleeping naked but maintaining the perfect sleeping temperature throughout the whole night.
The possible downside is the price tag and maintenance. Although you'll need to pay more than for other covers, silk is guaranteed to provide the comfort you need.
You can also be sure that you won't be looking for a new duvet cover any time soon if you decide to go with a silk one.
Pros
The cover has a great soft and silky feel
Great all year round
Looks great on a bed
The cover comes in five sizes
Cons
Silk might make the duvet slip off the bed
What's excellent about genuine Egyptian cotton is that it's usually softer and has a longer lifespan than regular cotton. Although it might cost a few bucks more, it's beneficial to invest in the finer yarns.
Another great feature of Egyptian cotton is the fiber's length that allows it to create quality yarns without sacrificing endurance.

You can machine wash it in cold water. The cover doesn't require as much ironing as silk covers, but you should iron it from time to time.
The Kotton Culture cover comes with a zipper and corner ties, so you don't have to spend too much time putting it on your duvet.
Pros
Great durability
Super easy to wash
Zipper and corner ties keep the duvet in place
Cons
Some people might prefer buttons over a zipper since it's easier to replace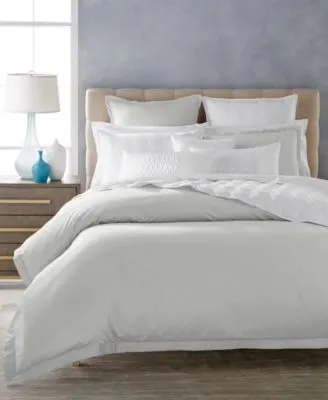 Thanks to the premium Supima cotton material, the cover will make any duvet feel luxurious.
Although uncommon, Supima cotton sits comfortably at the top alongside Egyptian cotton. Additionally, being rare and American-grown, it needs to pass quality control, so you're always sure you're getting the genuine cotton.
You can be sure you'll use the cover for years to come since Supima cotton tends to be quite durable.
The design is stylish yet discreet, so you don't have to worry about combining it with the room.
Pros
Breathable Supima cotton
Very durable and doesn't lose quality with usage
Easy to wash
It uses a zipper and corner ties
Cons
It might wrinkle quickly when out of the dryer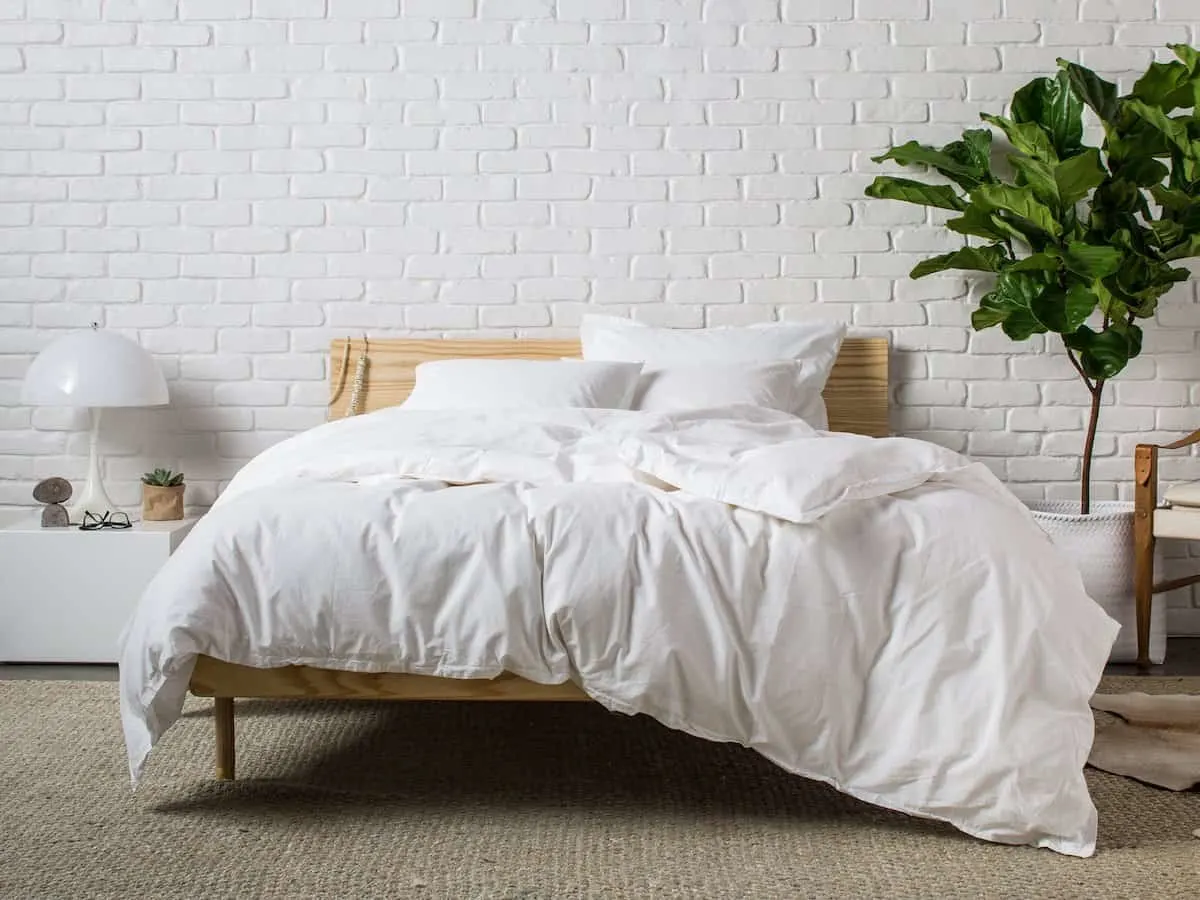 Beautiful and simple, Parachute's Egyptian cotton covers are prime bedding that will blend in with any room.
The duvet cover is pleasant to sleep in throughout the year, and the quality ensures you're getting the best deal.
A nice little touch is rubber button closures so that the buttons don't stick out and ruin the visual.
You can get the cover in a twin, queen, or king size. Furthermore, you can expect each size to fit perfectly without the duvet sticking its "ears" out.
Pros
Great quality duvet covers
The texture balance creates an excellent snuggly feel
Minor stains can be removed with soap and water
Suitable both for cold and hot sleepers
Cons
Washing might wrinkle the cover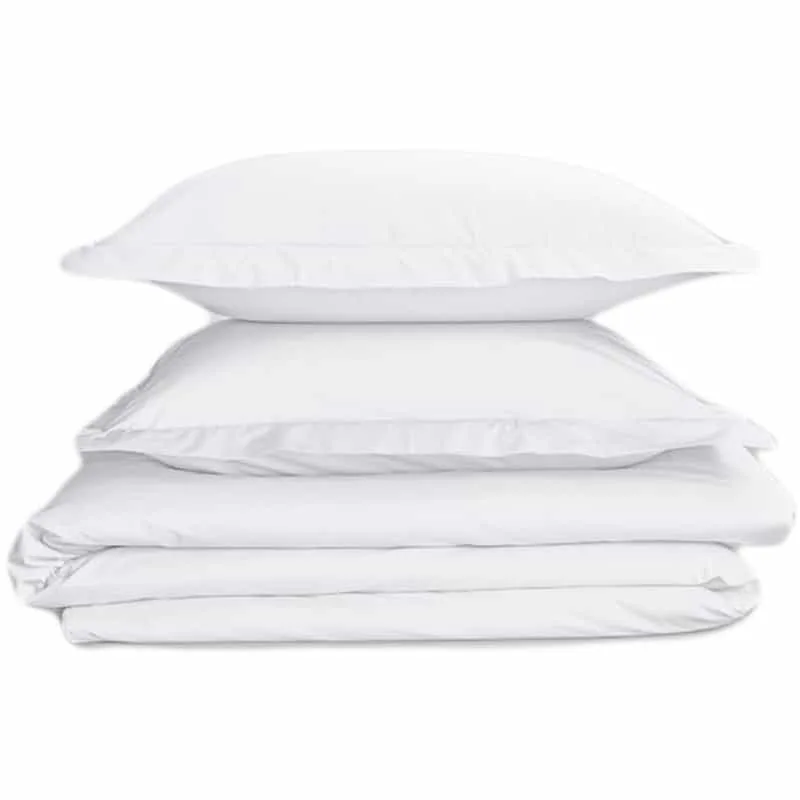 Another duvet cover that uses certified organic cotton material but also comes at a better price.

Both the duvet covers and the two pillowcases have the same sateen feel, great for your body and head. If you worry about waking up with a wrinkled face, the covers are the solution.
Available in twin, queen, and king sizes, the set stays wrinkle-free even after numerous washing.
The cover has a snowy-white color, so you can be sure it will bring brightness to your bedroom. There's little to complain about when it comes to this duvet cover.
Pros
Snowy-white color
The cover doesn't arrive with the chemical smell
The fabric is solid yet soft
Ethically sourced
Cons
Cotton is the more popular luxury bedding choice, but linen can provide better breathability.
Linen also tends to be a bit heavier. If you prefer the comforting pressure and you often feel cold, linen covers are a great option!
Both the duvet and pillow covers in this set from Simple & Opulence are very decorative and will provide an almost luxurious farmhouse feel to your interior decor.

The cover comes in twin, full, queen, and king size, alongside corner ties and button closure.
Pros
Excellent price/quality ratio
Linen is butter-soft
Hidden button plackets
Tie downs keep the duvet in place
Cons
Wash only with cold water
If you're looking for a different white duvet cover that still doesn't break the simplicity, Annadaif duvet cover might be for you.
Instead of buttons or zippers, the cover uses ties that fall beautifully alongside the bed.
The duvet cover is made out of microfiber, making the cover easy to wash and it isn't prone to wrinkling.
It will fit any bedroom perfectly with four different sizes, including twin, full, queen, and king size.
Pros
Beautiful bowties instead of buttons
Easy to put on and off
Easy to clean
Cons
Microfiber can be a hair magnet
Washed cotton is another excellent cotton type for duvet covers. Equally as durable as any other cotton type, it's great for people with sensitive skin. The washed cotton also won't weigh down on you while sleeping.

The dark buttons create a modern yet minimal look. Instead of hiding the buttons, the design and placement make the cover look even better.
If you want a duvet cover with a little different design, but it's also comfortable and healthy, Doffapd is an excellent choice!
The duvet cover comes in queen and king size.
Pros
Hairs don't stick to the cover
The cover has little tie strings in the corners
The wooden buttons are a nice aesthetic touch
Looks great, both wrinkled and ironed
Cons
The cover might need washing after buying to remove the subtle factory smell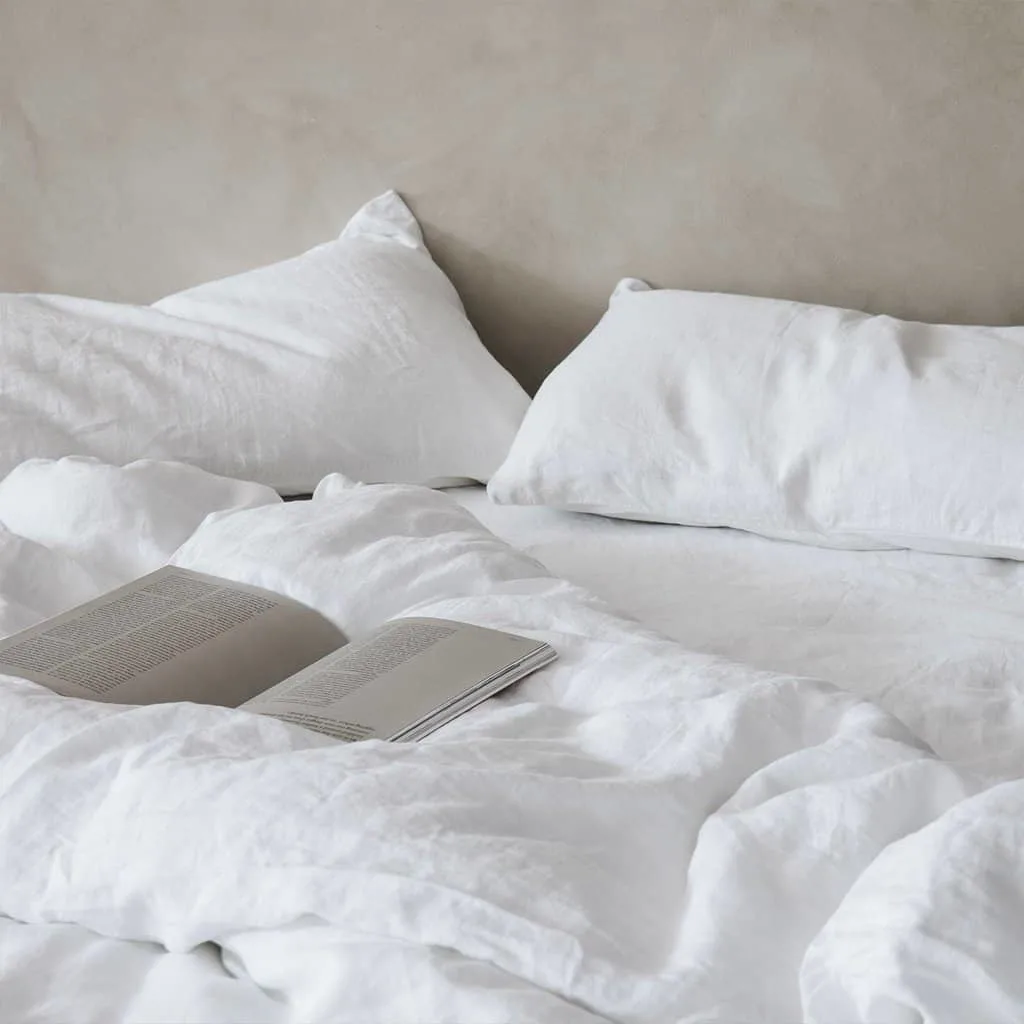 If you don't mind spending a bit more for top-quality, Cultiver linen covers are a unique and sure choice.
The design is simple, white is genuinely white (undyed), and the linen feels terrific. Even if you had linen covers before, you'd likely notice the difference.
The fabric is breathable and great if you tend to overheat while sleeping. Linen is also a great choice if you want a more casual vibe in your bedroom. The cover wrinkles, but only enough to create a comfortable look.
The linen seems to be durable, so the duvet cover will hold for years to come. You can get it in queen and king size.
Pros
Strong, quality stitching
Holds after many washes
Top-quality linen
Cons
The cover doesn't come in twin size
Bamboo is another natural and hypoallergenic material that's great if you're a cold/hot sleeper or have allergies.

Bamboo tends to absorb and release moisture far better than cotton. Meaning, bamboo will keep your skin cool and dry both in summer and winter.
Furthermore, it's straightforward to clean, and it doesn't shrink like some other materials. The duvet from Pure Bamboo cover comes in full and king size.
Finally, the cover comes in snow-like white color and perfectly fits any room decor and design.
Pros
Perfect for people with allergies
Great for hot and cold sleepers
Easy to clean
Maintains the silkiness and coolness with the usage
Cons
The limited number of buttonholes might not hold perfectly every duvet
Wrap Up
Getting a quality duvet cover is as essential as the duvet itself. Since a duvet cover is in direct contact with your skin, you don't want a cover that will prevent your skin from breathing.
Although I numbered the best white duvet covers, that doesn't reflect their quality. The duvet cover in number one doesn't mean it's better than the number nine.
After you ensure the duvet cover's material quality, you're free to pick any design that fits well with the cover's white color and your bedroom.
I hope at least one of the listed duvet covers provides you the best sleep you had in a while. Good luck and sleep tight!
Related Posts