Doing the laundry can be time consuming, but there's nothing that replaces the feeling of picking up a big load of fresh worm laundry right out of the dryer. Sometimes, the feeling of the warm laundry all around you is worth all the time it takes to sort, wash, dry, full, and put away laundry.
Every so often, you must wash and dry your comforter, but how can you dry your comforter? Can you put it in the dryer?
You can put your comforter in the dryer. But if the tag on the comforter says not to put it into the dryer, then it must be air-dried or dry cleaned. Comforters made from common material, like cotton, can be dried on low.
Also, comforters made from down feathers can also be dried on the low setting.
Can You Put a Comforter in the Dryer?
At last, you have washed and dried almost all of your bedding so you can sleep in a wonderfully clean bed after you take a shower tonight. There's only one item left to dry, and that is your comforter.
You've heard comforters are delicate and you want to preserve the new one you recently purchased. Can you put a comforter in the dryer?
You can put a comforter in the dryer. Set the heat on the dryer to low. Comforters take a long time to dry though, so you don't want to put it at too high of a temperature.
Make sure there are no other items in the dryer, as the comforter needs as much room as possible to spin and tumble.
If your comforter is hand embroidered, then do not put it in the dryer, as the embroidery can unravel during the drying process. It should be fine to dry comforters embroidered and sold in a major store like Macy's or Bed Bath and Beyond.
If your dryer is not large enough to dry your comforter, then dry the comforter outside on a line in the sunshine.
Add three or four dryer sheets in with the comforter, and your comforter will smell amazing when the drying process is complete.
If you want to put your comforter in the dryer to warm it so you can fall asleep with a warm blanket, set the temperature on medium or low and dry it for about five minutes. Any longer, and the dry comforter may begin to burn.
I Have a Down Comforter and Down Pillows. What Should I Do?
You were given a beautiful down comforter or perhaps even a full bedding set, complete with a comforter and two down pillows for your Christmas or your birthday. Down comforters and down pillows feel so soft; it's like you're snuggled in a warm hug or you are sleeping on a cloud.
Eventually, you will have to wash and dry your down comforter and down pillows. But you cannot wash a down comforter like any other comforter.
There is a special way to care for down bedding items. The main reason you must take special care when washing and drying a down comforter is that it is stuffed with real feathers.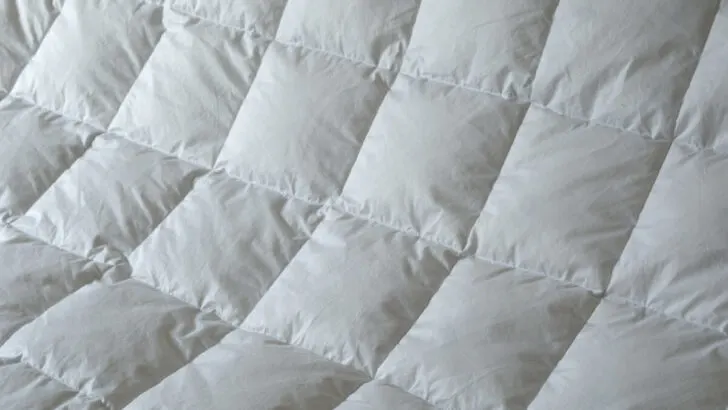 Along with feathers, down items are also stuffed with plumules, which are short clustered feathery bits that sit directly on the skin of ducks and geese. These plumules are underneath their feathers and they trap the animal's natural heat.
This is why down items excel at keeping people warm, even in freezing climates. Locations that regularly drop below 0 have a lot of clothing stores that sell clothes made with down feathers.
If you don't have the time to properly care for a down comforter yourself, then send it to be dry cleaned. It costs around $50 to have a down comforter dry cleaned.
How to Wash a Down Comforter
To clean a down comforter, set the temperature of the water too cold, the spin cycle too fast, and a small amount of soap. If you want to bleach your down comforter, only use half the amount of bleach you would normally use.
Do not use fabric softener on a down comforter. The down comforter is already soft enough and the chemicals in the fabric softener will coat the feathers inside of the comforter and cause them to stick together, which will ruin the comforter.
How to Dry a Down Comforter
When drying your comforter, it will be difficult to figure out if it is dry or not purging. You may have to take it out of the dryer several times and wait for the down comforter to cool before finally feeling the moisture on the feathers inside.
In order for the feathers to be as fluffy as they once were, the down comforter must be dried completely. If you notice the down comforter feels clumpy a half-hour to an hour after you have removed it from the dryer, that means the down feathers inside the comforter are still wet. Put it back in the dryer immediately, set the temperature on the dryer to warm, and dry it for 25 minutes.
You can also go to the laundromat and use their dryers. Use the large industrial dryer, which will dry it completely for the first time. The large dryer usually costs about $5 to use.
Conclusion to Putting a Comforter in the Dryer
Set the temperature on the dryer to low when drying a comforter. Comforters are large, so there shouldn't be any other clothing or bedding items in the dryer with them.
You can use the dryers at the laundromat if your dryer is not big enough for the comforter. Take special care when washing and drying down comforters as you do not want to ruin the feathers inside the comforter.