What happens if you drill holes in a rented apartment's wall? Can you mount a TV in an apartment? Do landlords let people do this?
You can mount a TV in an apartment, but it's not always a good idea. The landlord might not like you drilling holes in your wall and might make you pay for it. However, you can repair the holes in your wall or use a stand to mount your TV instead.
It's best to ask the landlord before attempting to mount a TV on the wall of the apartment anyway.
Mounting a TV in an Apartment
Can you mount a TV in an apartment if you are only renting it? It depends on your landlord, and it depends on how you mount the TV. You might be able to mount the TV in a way that doesn't damage the wall.
Sometimes, you aren't allowed to mount a TV in your apartment. If you do something to the wall that your landlord doesn't like, you will have to pay for it when you leave.
What Can Make You Lose Your Security Deposit?
When you hang a painting, paint a wall, or change or improve your apartment in other ways, the landlord might not like your improvements. If they don't like your changes, they might see these as damage and keep your security deposit.
Sometimes, your landlord won't let you drill holes in the wall. If you do this anyway, you could lose money. In some cases, you might have to set your TV up on a table instead of mounting it on the wall. 
However, there are ways around these problems. You can often make your apartment into the living space you want without losing your security deposit. .
Renters Need to Save Space
A lot of renters want to mount their TVs because their living space is limited, and they can save room if they mount their TV on the wall.
The average renter in the US has 882 square feet of space. In New York and many other large cities, people rent smaller apartments than in other places.
If your apartment is small enough and you have enough other stuff, putting your TV on a table might not be an option. If you can't drill holes in your wall or put your TV on a table, what can you do? Thankfully, there are some other options.
Mounting Your TV
If you drill holes in the wall, you will likely have to repair them before you leave. Talk to your landlord and find out the building's policy for drilling holes in your walls.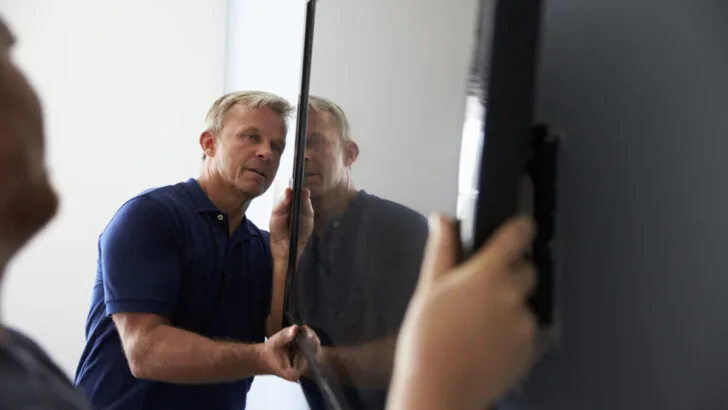 If they say that you have to repair the holes, ask them what color of paint they used. You can get a tiny sample of that paint color instead of wasting money on a bucket of paint that you will only use a tiny part of.
Find the Right Location
First, mark the location on the wall you want to place the TV. Mark it with a pencil so that it is easy to remove if you don't like the location.
You should probably examine more than one place and find the right spot. The last thing you want is to drill holes, mount your TV, and realize there was a better location.
Repairing the Wall Before You Leave Might be the Best Option
Repairing the holes in your wall isn't difficult. Even if you have never done this before, you can do it pretty easily. Fill the holes in your wall and paint over them, and you will keep your security deposit.
Renter Friendly TV Mounts
Renter-friendly TV mounts are often the best choice. You can use these mounts to elevate your TV in a way that doesn't involve drilling holes in the wall or taking up room on a table. Some of them take up a bit more room than a regular wall-mounted TV does, but they don't use up a lot of space.
No Stud TV Wall Mounts
These types of wall mounts use small nails that do minimal damage to the wall. You may still have to fix the nail holes, but it is a minimal amount of work.
A no-stud TV wall mount has a foam backing to protect the wall. You place a bracket on the wall, lock your TV into it, and it will stay in place easily. It only takes a small amount of spackling to fill the nail holes.
Corner Stands
If you aren't using the corner of a room, it might be a good place for your TV. Even a 55-inch TV can fit into the corner with the right corner stand.
Most TVs look great when mounted on corner stands. There is also cabinet space below the TV, which you can use to store video game systems and other things.
Standing TV Mounts
Standing TV mounts hold your TV up without requiring any holes in the wall and without taking up much space. The base of the stand does take up space, but it is reasonably small. You can adjust the height of your TV with a TV stand.
Key Takeaways to Mounting a TV In Your Apartment
Landlords won't necessarily let you drill holes in your walls. If you drill holes in your walls, you might lose your security deposit when you leave.
You can get around this by repairing the holes in your wall yourself. You can fill the holes and then paint over them, and your wall will look the same as it did before.
You can also get renter-friendly TV mounts. These let you mount your TV without drilling any holes. There are corner stands, no stud wall mounts, and standing TV mounts.
Many other changes to your apartment can cost you your security deposit. If you paint your walls, you might think of that as an improvement, but your landlord might not. Call your landlord and ask about what changes or improvements are allowed.