Comforters, despite their seeming simplicity, have a number of drawbacks as compared to a conventional duvet. At first, the most straightforward option for bedding appears to be a comforter, due to it being made with a fashionable fabric exterior and ready to use right out of the box.
However, after some period of use, you may quickly realise that cleaning them is most often a headache.
In these situations, a duvet cover may be your best option. Besides giving you additional design options for the bedroom, it also protects and makes it easier to wash your fluffy blanket. But can you put a duvet cover on a comforter?
You can put a duvet cover on a comforter, and it may even may your laundry routine easier, as it protects your comforter and keeps it clean as well.
Read on to learn more.
How Do Comforters And Duvets Differ From One Another?
The fundamental distinction between a comforter and a duvet is that the former only requires one piece of bedding, whilst the latter requires an insert and a cover. While a comforter is often stitched with the filling dispersed evenly, a duvet includes an insert that is similar to a comforter. Like a pillow in a pillowcase, the insert slides into the duvet cover.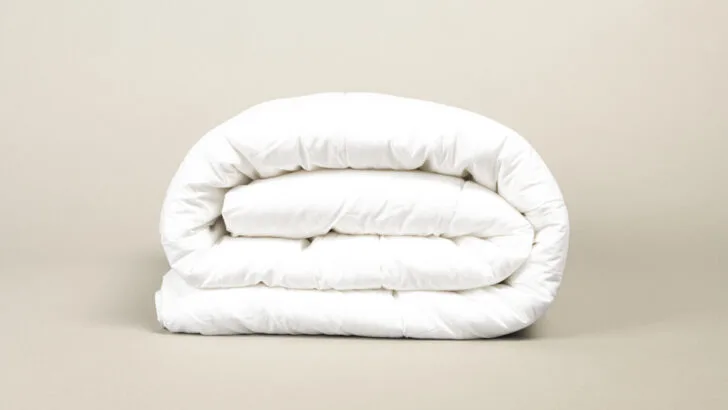 Although duvets might appear fluffier than comforters, comforters are usually bigger. Also, unlike duvets, which typically fit the precise size of the mattress, comforters dangle over the edge of the bed.
Moreover, a duvet is often simpler to clean. A comforter is one piece and heavy, whereas a duvet cover is easy to remove and machine washable. If a duvet cover is torn or discolored, it is very simple to replace it. On the other hand, the best way to clean a comforter is almost always to take it to a dry cleaner.
How Do I Stuff A Comforter Inside A Duvet Cover?
Here are the five steps you should follow to use your comforter with a duvet cover:
Step 1:
Your first step is to make sure that your comforter fits precisely the duvet cover. If not, the blanket will be bumpy and the bed would appear unattractive & uneven. For instance, if you purchase queen-size plain duvet covers, you will also want a queen-size comforter.
Additionally, applying the layer will be difficult. If you choose a too-small insert, it will slip and slide within, pulling corner ties in. Concave corners are formed as a result, however, they are not as neat as they should be.
Step 2:
Before inserting the comforter, the duvet covering has to be washed. Remember to unbutton it and after taking it out from the dryer, shake out or iron the layer in accordance with the washing instructions.
Furthermore, when ironing the layer, keep in mind to follow the seams. Crisp corners and edges make it easier to fill your covers since they contain pockets that are naturally the right size to go into the corner.
Step 3:
The sheets should be unbuttoned and placed flat on a surface. Lay the comforter on top of the outer layer. Pull evenly from one corner to the next to remove any creases until the surface is smooth.
Step 4:
Place the comforter on top of the duvet cover to finish the bed. Using your hands, tuck the comforter's two corners in. If your comforter has ties, fasten them by making knots in the corner of the duvet cover.
Make sure the comforter is uniformly distributed within the duvet cover, then grasp two corners of the cover and shake or roll your comforter down to make sure it fits securely.
Step 5:
Lastly, with the duvet cover on, reposition the comforter on a flat surface. Then, while holding the top end of the base's two corners, shake the duvet cover properly. If required, unbutton the bottom or widen the base. After shaking, smooth it out with your hand.
Other Ways of Protecting a Comforter
The comforter is made to be used without a cover, but if you still want to protect it, you may use a duvet cover of its size or you can purchase coverings made especially for your comforter.
The ideal solution, however, is placing a top sheet between you and the comforter. This is the best technique to make use of a comforter in bed as almost all bedding professionals advise using a top sheet rather than a duvet cover for the comforter. This is because if you cover the comforter, which is a decoration in itself, you are hiding that decoration behind another decoration.
Final Words of Using a Duvet Cover on a Comforter
You can use a duvet cover with a comforter. Although comforters are intended to be used without a protective covering, doing so can prove to be beneficial by making the comforter last long.