There are several benefits of installing a cedar fence around your property. A cedar fence adds style and privacy to your exterior. It is also durable and resistant to pests.
When installing a cedar fence, you want to ensure you know how to properly care for it. For example, you need to find out if your fence needs to be stained, sealed, or treated.
Cedar fences should be stained, sealed, and treated in order to maximize their overall wear. This helps protect the cedar fence from extreme weather, excess moisture, and pests, and helps prevent it from fading, graying, cracking, splintering, and rotting.
Keep reading to learn more about protecting your cedar fence!
Protecting Cedar Fences
It is highly recommended that you stain, seal, and treat your cedar fence.
Properly maintaining your fence is a great way to ensure it lasts for years to come!
Staining Your Fence
Staining your cedar fence is necessary because it preserves the beauty of the wood for years. It is not uncommon for your cedar fence to fade over time, but staining the wood can bring your fence back to life.
First, you need to thoroughly clean your cedar fence. Let it dry fully before you apply the stain.
Then, you want to apply an oil-based, semitransparent stain in order to protect the material from the sun's ultraviolet rays, which can cause the wood to fade or turn gray over time.
Sealing Your Fence
Your cedar fence should be sealed once every three to five years to keep it beautiful and strong.
The first step is to inspect and repair your fence as needed. Next, you want to clean it manually or with a power washer and let it dry.
Once it is repaired and ready, you can apply a high-quality sealer to your fence, like a semitransparent sealer.
Sealing your fence protects the wood from weathering, excess moisture, ultraviolet rays, and pests. It also keeps damage such as fading, graying, cracking and splintering at bay.
Treating Your Fence
Regular maintenance is essential to treating your cedar fence, so you want to clean your fence on an annual basis. You can scrub your fence manually or use a power washer.
In addition to cleaning your fence, you need to remove any mold and mildew immediately. If left untreated, these stains can severely damage the wood.
There are different ways to remove the mold and mildew, such as 4 ounces of oxygen bleach mixed with 1 gallon of hot water.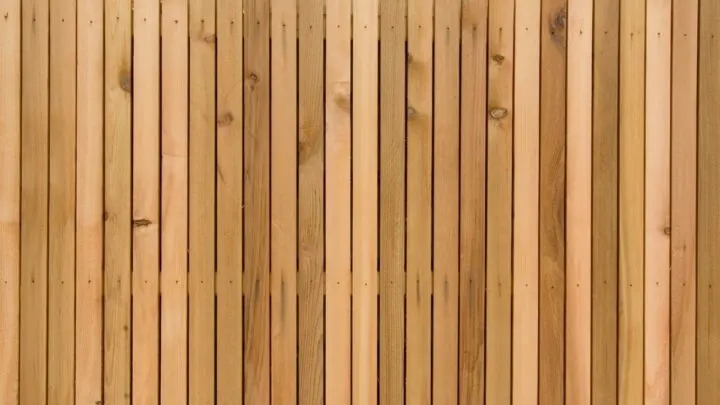 Can You Leave A Cedar Fence Untreated?
It is not recommended to leave a cedar fence untreated.
You need to remove any stains that could eat away at the wood. In addition, you need to remove vines and shrubs that could scratch the fence.
Finally, you want to ensure your sprinklers are not pointing at your cedar fence!
You want as little excess water to hit your fence as possible, and you do not want the sprinklers to add to the moisture from the weather. Take the time to tune any nearby sprinkler heads to avoid them spraying directly onto your cedar fence.
How Long Should You Wait Before Staining a New Cedar Fence?
It is not recommended to stain your new cedar fence right away. In fact, you should wait four to eight weeks to allow the new fence to get rid of any excess moisture.
The treatment cannot properly sink into the wood grain and protect your material if it's too wet.
You need to wait until your fence is completely dry before applying a stain, sealer, or other treatment.
Other Cedar Fence Maintenance Tips
There are several other cedar fence maintenance tips to keep in mind when installing one on your property.
1. Inspect Your Fence Annually
You should not limit your inspection to only the first time you apply a stain or sealer to your cedar fence.
It is important to fully inspect your fence at least once a year, or you can inspect it every few months if you feel it is necessary.
When you inspect your fence, you want to check it for damage such as cracks, breaks, warped boards, and loose sections. You should also check your fence for loose or missing screws.
Make a note of everything that needs to be repaired or replaced on your fence. You need to take care of the repairs or replacements immediately. If left untreated, you may shorten the lifespan of your fence.
2. Use The Right Paint
If you are painting your cedar fence, you want to use exterior latex paint. Latex paint is great for sealing out moisture, reducing weathering, and preventing rotting.
The paint should also protect your fence from ultraviolet rays, which can cause the wood to fade or turn gray.
The last thing you want to do is choose a paint that shortens the lifespan of your cedar fence.
3. Avoid Unnecessary Weight
It is always fun to decorate your exterior with planters, ornaments, and other pieces, but you need to ensure your decorative pieces are not too heavy for your fence. Otherwise, you may cause damage to the wood!
Hanging small, lightweight pieces on your fence may not hurt the wood, but it is best to hang any decor on the sturdy posts instead of the actual cedar boards.
Of course, the best way to avoid unnecessary weight is to not decorate the fence at all. You can always decorate other areas of your exterior.
It is also important to trim the shrubs, bushes, and branches near the fence as needed. These elements can scratch or damage the wood.
Cedar Fences Should Be Stained, Sealed, and Treated
It is important to stain and seal your cedar fence. You also need to inspect and repair your fence as needed.
This way, you can protect your fence from damage such as moisture, fading, warping, and rotting.
If you keep the above maintenance tips in mind, your cedar fence is sure to last for many years.