A beautiful backyard is every homeowner's dream, and a pergola is the perfect design element to realizing such a vision.
I remember three years ago, when my husband and I bought our house, we wanted a home with a pergola or at least some ample space in the backyard to construct one. But all the while, my husband wondered why. Is it necessary?
Pergolas are an attractive outdoor feature that does increase the value of a home. Factors such as the home's location, type of pergola, and quality of installation will impact how much value is added.
With that in mind, let's take a deeper look at how these factors impact just how much value is added to a home by installing a pergola!
Factors that Determine the Value a Pergola Adds to Your Home
Several factors will determine the value a pergola will add to your property.
Some of the features largely depend on you and go a long way in maximizing the ROI on your pergola. These factors include:
1. Location of Your Home
No doubt, outdoor home improvements are more common and get used more in regions with warmer climates. Heaven knows how handy they come during summertime.
If you and your family reside in a warm area, you'll tend to use the pergola more as you try to take shelter and escape from the scorching heat.
That means a home buyer searching for a home in such a location is prepared to spend more on the house with a pergola than one with no outdoor structure.
A pergola is likely to add additional value to the home.
2. Type of Pergola
The type and style of pergola you choose to install can also affect the value added to your property.
Pergolas come in several types ranging in design, size, and materials used to build them. These affect both the installation and maintenance costs.
Therefore, depending on the style, size, and material used, the cost of setting up a pergola will always vary. Of course, more durable materials will demand a higher value and boost the style and class.
Common materials used to build pergolas include teak, aluminum, cedar, and fiberglass.
The most popular pergola designs include:
Pergolas with a gable or pitched roof.
Open-topped pergolas (arched or flat).
Pergolas with a retractable canopy.
Different designs mean different values for a property.
3. Cost of Construction
The cost of building a pergola will differ from one location to another.
Apart from size, style, and type of material used, which are key factors that affect the cost, the demand is another crucial factor. High demand for pergolas in certain areas tends to push the cost of materials up.
Similarly, adding an outdoor home improvement such as a pergola in high-end property markets will mean you dig deeper into your pockets. Nevertheless, recouping the costs will be easy.
A pergola creates a great way to attain the best ROI relating to the demand for home structures of this kind in a booming market by region and cost of installation versus value.
4. Size of Pergola
It's worth noting that the size of the pergola will highly determine the value of your home when it's time to sell.
Often, a larger pergola will not only have a greater appeal but also holds more value. Therefore, ensure the structure of your pergola appropriately scales with other elements of your backyard. Also, let it blend well with the surrounding landscape.
Outdoor structures with a unique appeal add character to outdoor spaces. A pergola is one structure that can offer a romantic charm and architectural interest.
A pergola style whose size perfectly fits your backyard will offer a great style and appealing look. The more attractive the pergola makes your home, the more valuable it becomes.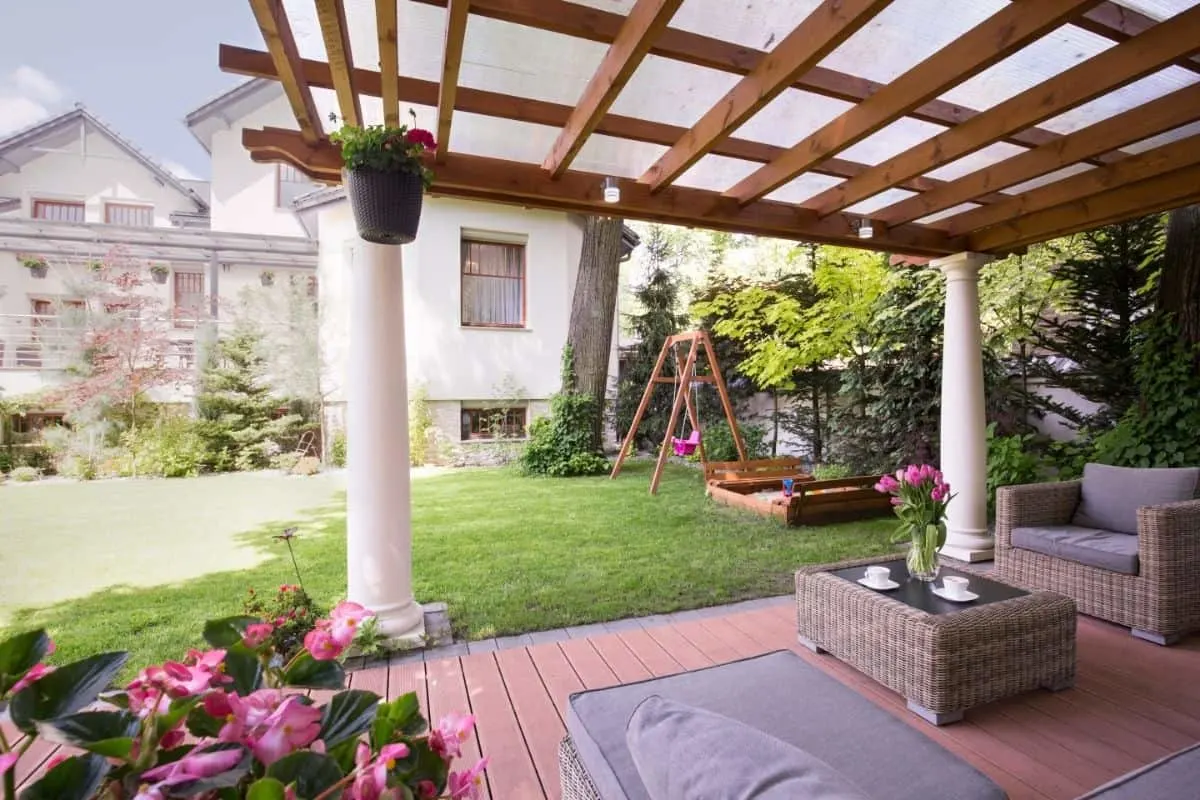 Why You Need a Pergola!
A pergola offers you space to relax and catch some breath every once in a while. And besides making your home more beautiful, it adds value to your property.
Anytime you elevate your home in the buyers' eyes, you are essentially adding property value.
That means any feature that makes your home more enticing allows you to command a higher asking price.
Hence, with outdoor living growing more and more popular, the value of homes boasting a pergola has risen substantially.
Pergola Designs Most Sought After
Wooden pergolas have the highest demand. In addition to blending in with any home style, wooden pergolas are aesthetically pleasing. But there's a caveat.
Maintaining them is more expensive as, with time, they may require resealing or repainting.
And although wooden ones are costly options to set up, you can be sure they'll give you the best sale value. Just ensure you properly maintain them to increase their lifespan.
Aluminum and fiberglass pergolas are long-lasting, strong, and easy to maintain but come nowhere close to matching the style and beauty of cedar.
Considerations When Putting Up a Pergola
While the type of pergola to install in a home remains a personal choice, I'd recommend you examine other factors that might come up.
Hence, having a well-thought-out design and plan is vital!
For a pergola project to be successful, you must factor in the following:
Come up with a budget.
Considering other elements in your backyard, choose a pergola style and design that aligns with them.
Decide the ideal material for your locality as well as design.
Let the measurements be correct.
Ensure the pergola meets all your needs.
Based on your budget, priorities, and style, make sure the structure offers good value beyond enjoyment. It will increase your home's value!
For more information about the cost of pergolas, make sure to take a look at my dedicated article here.
Additional Features
A pergola with added features will skyrocket the value of your home. Several pergolas come with advanced features, with some going as far as to provide a facility for charging your electric car.
You can equip your pergola with a feature such as a solar panel. Doing so allows for powering certain areas of your home and an electric vehicle, should the need arise.
Also, you can install a screen from a variety of screen options onto certain pergolas. These screen options include solar screens and insect screens made out of a large variety of fabrics.
Many people will crave a calm, quiet, and peaceful retreat and are more than willing to pay for it. Fit the pergola with the right furniture, lighting, music systems, and any other extra that enhances entertainment as one relaxes. More ideas on that here!
Additional features improve the quality of your outdoor living area. You will enjoy countless hours of a romantic evening with your lover or family time with your kids in a more enhanced pergola. A high-quality pergola will add value to your home.
Conclusion
Regardless of the pergola style you install, a beautiful outdoor structure in your backyard will go a long way in enhancing the living space and the value of your home. It will motivate you to spend more time with your family, enjoying the outdoors often.
And when the time comes to sell the property, the pergola will boost the overall value of your home property. All you need to do is maintain it so that it can preserve its original outstanding appeal.
Prospective buyers will dream of summer barbecues, get-togethers, romantic nights, and all other sorts of ways to use the pergola.
Related Posts