The Dyson v15 Detect has been making waves in the vacuum world, but is all the fuss for real?
Dyson is well known for having some of the best vacuum cleaners out on the market, often featuring high-tech features that make their products stand out.
The Dyson v15 Detect is no exception. The vacuum is powerful, cordless, and has practical features perfect for those who love extra high-tech features in their appliances.
All Your Dyson v15 Detect Review Questions, Now Answered!
Dyson's latest vacuum, the V15 Detect, is making waves!
The model features more suction power than previous models, an LCD that shows particle count, and a brand new cleaner head attachment. It is considered one of the smartest vacuums currently on the market.
But is the vacuum worth the price tag?
At over $600, this vacuum is a significant investment for potential buyers.
That is why we have gone through and answered all your questions to give you a complete Dyson v15 Detect review so you can make the right decision for you and your needs.
How Does the Dyson v15 Work?
One of the most exciting features that the Dyson V15 has is that there is a laser as part of its first cleaning head.
The Laser Slim Fluffy cleaner head is meant to be used on hard floors and includes a green laser that illuminates particles as small as 10 microns (which is around the same size as a red blood cell.)
The Dyson v15 also includes a second head, known as the High Torque cleaner head. Unlike previous models, this head works on both rugs and carpets.
The second head also has a nifty acoustic piezo sensor attached which many users have raved about. The sensor makes the Dyson v15 one of the most talked-about vacuums on the market today!
It turns the many vibrations of dust and other dander being sucked up into various electric signals. That information is measured and relayed directly to you to keep track of just how much has been vacuumed up during a clean.
What are the Perks of the Dyson v15?
If you love stats, facts, and empirical data, a huge part of the Dyson V15 Detect is the fact that it measures what it sucks up. The laser detects those invisible particles like allergens, dust mites, pollen, and skin flakes.
This feature also gives you a total of how much has been picked up at the end of each clean, with an LCD graph of particles being picked up ranked in four different sizes.
This data can be critical if someone in your extra house is sensitive to pollen and need to track it. This information is also useful for those who need to know that their house is truly clean, as you can see just how much got sucked up.
This feature is also great if you love to see a tangible outcome at the end of doing chores. If you enjoy looking over numbers and data, this feature is for you!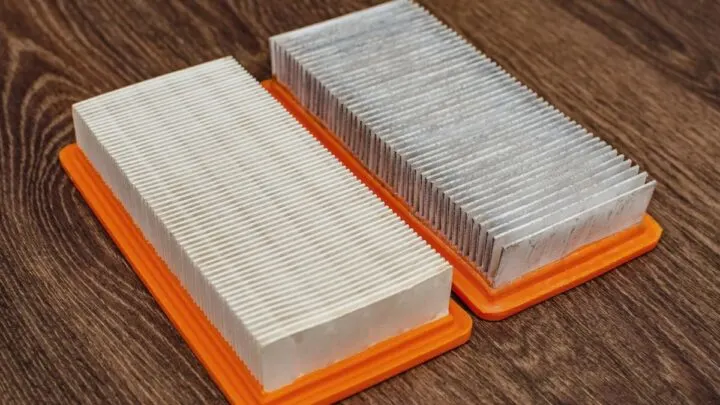 Does the Dyson v15 Detect Have a HEPA filter?
Dyson v15 Detect includes whole-machine HEPA filtration. A HEPA (which stands for "High-Efficiency Particulate Air filter") filter can theoretically remove 99.97% of pollen, mold, dust, bacteria, and other airborne particles as small as .3 microns.
While the HEPA filter comes with the Dyson v15 Detect, all air cleaners will require occasional cleaning and filter replacement.
Remember always to follow the manufacturer's recommendations on regular maintenance and replacements.
How is the Dyson v15 Detect Performance?
The Dyson has three different power levels:
Eco (26 air watts) offers the most extended battery life for long cleans but the lowest suction. Boost (230 air wats) has the most suction for intensive spot cleaning but should be used rarely.
Most of the time, auto/medium does the job with 47 air watts, balancing suction, and battery concerns.
All of them can successfully suck up dirt, dander, food droppings, and more on carpets and hardwood floors with one pass. If you are nervous or worried about power, have no fear!
Another perk of the Dyson v15 is that the hyperdyminum motor is one of the most powerful suctions a cordless vacuum can have.
Using the High Torque head-on auto mode, the vacuum can automatically increase suction levels by sensing high dust levels and reducing it again when the dust levels drop.
The Dyson v15 Detect is also easy to empty – once all the cleaning attachments get removed, you can use the lever on the bask of the dust canister to open up the lid and eject any debris in one move.
If you are allergic to dust, there is an easy solution to avoid dust when emptying the dustbin. Dyson recommends covering the bin with a plastic bag and emptying it into that.
Is the Dyson v15 Detect Noisy?
The loudness of the Dyson v15 Detect depends on which power setting it is being used. At the lower settings, it's relatively quiet.
However, at maximum suction, the decibel meter can get up to 81dB. In comparison, that is around the same level of loudness as a propeller plane flying over at 1000 feet or a diesel train going 45 mph.
With that in mind, it is one of the louder vacuums on the market.
How is the Dyson v15 Battery Life?
The Dyson v15 Detect has a swappable battery built into the handle. They claim that the battery lasts up to one hour between charges, but that time gets shorter as you use more powerful settings.
At its most powerful suction, the battery might be out of power after around 15 minutes. To fully recharge, you have to wait around five hours.
A docking station and charging cable do come with the vacuum. Consumers have the option to purchase an additional battery, so if you're doing a large clean, you have the option to switch out the batteries and let one charge while the other is being used.
What Attachments Does the Dyson v15 Detect Come With?
The Dyson v15 Detect has several different attachments.
Of course, there are the two heads, the Laser Slim Fluffy cleaner head and the anti-tangle High Torque cleaner head for all floors.
However, there are also several other attachments for the Dyson v15 Detect. This includes:
A crevice took for edges and narrow, hard-to-get-to gaps
A dirt brush for floors and furniture
A mini soft dusting brush for delicate fabrics and surfaces
A combination tool that includes a brush and wide nozzle you can alternate between
A 25.75-inch wand that attaches to the vacuum and all the accessories
A low-reach adapter that helps clean under the furniture
One exciting new feature is the anti-tangle hair screw tool. This tool has been designed specifically to remove pet and human hair for surfaces like sofas or car seats.
It features a cone-shaped brush bar that prevents hair from getting wrapped up and clogged in the other brush bars.
The dusting brush is also helpful for ceiling fan blades, TV stands, and similar surfaces, with the same results as a Swiffer.
If you already have a Dyson V8, V10, or V11, all the attachments can be used on those models as well, other than the Laser Slim Fluffy cleaner head.
What is the Dyson v15 Detect Design?
Visually, the Dyson v15 Detect looks similar to many other Dyson products. It has an easy, sleek design that is popular among Dyson enthusiasts.
It weighs in at just under 7 lbs, making it both larger and heavier than most other cordless options.
It's for a good reason, though – the motor generates 230 air wats and includes the famous LCD sensor!
Is it Worth Upgrading to the Dyson V15?
Overall, there are several pros and a few cons when looking at the Dyson v15 Direct. The battery life and weight do leave something to be desired, and more importantly, the price is very high for a vacuum.
However, it has more suction power than earlier models, easily removes stubborn pet hair with the new anti-tangle attachment, and laser cleaning head reveals formerly invisible dust. Not to mention the LCD graph gives you a readout of all the information it gathers!
Overall, only you can decide which vacuum is right for your needs. But if you have pets, children, or simply want to take advantage of the opportunity to play with dirt-based data readouts, then the Dyson v15 Detect might be the right choice for you!
How Does Dyson Compare to Other Vacuum Companies?
To understand if the Dyson V15 Detect is really worth it, first, we have to go back to the company.
Dyson has long been one of the big names in vacuums, having started in the 80s by James Dyson. Since then, they have been at the forefront of innovation, including bagless emptying, swiveling heads, cyclonic suction, etc.
Dyson also has several different categories of vacuums, all falling within one of four categories – cordless, corded, handheld, and canister.
With all that in mind, it is not surprising that Dyson has been and continues to be one of the most popular vacuum manufacturers on the market.
Related Posts