In the last few years, you have probably felt that your home was a bit too crowded.
Purchasing a home with three bedrooms and one bathroom was probably a terrible idea.
But you don't have to go through the process of selling your home because you have come up with a great idea. You're going to add a half bathroom to your home!
At the very minimum, the dimensions of a half bathroom must be at least 3 to 4 feet wide and 6 to 8 feet long. But you can definitely make the half bathroom larger if you have the space!
Some homeowners choose to add space for a vanity in the half bathroom.
Adding a half bathroom to your home's layout increases the value of the home by 9 to 13%, depending on the number of bathrooms and bedrooms existing in the house already.
You and your roommate, family member, or spouse can shower and bathe at the same time (in separate rooms).
And if the shower becomes clogged, you have an extra bathroom to bathe in while you wait for the maintenance worker to unclog the drain.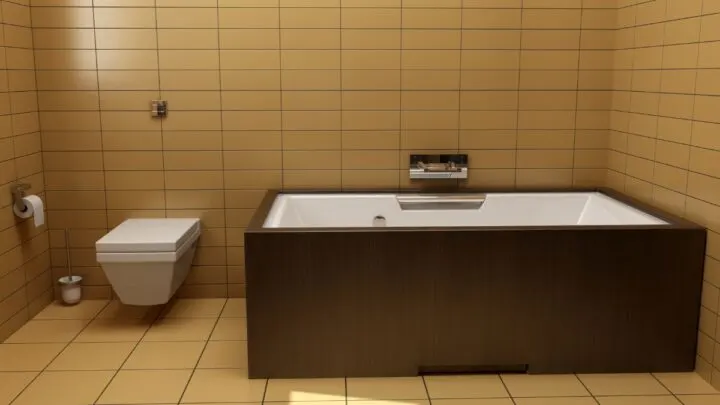 What is the Standard Size of a Half Bath?
What is a half bath and how does it differ from a full bath? A half bath is a bathroom that either has a toilet and sink or just a bath or shower.
A full bathroom has a shower or bathroom and a toilet and sink.
The minimum space required for a half bath is 3 to 4 ft wide and 6 to 8 feet long.
However, for many who live in North America, this minimum requirement is far too small. Many people would rather have a larger half bathroom.
An arrest, anyone who has a half bath to their home usually constructs a room that is 20 square feet. But most people choose between 16 and 20 square feet. The half bathroom will be 3 ft wide by 6 to 8 feet long.
There are a few common half-bathroom sizes, like 4x4ft, 6x3ft, or 4x5ft.
If you have an older home that already has a half bath, do not expect to have that to be large.
Before the 1970s, people built smaller homes, so the average half-bath in an older house is about 11 to 15 square feet.
The average cost to build a half bath is between $5,000 and $15,000.
Adding additional space to the half bath, but not including a sink or a toilet, may cost up to $25,000.
What is the Minimum Size for a Powder Room?
According to the International Residents Code or the IRC, a powder room must be 11 square feet or larger.
If most places that have powder rooms adhered to the minimum requirement, the rooms would be extremely cramped. Powder rooms tend to be 20 square feet or more.
Do not expect the value of your home to increase by much if you add a powder room.
On average, it will cost about $10,000 to add a powder room to your home. This will even out the investment versus the value.
A powder room will raise the value of your home by $10,000.
According to many home renovation and home selling sites, a powder room is still valuable. Consider adding a sink to the powder room to increase your investment.
Does a Half Bath Add Value?
Yes, adding a half bathroom does add value to the house. Adding a full bathroom increases the value of a home by at least 15% while adding a half bath will raise the house's value by 9-11%.
However, this percentage only figures into the home if there is an equal number of bathrooms and bedrooms.
For example, if a home has two bedrooms and two bathrooms, then adding a half bath will raise the value of the home up to 11%.
But if the home only has 2 bedrooms and 1 bathroom, adding a half bath will raise the value of the home by 11.5%.
The value of a home will increase by around 12% if the house has three bedrooms and two bathrooms.
By how much would a whole bathroom raise the value of a home? Let's say you have a house with two bedrooms and only one bathroom.
Adding an additional whole bathroom would increase the value of the home by $50,000. In contrast, a half bathroom would only increase the value of the home by $20,000.
Consider adding a few extra features to your half bath or powder room to make the space more entertaining and hospitable.
For example, you can add built-in speakers to the ceiling light so music can play while you are dressing.
Add different lighting options like dimmer lights. Adding a ventilation switch to the bathroom so the fan can remove the steam from the room can benefit you as well.
Not sure about the resale value of the home after adding a half bath? Talk to a realtor and learn where is the best place to put a half bath.
You may not want to cut out a part of your garage and dedicate that space to the half bath because it'll make your garage smaller. Homes with small garages are not as valuable.
Conclusion to the Dimensions of a Half Bath
The minimum size of a half bath should at least be up to 3 ft wide and at least 6 feet long.
Adding a half bath will add significant value to your home, especially if the number of bedrooms and bathrooms is not equal.
The more amenities you add to the half bath, the more valuable it will be. A powder room should be at least 11 square feet entirely.