While renovating your house or even making a floor plan it is quite tempting to have a small bathroom for the guests or even for your general use. However, it can be quite a challenge to save space for a half bathroom, but what is the minimum size you would need for a half bathroom?
For a half bathroom, the minimum size you should have is an area that is 6-8 feet long and 3-4 feet wide. If you have a space that is any smaller, it may be difficult for people to access it without discomfort.
Keep reading to learn more about the sizes of half bathrooms and how you can fit them in your home.
Minimum Size For A Half Bath
A half bathroom is defined as a space that has a toilet and a sink but no shower or bathtub. These bathrooms are typically found on the ground floor and are primarily designed for guest use.
They improve everyone's comfort and the value of a house. Most half bathrooms need to be at least 6-8 feet long and 3-4 feet wide so they may have sufficient space for a sink, toilet, door, and plumbing.
On the other hand, having a toilet, sink, and either a bathtub or shower is what some people refer to as a three-quarter bathroom. Even if you're constructing a stall shower, bathroom measurements with showers need to be larger than the minimum half-bathroom dimensions, but not by as much as you may think. 
The typical size requirement for these restrooms is 36 square feet, which can be measured as 6 feet by 6 feet, 9 feet by 4 feet, or 3 feet by 12 feet.
What Is The Standard Size For a Half Bath?
Half bathrooms generally range in size from 16 to 20 square feet. The most common sizes range from 18 to 22 square feet, with typical dimensions of 4×4, 6×3 or 4×5.
How To Build The Perfect Half Bath For Your House
If you can find an area in your home that is roughly 3-4 feet wide and 6-8 feet long, there is then no need for a larger bathroom if you don't want to make a larger space. However, it might get a bit harder to access if made any smaller.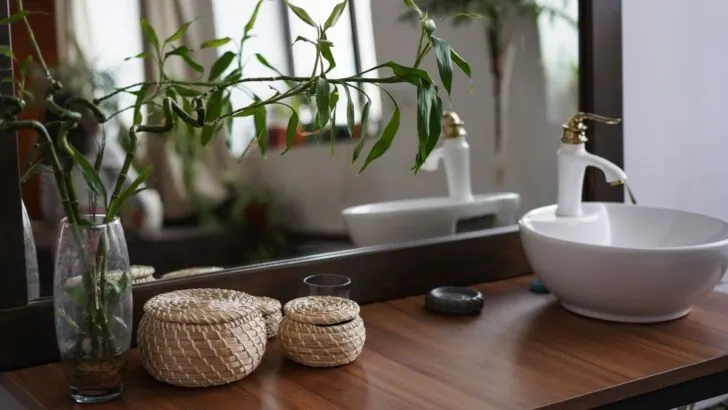 But there is no need for a larger one, as it's unlikely that you would need it for someone other than the guests. It is also hard to find that much additional room unoccupied in your home.
However, regardless of what size your half bathroom is, here are a few important considerations you should bear in mind as you plan this renovation job.
Plumbing
Of course, a half bathroom needs drainage, ventilation, and running water. For financial reasons, try to place your new half bath close to the existing water and sewer lines.
Placing the bathroom on the other side of a wall of an existing bathroom is one of the most budget-friendly solutions.
Additional plumbing pipes can be laid underneath the main floor of older homes that were constructed on over basements quite easily. However, to join existing plumbing lines to the new bathrooms in houses with slab foundations, some jackhammering and slab patching will be necessary, which raises the cost of the project.
Sinks and other fixtures need to be connected to the plumbing system where it is already in place. The good news is that since these rooms aren't used as often, you may select more delicate (and typically prettier) fixtures.
Privacy
Try placing the entrance to the half bathroom away from the neighboring living areas or conceal it so that visitors may enter and exit comfortably.
Simply placing a room divider or rearranging the furniture in the adjacent room so that seating sofas face away from the entrance may be enough to address this issue. 
Insulation of Sound
Half bathrooms should be properly insulated especially when they are so near the guests' living room. Lack of sound insulation would not only make guests uncomfortable but also make your house look shabby.
However, adding sound insulation to the walls or covering water pipes and drains in sound-absorbing material before sealing the walls are two efficient and low-cost ways to solve it.
Electrical And Ventilation Needs
To ensure compliance with current rules, every bathroom must have an exhaust vent or an operable window. Additionally, GFI circuits, which offer additional protection against shock in damp sections of the home, must be installed for electrical outlets.
Older homes that do not have ventilation or electrical systems should have these requirements up to date.
Gain More Space Using Corners
It can be quite difficult to add storage, lighting, and some flair to a small or tight bathroom. Bathroom corners might be the solution to the problem. To save space, try getting mirror cabinets that fit nicely over the 90-degree angle of a corner.
This allows the cabinet to stay flat and spacious, whereas mirror cabinets on a flat wall would protrude which can be off-putting considering the tiny space. A mirror, movable glass shelves, and halogen lights may be included with the cabinet.
Different Half Bathroom Layouts
There are numerous ways to add a half bathroom by making room within your current floor plan. An under-stairs bathroom, a bathroom carved from a garage or hidden inside a gabled attic are some common options many people choose.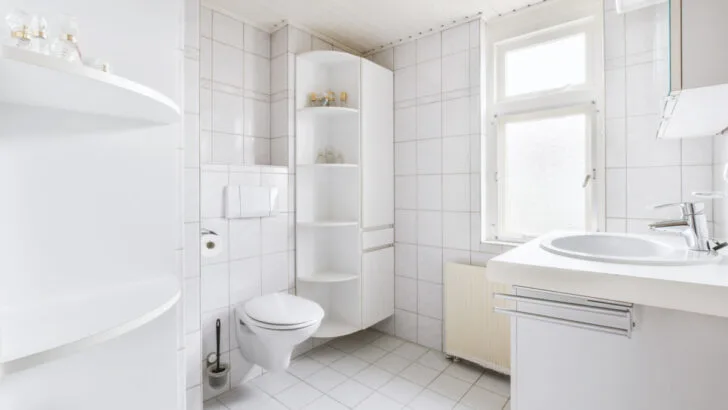 Further, some other types include converting a huge storage closet into a half bathroom and dividing a full bathroom into a half bathroom and a smaller full bathroom.
But which option should you go for? Well, that's for you to decide, so here are some benefits that these layouts provide:
Under the Stairs
This choice takes advantage of a frequently neglected space and functions well in homes having enclosed foyers that are nearby entertaining spaces. However, ventilation and having enough headroom pose the two major challenges for these bathrooms.
Bathroom in the Garage
In many instances, this bathroom is made by cutting out a section of the tool space in a garage to build a half bath that services the neighbouring kitchen and the outside portions of the house.
A sliding pocket door provides access to the half bath due to the number of doors at the back entry, which eliminates the issue of doors slamming into one another.
Bathroom in the Attic
For homes with an elegant dormer on the attic floor, this is a suitable alternative. You will have room for a half bathroom if the interior ridge ceiling height in the dormer is at a minimum of 7 feet tall with 5 or 6 feet of space between walls which should also be 5 feet tall at least. You may even include a bathtub for attics with dormers that are at least 5 feet long.
Final Words on Half Bathrooms
To conclude, a half bathroom serves a great purpose and provides value to the house even though they are rarely used. But making room for them is tricky and is entirely dependent on your house type and room layout.
However, you only need a minimum space of 16 square feet and some clever design choices to make a lavish and pleasing bathroom for you and your guests.