Do you want to buy a new treadmill, but you're worried about how much it will weigh and if you'll be able to move it by yourself?
Or perhaps you have to take the treadmill upstairs and are not sure if the floor can support its weight.
On average, a manual treadmill weighs around 60 lbs, or 27 kilograms, whereas a motorized treadmill would weigh around 210 lbs, or 95 kgs.
However, the treadmill's weight capacity is increased depending on its weight and whether a treadmill has a motorized, manual, or folding deck.
Let us now take a look at some of the key factors that make such a big difference in the typical weight of the treadmill.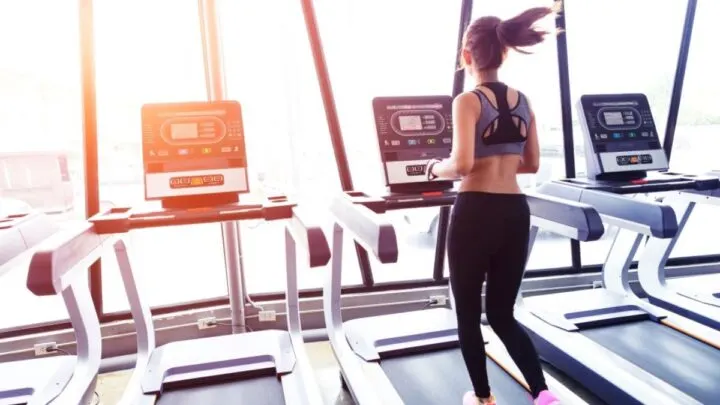 What Determines Whether A Treadmill Is Heavy Or Light?
Nowadays, it's impossible to say whether treadmills are heavy or light because numerous models from different manufacturers are released every day, making it impossible to generalize.
It's also difficult to standardize a weight since, as technology improves, additional types of treadmills for different purposes have become accessible.
Military testing, heavy-duty sprint preparation, and space training all necessitate various sorts, which result in the production of different models.
However, most of its weight generally depends on three things:
1. Motor
The motor, of course, is one of the components that distinguish treadmills in terms of weight.
The most common treadmill uses a standard one that is rated in horsepower.
Horsepower is highly crucial in getting the treadmill to the appropriate speed, but it just tells what speed the treadmill can attain, not what speed it can maintain.
To withstand the wear and tear, motors that can sustain those high speeds are made of titanium industrial-grade steel and can weigh up to 50 pounds.
2. Frames
The majority of the weight carried by treadmills is usually attributed to the frame.
Military-grade treadmills, such as Tread Climbers, are well known for their long-lasting and heavy frames.
The weight of a frame determines its strength.
A small shake wouldn't make much of a difference if you were just simply walking on the track before a workout or just blowing off steam at the gym.
If you're a sprinter or an Olympic runner, however, the narrative is a little different.
Those heavy-duty treadmills used by them have to be extremely stable to the strain and deliver the best workout possible, imitating the conditions that the trainees will face.
Generally, the most common material used for the frames is steel, but higher-grade, custom models' frames are strengthened with additional metals and material to reduce shaking to a bare minimum.
3. Belt
The belt is also considered to play a significant role in weight production.
The heavy treadmills are utilized for mission preparation and military training in difficult terrain.
This weight is primarily due to the strengthened belt that is meant to replicate the difficult terrain that the soldiers will encounter.
If your treadmill has an incline setting, you'll need some additional parts around the rollers or flywheels which can hold up to 30 pounds of weight.
Overall, the weight of a treadmill does not necessarily affect the quality of exercise; rather, it is the other way around.
You will quickly receive an answer and the weight capacity of your ideal treadmill after conducting research and inquiring about your demands and training objectives.
Weight Of Popular Treadmills
Now you must have an idea about what makes the treadmills heavier, let's have a look at the weight of some top treadmills available on the market.
ProForm ZT6 Treadmill – average weight: 203 lbs

XTERRA Fitness TR 150 – average weight: 114 pounds or 52 kgs

3G Cardio 80i Fold Flat Treadmill – average weight: 200 lbs

Sunny Health Manual – average weight: 46 lbs or 21 kg

NordicTrack C 990 Treadmill – average weight: 215 lbs

Confidence Power Plus – average weight: 57 lbs or 26 kg

3G Cardio Elite Runner Treadmill – average weight: 386 lbs

Serenelife Treadmill – average weight: 67 lbs or 30 kgs

NordicTrack T series – average weight: 306 lbs pr 93 kg
What Are The Different Categories Of Treadmills In The Market?
The following are the significant categories of treadmills, as well as their average weights:
Treadmills with motors: 210 lbs or 95 kgs

Manual treadmills: 60 lbs or 27 kgs

Treadmills for commercial use: 300 lbs or 136 kgs

Treadmills with folding decks:200 lbs or 91 kgs
Final Word on How Heavy Treadmills Are
Treadmills are great if you want yourself to keep in shape. However, getting one will make you question their weight and if your floor can support them.
In this article, we covered what makes the treadmills heavier and the average weights of some treadmills.
So, what are you waiting for? Buy your treadmill now and build that stamina.