Just got around revamping your kitchen and have no idea how to go about it? Not to worry! This guide here will take care of all your buzzing questions.
The first thing you should consider to give your kitchen a new look is changing your tiles. It might come off as a minor shift, but you'd be surprised to know of how much of a change it could make.
Working around tiles requires a bit of homework though, especially in the case of a kitchen. You wouldn't want to add tiles that aren't durable or aren't meant for kitchen usage.
The major thing you need to consider while choosing a tile type is its heat resistance.
This is because of the excessive fumes and emissions in the kitchen, where every material needs to have added durability and resistance as compared to the rest of the house.
Kitchen tiles are heat resistant, but only certain ones. If you want heat resistant kitchen tiles, make sure you research which ones would be best for your kitchen before buying some.
Understanding the dynamics of tiles can be a very beneficial thing for all your designing adventures.
To know how it works and how it came into being, this guide will help make things clear.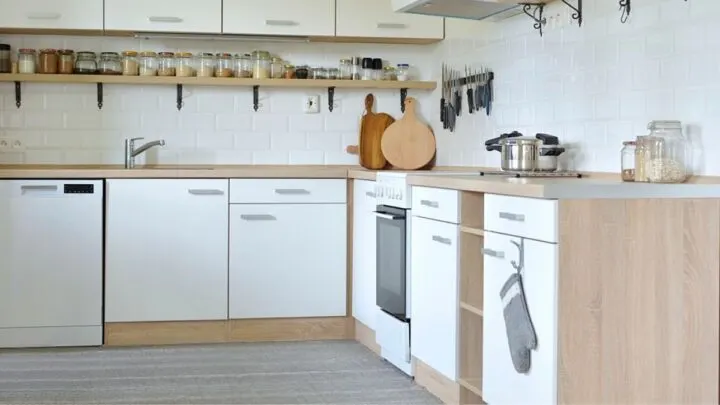 The History Of Kitchen Tiles
If you've wandered a lot in old cities and heritage houses, you'd know that kitchen tiles weren't really very popular back in the day.
They were considered an elitist idea and people preferred to leave their countertops or walls as is.
World War II, however, changed multiple things about everyday life and with it, the perspective about tile countertops as well.
The 70s-80s were years when people started normalizing its usage and hence, the rise in supply and production.
Natural stone slabs and composite materials started becoming the talk of the town and within a matter of a few years, raw countertops were a thing of the past.
Markets today have a variety of tile options available, from pristine-looking tiles such as ceramics, to natural-looking ones such as travertine.
The range does not only allow you to play around with aesthetics but also provides clean and even surface tops, safe for use as a platform for food.
A raw surface can potentially degrade your food because of its loose particles being incorporated whilst working, whereas tiled surfaces just make everything 10x manageable and hygienic.
Tiles also particularly do well in kitchens because of their heat resistance.
Any other material has the hazard of melting down or catching fire, making tiles an optimum option for places near stoves or ovens.
They can be installed on either walls, countertops, or floors so working with them can be an ideal way of renovating your kitchen.
What Are Kitchen Tiles Made Of?
Ceramic is usually a key element in the making of tiles but there are no restrictions.
Marble workers often experiment with a range of materials to produce tiles, from glass to concrete and to naturally occurring stone as well.
The price of any tile is measured by square footage and can lie anywhere between $2-$100.
Marble, onyx, or granite are some naturally occurring materials that are most commonly used in the production of tiles.
As a finishing touch, they're either fired, glazed, or polished depending on the usage.
Because of their uniquely occurring patterns, each tile has a different look, meaning that there is no question of houses having a monotonous look.
You can choose a type that complements the rest of your house and can also have it customized according to your wish.
From solid colors to free-flowing patterns, you're bound to find something that has the character which you want.
The Types Of Tiles And If They're Heat Resistant
To find yourself the best fit, here's a list of tile types and their characteristics:
Ceramic
A ceramic tile goes through the typical process of baking and glazing. It is mainly composed of clay and has a definite structure.
Its strength and durability make it a popular choice in kitchens.
The heat resistance of a ceramic tile is so strong that it can easily endure fire and high temperatures of heat for an extended amount of time.
They're also particularly economical so if you're looking for heat-resistant tiles that don't cost an arm and a leg, ceramics will be a good option.
Porcelain
Porcelain tiles go through a very tedious procedure of hardening, so they're very strong and durable.
Porcelain is often confused to be exactly like a ceramic tile but in reality, its durability and heat resistance are far higher.
An added benefit to porcelain tiles is water resistance, making them a popular choice for countertops.
Sandstone
You might've noticed the aesthetic appearance of this type of tile which is exactly what makes it pricey.
They're made with no processed or artificially sourced material, which is why it's an easy-to-clean option.
It also can withstand heat, to an extent that it significantly reduces the temperature of the interiors.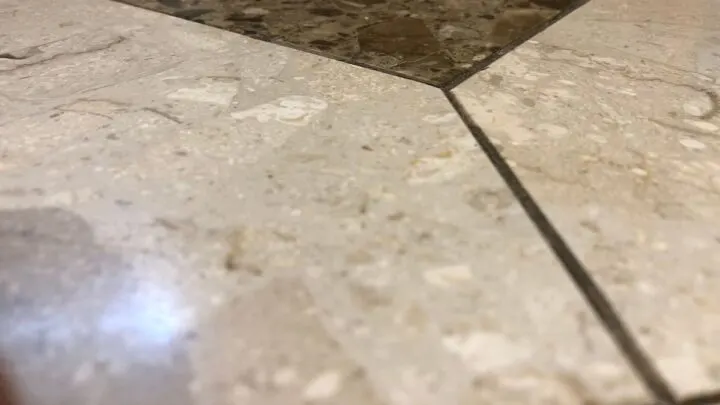 Marble
Since marble has been a noticeable feature in ancient structures, it's a popular choice when you want your space to have an elegant look.
Its aesthetics are secondary though, as it's very hard to clean and also requires regular upkeep.
It can resist heat to a large extent but can easily break in case of extensive footfall.
Granite
One of the toughest materials to exist, granite can very well be installed near stoves or ovens because of its heat resistance.
It has a very pleasing, raw appearance and doesn't require any specific care.
Conclusion to Kitchen Tiles Being Heat Resistant
Whiles can improve your kitchen by a considerably large margin, you must make your choices carefully.
The installation of tiles on either walls or countertops involves a long process and added expenditures, so you really wouldn't want to end up with something non-durable.
To make sure that your tiles are up to the mark, carefully analyze their features and most importantly, their heat resistance. Only certain ones come with heat resistant capabilities. Happy renovating!