If you are tired of seeing the same tiles in your kitchen, you may be wondering how to change the kitchen tile color without replacing them.
After all, tiles are expensive and take loads of time to be replaced.
Hence, it makes sense that you do not want to remove them completely and want to work with what you have.
The best way to change your kitchen tile color is to stain or paint them. The only thing you need to be careful about is not walking in the area until it is completely dry.
Changing the color of the tiles can be complicated.
However, if you follow the correct techniques and use the proper tools, you should be able to renew the tiles without replacing them.
Don't worry; you will not have to invest in new tiles every few years.
With decades of interior designing experience, we're here with the best step-by-step hack to get a brand new look for your kitchen tiles or any part of your house.
How to Change Kitchen Tile Color
It doesn't matter what you are remodeling; whether it is the kitchen or bathroom, your house does not need to look dated or drab.
Here are some steps you can follow to change the color scheme without actually changing the tiles.
1. Thoroughly Clean the Surface
Before you can paint the tiles, it is important to clean them well to remove all dirt from the grout and tiles.
Over time, it is normal for build-up or dirt to form on the surface of the tiles.
The best way to clean them would be to use a steam cleaner that will get rid of all the build-up from the tiles and a cement cleaner to clean the grout.
Once the surfaces are thoroughly cleaned and sanitized, you will find that the grout looks new, and the tiles have a smooth surface that will work perfectly for your paint job.
Once you have finished cleaning, you must dry the area well before you move on to the next step.
Keep in mind that once the grout has dried, it will look lighter than the bits of grout that are wet.
2. Start Painting the Tiles
If you have ceramic tiles in your kitchen, it is best to use urethane-based paint.
Start by painting the outer edges with the help of an angled brush so that you do not overpaint the grouted lines. An angled brush will allow you to get to the hard-to-reach areas easily.
To ensure no slip-ups and drips, you can use 1/8-inch acrylic tape to cover the grout. If there is a spill, do not scrape or scrub the paint when it is wet.
This will only cause it to spread and worsen the situation.
Start retouching the grout with special grout paint using a narrow brush when you feel like the tiles are sufficiently dry.
This will allow you to get into the edges and ensure that they are well-painted.
Once this is done, you can use a standard brush or paint roller to cover the centers with paint.
Your tool will depend on how big or small your tiles are.
Before you apply the second coat, it is important to let the tile fully dry.
Leave them alone for some period of time so that streaks and smudges do not form on the tiles.
3. Start Painting the Grout
When it comes to grout, it is essential to use grout paint. This special paint will seal the color and ensure that it does not stain in the future.
You may not need to paint the grout if its appearance has been renewed after washing it and if no mistakes were made while painting the tile.
You might also find that the grout is in decent condition, but its color does not match the new color of your tile.
In case you feel like the grout needs to be painted, you can fill the paint in with the help of a narrow brush or use a rolling paint applicator to avoid mistakes.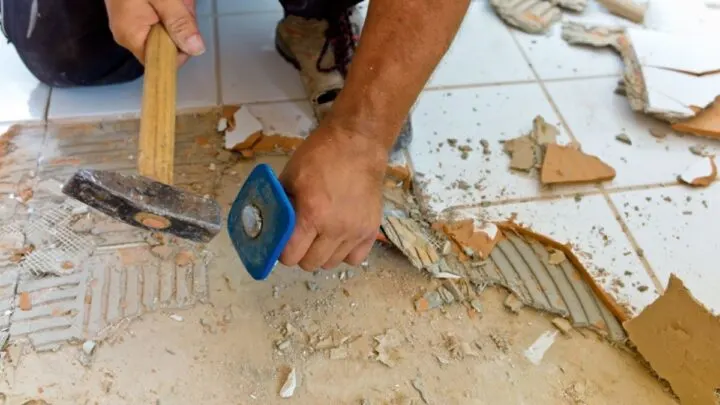 4. Applying the Sealant
The final step to changing the kitchen tile color without replacing it is to seal the grout and the tile.
You must ensure that they both are dried thoroughly before you use a sealant.
The sealant you use must specifically be a urethane-based sealant that should only be used on tiles.
This will ensure that your tiles look fresh and your paint lasts for a longer period of time.
If you want your tiles to look glossier and brand-new, you can add a high-gloss sealer to your tiles.
This sealer is easy to apply and works by locking in the new color that you have applied so that it does not get scratched in the future.
Can You Choose More Than One Color When Painting the Tiles?
It is definitely possible for you to use more than one color for your tile. In fact, many homeowners choose this technique to add a unique touch to their kitchen.
One way to do this is by choosing an accent border in a contrasting color or stone finish.
If your current kitchen tile layout uses special tiles, you can choose to highlight them in your new design.
There are loads of possibilities that you can use if you are working with the existing tiles in your kitchen or bathroom.
Replacing the tiles is not only a more expensive option, but it also takes a significant amount of time and causes loads of mess.
Taking the tiles out will result in construction noise that your neighbors may not be comfortable with, and you will be left with loads of rubble to clean up.
Painting over the tiles and changing their color is definitely a smarter option!
Summing Up Changing Your Kitchen Tile Color
If you've gotten tired of your current kitchen tile color, or simply are planning on refreshing your space, don't worry – you don't have to buy all new tile. You can either stain or paint your current tiles to get a whole new look in your kitchen.
Make sure you take care to clean your surface properly before starting and to also invest in the correct pain for the job. After you finish, your kitchen will look as good as new!