Mats help keep you comfortable, especially when you need to do floor work and other workout routines that require bending, sitting, or kneeling.
Working out at home is great until you need to clean your mats.
Unfortunately, cleaning your workout mats will not be one of your favorite things. It can be stressful, especially if the only option is to hand-wash.
The task becomes even more distasteful if you stain the mat when working out. Learning how to clean gym mats at home is a must.
When cleaning gym mats, first remove all loose debris by vacuuming or sweeping. Then, you should sanitize the mats using disinfectants. Follow by scrubbing it with soapy water and then hanging the mat to dry.
Washing your gym mats is a necessity for good health and safety. As you continue working out, drops of sweat and dirt get stuck on the mat.
Accumulating such debris can be detrimental to your health hence the need for regular cleaning.
However, you should know that there is no specific solution for cleaning all gym mats.
Since gym mats are made of different materials, it helps to pay attention to the specific procedures.
What Should You Use to Clean Gym Mats?
Gym mats can be cleaned using different products. It also depends on the material of the gym mat.
Most of the gym mats people prefer are made of rubber.
However, regardless of the material used to make the gym mat, specific procedures will clean most all mats.
Understand the different ways to clean these mats and want to use them. Some of the standard products include: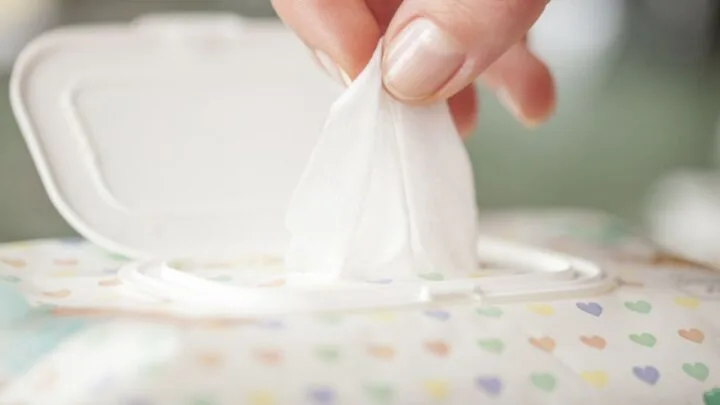 1. Disinfectant Wipes
These are excellent options for cleaning your mats daily. For a quick wipe-down on the mat, you can go for brands such as Lysol or Clorox.
Alternatively, you can shop for specific wipes formats.
Be careful about using the wipes on your body. These are specially created to help clean mats and related surfaces and should not be used on the face or body.
The ingredients are harsh and can cause harm.
2. Rubbing Alcohol or Peroxide
You may also have to rub some peroxide or alcohol on your gym mats to disinfect them.
You may have noticed that the gym has a special spray bottle with ingredients that they spray on machinery.
In most cases, rubbing alcohol or peroxide are the components in the spray mix content.
The same mixture can work perfectly for your gym mats. Your recommended mix should be half portion of peroxide or rubbing alcohol and half a portion of water.
Spray this mixture on your mats and wipe it with a clean towel.
3. Floor Scrubbers and High Filtration Vacuums
This is an option for larger gym mats. A vacuum or floor scrubber is ideal if you own a home gym and have carpeted the entire space.
The vacuum cleaner will pick up most dirt and debris from shoes and other sources.
In most cases, the vacuum is what you need for home gyms and mats since the level of dirt is not much.
However, a floor scrubber is ideal in cases where the mats are too dirty since it is more powerful.
Floor scrubbers are also smooth and polished, giving you a brand new look.
Even so, always start with vacuuming. Once you have vacuumed, continue scrubbing. Finish by wiping down the mats and gym as a whole for a clean finish.
4. Carpet Shampoo
If your gym mat is a cloth carpet, you need to deep clean it every once in a while.
On such days, using a carpet shampoo will work perfectly. This should be done after every six months of continued use.
The carpet shampoo absorbs the dirt and sweats deep inside the mat. First, spread and massage the carpet shampoo on the mat.
Let the shampoo sit for at least ten minutes (depending on what the manufacturer recommends) before vacuuming the mat.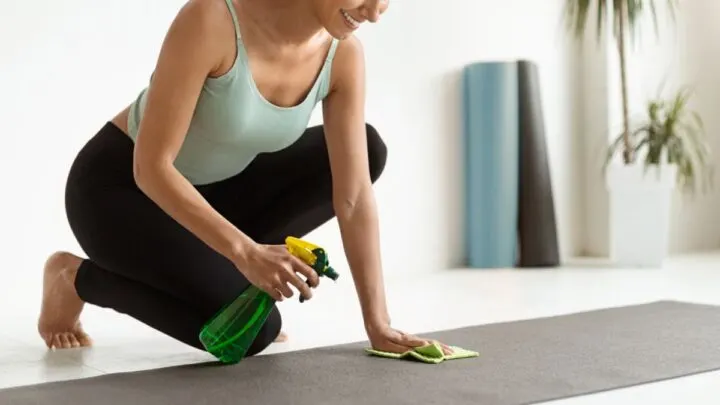 What Process Do You Follow When Cleaning the Mat?
Know what to do and settle for the cleaning product you need for your mat. For rubber mats, proceed as follows.
Prepare your vacuum, broom, cleaning towel, and cleaning solution/ wipes for the process.

It would help if you always started clearing the dirt in your home that found its way to the mat. You can use a vacuum which is the easiest option. However, brooms will also work just fine.

Proceed to disinfect the mat. It would be best to have wipes or a spray solution to thoroughly clean and disinfect your mats. When using the spray mixture, spray and wipe down with a clean towel. The wipes are more manageable since you use them as they are.

Once the disinfecting is done, you should proceed to scrub the gym mat. This is especially very crucial if you have a home gym. Use a floor scrubber if possible, and polish the gym floor mats.

Once you are done with the scrubbing, run a clean towel over the scrubbed mat. This helps pick any excess residues and ensures the gym is ready for your next workout.
Does the Size Matter When Cleaning Gym Mats?
The size of your gym mat can affect the cleaning procedure.
For instance, small or folding mats need you to vacuum, sanitize, and air dry. There may be no need for deep scrubbing.
The larger mats will follow the same procedure.
However, after disinfecting as you do with small mats, you need to scrub with a floor scrubber before finally air drying it.
Summing Up Cleaning Gym Mats At Home
Besides cleaning, you can also consider using chemical disinfectants.
Also, clean the front and back of the mat every time you clean.
Finally, air the mat regularly, even when you are not cleaning it.
These simple steps can help keep the mat in great shape.
They also prevent smells and pungent stenches.