Cleaning your white vinyl fence is not complicated, and it can be done successfully if you are willing to follow a few basic steps.
No one wants to embark on a cleaning project unless they know exactly what they are going to need, how long it's going to take, and how to do it correctly.
Cleaning a fence can be especially unpleasant, as it is outside and you have to work around weather elements and other conditions that aren't present when you take on a cleaning project indoors.
The best way to clean a white vinyl fence is to rinse the fence with water, apply cleaning solution, rinse the cleaning solution off the fence panel, and then remove stubborn stains with a soft bristle brush.
Though cleaning a white vinyl fence may sound pretty straightforward, you will want to make sure you follow certain steps so that you won't do any damage to the fence or area around it.
You'll also want to make sure that the time and money you invest in cleaning your fence is worthwhile, so using certain products and a tried-and-true method will ensure your fence will look the way you want it to and your cleaning job will last for longer.
Keep reading to find out how you can clean your white vinyl fence in a cost and time-effective way, and get the results you want.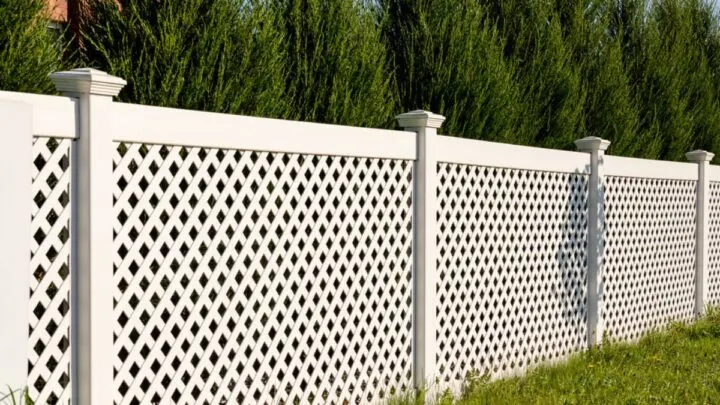 How to Clean a White Vinyl Fence
Vinyl fencing has become very popular for many homeowners, as it's an affordable alternative to wood fencing.
Vinyl fencing is durable, long-lasting, and can look great when installed correctly and kept clean.
Unfortunately, though vinyl fences are relatively low maintenance, they do acquire a fair amount of dirt, algae, and mildew.
And if you live in a high humidity area where algae and mildew thrive, be prepared to wonder if someone came and painted your fence green by late July!
The good news is that since vinyl fences are non-porous, the grime on top will stay on top and won't do damage to the actual fence.
Dirty vinyl fencing can certainly start to look bad, but deeper damage is hard to do to these durable types of fences.
That said, because the vinyl is bright white, any dirt or scum will show easily, and can make a big difference in the overall look of your fence and yard.
A good scrubbing will solve the issue, and you'll have your fence back in no time!
1. Prepare the Fence and Area Around It
First, as with any large project, make sure you have all the necessary tools at your disposal before you start to clean, and that you have prepared the area and fence itself.
Since you will probably decide to use a powerful hose or pressure washer, ridding the fence area of anything you don't want to get soaked is a good idea.
2. Rinse the Fence With Water
Before you apply any cleaning product to your vinyl fence, start with a test run.
Again, the higher the water pressure, the more damage you could possibly do to the fencing, so give it a test spray, and make sure you don't have fencing slats that are loose or need replacing.
After you do a test run, go ahead and start spraying your fence.
It is suggested you work in small sections so that as you begin adding the cleaning product, it won't cause streaking if left on for too long.
3. Apply the Cleaning Solution
Once your fencing is wet, begin to apply the cleaning solution. Remember to work in small sections at a time.
This may take a bit longer, but it will be worth it in the end, because you will avoid leaving soap residue behind.
Though some homeowners prefer to use bleach on their vinyl fencing, I think it's better to invest in a product that is made for cleaning outside surfaces.
There are plenty of brands that are formulated specifically for removing dirt, mud, moss, and mildew from fencing.
These products come with their ingredients listed and you can find many that are committed to being environmentally friendly as well.
Other products, such as bleach or certain household cleaners may be toxic to children or pets playing around your fencing, and they may also discolor your fence rails.
If you really don't want to invest in a cleaning solution, one option would be to try distilled vinegar.
Vinegar is a miracle cleaner and is non-toxic to people, animals, and plants.
When using vinegar, dilute it with some water to make it work most effectively.
4. Rinse the Solution Off the Fence Panel
Once you've let your cleaning solution set for a few minutes, go ahead and rinse it with clear water.
As you rinse, make sure to start at the top and work to the bottom, as to remove all lingering traces of soap, and pull any dirt down off the fence as you spray.
You may need to rinse more than once if any soap residue is still lingering after each fence section dries.
5. Remove Stubborn Stains with a Soft Bristle Brush
For the stains that are stronger than the cleaning solution (and more stubborn too!), you will need to put some muscle behind them.
Use a soft bristle brush to remove any lingering dirt or stains. Fill a small bucket with water and cleaning solution, then dip your brush in.
Moving in an up and down motion, use your brush to free up the dirt or stain, then use a wet cloth to wipe it down.
Summing Up Cleaning a White Vinyl Fence
Cleaning a white vinyl fence might seem straightforward, but there are some things you have to do to make sure it stays in tip-top shape.
Make sure you rinse the area beforehand with water, apply the correct cleaning solution, and then get rid of any stubborn stains with a soft bristle brush. Then your fence will look as good as new!