How to decorate bathroom shelves is a question that has been on many people's minds. How do you take something as utilitarian as a shelf and make it pretty?
It's tough enough finding affordable furniture and accessories that you love, but it can be even harder when it comes to bathroom shelves.
You want something that looks great and is functional, but you don't want to break the bank in the process.
If you want to decorate your bathroom shelves, start by organizing your products. Then, you can add some personal touches to your shelves. You can also add some greenery for a pop of color. Think outside the box when it comes to storage options so that you can make the most of your space.
If you're looking for a way to add some style and function to your bathroom, consider decorating your bathroom shelves.
In this article, we will share six ideas for decorating your bathroom shelves in a functional and stylish way.
So, whether you're looking for a way to organize your products or simply want to add some personality to the room, these ideas will help get you started.
We searched through some of our favorite interior designers' bathrooms to see how they styled their shelves.
Organize by Product Type
One way to decorate your bathroom shelves is to organize by product type.
By grouping together items that share a common purpose, such as creams and lotions, or appliances like toothbrushes and nail clippers, you can create an appealing display that is easy to navigate.
This can be helpful if you have a lot of different products that you use on a daily basis.
This will help you save time when getting ready in the morning, and it will also make it easier to find what you're looking for when you need it.
You can even use decorative labels or containers to add visual interest and help draw attention to important items.
And since all of your bathroom essentials will be organized in one place, you'll never waste time searching for that elusive bottle of shower gel again.
Whether you are digging for lost makeup or have used up your last deodorant stick, with a customized organization on your shelves, frustration is sure to be a thing of the past.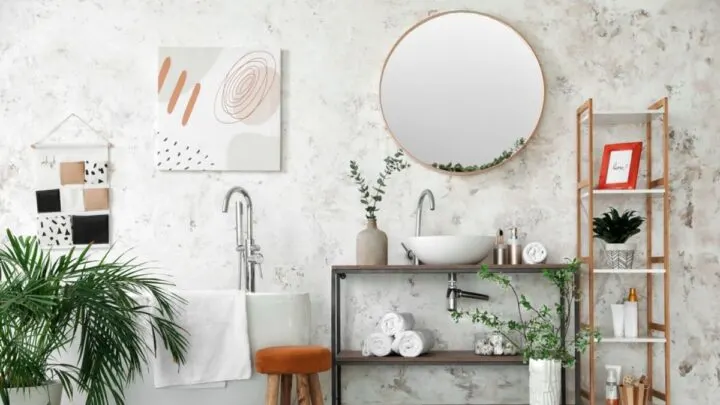 Add Some Personality
Another great way to decorate your bathroom shelves is to add some personality to the space. One way to do this is by choosing shelves that reflect your personal style.
If you prefer a more modern look, opt for sleek, minimalist shelves in metallic finishes.
For a more traditional space, try wood shelves with intricate details.
Whether you choose to hang a few framed prints or add some small sculptures, adding a touch of personality will help make your bathroom feel like more than just a place to get clean.
Try to fill your bathroom shelves with items that reflect your interests and hobbies.
For example, if you love to cook, you could display cookbooks, utensils, and spices. Or, if you're an avid reader, you could fill the shelves with books, magazines, and knick-knacks.
Whatever you choose to put on your shelves, make sure it reflects who you are and what you love. This will make your bathroom feel like a truly personal space.
Candles Pull Double Duty
Not only do candles add a touch of ambiance to any room, but they can also be used to freshen up your bathroom shelves.
If you have a few scented candles that you love, try using them to decorate your shelves.
You can use them as part of a larger display or simply place them on the shelf for an instant burst of fragrance.
Just keep an eye on them and blow them out when you leave the room so that they don't start a fire.
Scented candles are not the only way to make your bathroom smell great. You can also try using diffusers or essential oils.
These can be placed on shelves or in other areas to help spread the scent throughout the space.
Just be sure to keep an eye on them and turn them off when you leave the room so that they don't continue to diffuse while you're gone.
Add Unique Storage Options
There are many different ways to decorate your bathroom shelves, but one of the most unique and creative options is to add unique storage options.
By incorporating a variety of cleverly designed containers and organizers, you can turn your plain bathroom shelves into an eye-catching display that perfectly reflects your personal style.
Not only will these items add visual interest to your shelves, but they can also help to keep your bathroom organized.
Some great choices for adding storage to your bathroom include magnetic spice racks, caddies designed to hang over the toilet, and decorative baskets lined with cloth or leather.
You can also use mason jars to create a unique soap dispenser. Another option is to repurpose an old jewelry box into a storage box for your makeup or other small items.
If you have any old picture frames lying around, you can use them to create a frame-shaped shelf to display perfume bottles or other small items.
No matter what types of items you decide to store on your bathroom shelves, the addition of cleverly designed storage solutions will help elevate this space from drab to fab in no time!
Add A Pop of Color
If you're looking for a quick and easy way to add a pop of color to your bathroom shelves, try using colorful towels.
This is a great way to add a bit of personality to the space without having to make any permanent changes.
Simply choose a few brightly colored towels and fold them neatly before placing them on your shelves.
You can also try using patterned towels or those with interesting textures.
This is a great way to add some visual interest to your bathroom without having to put in too much effort.
For something a little more permanent, consider painting or staining the back of the shelves.
By choosing a bold hue such as hot pink, electric blue, or neon green, you can instantly perk up the look of any bathroom decor.
Not only will this add an eye-catching pop of color to your space, but it can also help define the layout and feel of your room.
Functionality Is Important
While it's important to make your bathroom shelves look nice, it's also important to make sure they are functional.
After all, what good is a pretty shelf if it can't hold all of your stuff? One way to ensure that your shelves are both stylish and functional is to invest in some baskets or bins.
These can be used to store anything from extra toilet paper rolls to spare towels.
And if you want to take things one step further, you can even label the baskets so that everyone in the family knows where everything goes.
This will help keep the space tidy and organized, and it will also save you time when you're looking for something specific.
Conclusion to Decorating Your Bathroom Shelves
There are many ways that you can bring some life into your bathroom shelves. First, start by organizing the necessities that you have, and then bring in some decorations from there.
You can add in some plants, or candles go a long way as well. Whatever you choose, your bathroom shelves will look great in no time!