Kitchen islands are a popular home improvement project, but it can be hard to know which one is right for your home with so many choices on the market.
Having a kitchen island installed is going to help tie the whole room together. It will also make cooking and eating much more efficient and practical.
However, a kitchen island that is not sized properly to your cooking space can result in the area feeling cluttered and disorganized, which is why it is best to properly evaluate dimensions before making any commitments.
The average size of a kitchen island is 80 inches by 40 inches. However, each kitchen is different, and you should assess the amount of space you have from counter to island, how many people you want to seat, and how much overhang you will have.
When installing a kitchen island, there is a lot that you need to consider to make the feature nestle properly into your cooking space.
You need to think about the material, color, shape, and size, as this is going to be the one characteristic that is either going to make or break the practicality and aesthetic of your kitchen.
The main thing you need to keep in mind when determining the perfect size for your kitchen island is how much room you have to play around with.
This factor is going to greatly influence the size and shape of your kitchen island more than anything, which is why it is best to be as calculated as possible when evaluating your dimensions.
To help you install the perfect kitchen island inside of your home, we are going to take you through our simple guide.
After extensively researching kitchen islands, I have been able to gather enough information to create a sizing guide for making this kind of installation.
How Big Should a Kitchen Island Be?
Your kitchen island should be proportionate to the size of your kitchen, with the average size being roughly 80 inches by 40 inches.
However, these measurements can greatly fluctuate, as each kitchen is going to be a bit different.
The dimensions of this kitchen feature are going to be critical, because an installation that does not fit your cooking space is going to result in complications.
A kitchen island that is too big can make the area harder to access, creating tight walkways and a lack of room for opening your cabinets and drawers.
A kitchen island that is too small can make your cooking space feel awkward, with the island becoming an isolated feature that does not quite fit the aesthetic of the room.
You should take proper measurements of your space before you start designing your kitchen island. Make sure to get accurate dimensions of your kitchen, as well as all of its features.
This will include any stationary appliances, cabinets, cupboards, and tables. In addition, don't forget to slide out all of your drawers and open all of your cupboards to see how this will impact the space once your kitchen island is installed.
The shape of your kitchen can also influence the size of your island, as well as its style.
Consider all characteristics of your cooking space and commit to a kitchen island that is going to fit the structure and aesthetic of the area.
Once you have evaluated your kitchen space, you can make your decisions based on how much room you have to play around with.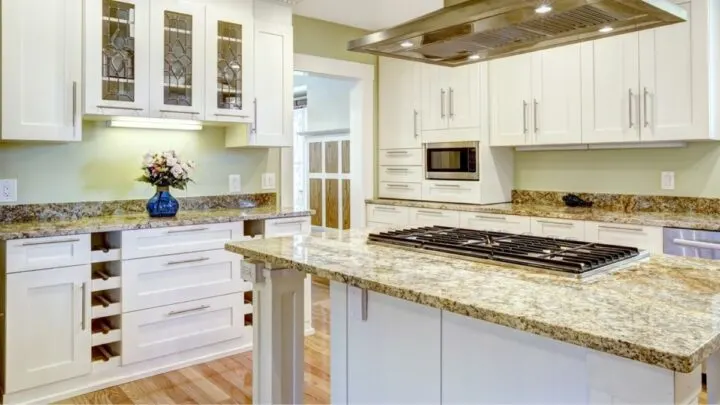 How Much Space Between Kitchen Island & Counter?
A very common mistake that a lot of people make when installing their kitchen islands is not providing enough space between the island and the counter.
Although there is some flexibility with how much room you leave, you normally want at least 35 inches and a maximum of 50 inches of space between a kitchen island and your counter.
However, we have found that the ideal space is between 40 and 47 inches.
This should give you enough room to have practical accessibility for walking and opening kitchen features, while at the same time not making the island feel too isolated.
How Much Seating Space Should a Kitchen Island Have?
Kitchen islands are very dynamic and can be used not only as cooking stations but also for sitting and eating.
The main focus is to create a big enough gap for each seating position so that people can enjoy dining without being too scrunched up together.
Generally speaking, 24 inches of space between each person should provide an optimal amount of room to sit and eat comfortably.
If you have a large enough kitchen island and want to have more space in between each person, you can push this a bit further by having 24 – 30 inches of room.
Given these figures, you need to decide how many people you want to seat at your kitchen island.
More often than not, people aim for at least 2 – 4 people, which would come out to a kitchen island that is at least 48 to 96 inches long.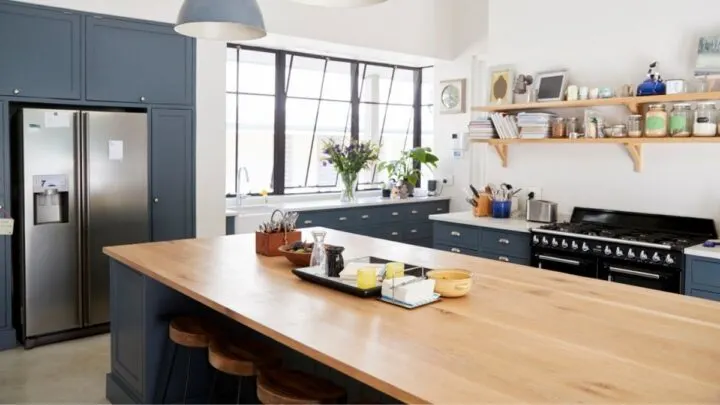 How Much Overhang Should a Kitchen Island Have
A defining characteristic that you have to consider for your kitchen island is how much overhang you want it to have.
This can vary depending on a number of factors, but as a general rule of thumb, you should have 8 to 12 inches of overhang on your island.
This will ensure that you can comfortably sit without feeling too cramped.
With that being said, the best way to gauge the amount of overhang is to consider how thick your kitchen island slab will be, with a thicker slab equating to a longer overhang.
Here is an estimated ratio for slab thickness to overhang amount:
0.5 inches thick – 8 inches overhang

0.8 inches thick – 10 inches overhang

1.2 inches thick – 12 inches overhang
Although this is a great starting point to measure out your kitchen island's overhang amount, you should also consider that these figures can vary depending on the design that you are going for.
Some kitchen islands do not rely on any overhang at all, especially when the island is not used as a seating area.
Summing Up Kitchen Island Sizing
It greatly depends on the size of your kitchen, along with how many people you'd want to fit at the island, to come up with an accurate answer for how big your kitchen island should be.
However, the general size of most kitchen islands is 80 inches by 40 inches. This should give you enough room to prepare food or host guests with ease. If you need a different size, make sure to account for overhang space as well.