Light fixtures are your way to add personal character into any room. The kitchen is no different, especially, when you have a kitchen island.
Kitchen islands are where families gather, meals are prepped, and breakfasts are eaten.
The lighting needs to be functional at heart. It should fill the space without feeling heavy and provide enough light to complete any task.
What is a pendant light?
A pendant light, also known as a drop light, is a light fixture that hangs from one single point and are typically hung in groups.
Pendant lights are most common above kitchen islands or above bathroom vanities.
Check out 15 pendant lights below that are sure to brighten your kitchen and day!
No products found.
This pendant light is the perfect blend of classic farmhouse and industrial style.
This light comes with hand-blown bubble glass and the height is adjustable.
The edison bulb is a perfect modern touch.
This simple light is a show stopper! The pulley accent looks great against white cabinets.
This stunner is available in 5 finishes and colors including brushed nickel, black, white, and washed copper.
Lantern lights are all the rage these days. They look great over any island.
This light comes in black, silver, and gold. As well as one bulb or four bulb options.
This brass pendant light can jazz up any kitchen.
This light will create a decorative shadow on the ceiling. It looks the best when on a dimmer.
Looking for a contemporary and modern light? Look no further than this beauty.
It is available in a brass and silver finish.
The unique design is guaranteed to catch your guest's eye!
Simple and sleek. This pendant light is timeless.
Available in multiple sizes and finishes. Check out all your options.
The edison bulb is a perfect modern touch.
Who doesn't love a geometric pendant light?
This light has many options when it comes to the shape of the pendant and finish.
I see a theme with the edison bulbs!
This light is 100% modern farmhouse!
I picture this light as the perfect accent to a white kitchen with black hardware. Its a show stopper.
You can find this light with different size shades. There is a style for everyone.
You cant get much more modern than this beauty.
Its slim profile is still able to produce an impressive amount of light. It has the ability to look as if the light is dripping onto your island.
This decorative pendant light is ornate yet airy.
It comes in gold and silver and can make a room sparkle.
This style looks great when paired with white stone countertops and white cabinets.
What is more farm house like than an off white wooden pendant light?
This gorgeous piece would look good in any home. Pair it with a matching farmhouse table to creae a cohesive kitchen and dining room.
Crystals and glass in one light fixture.
This light is beautiful up close. It is eye-catching and is able to reflect natural light throughout your kitchen.
This light is so versatile it can be used above your kitchen island or in your foyer.
Each pendant contains 3 lights!
It's available in spherical or cylindrical shapes.
Simple yet classic. This glass light will fit any style home.
The best part about this light is that it can be easily matched to complement other lights in your kitchen or dining room.
Bring out the crystals!
This tiered light reflects a light show on your ceiling for an added touch of style.
This style looks great when grouped in sets of three!
How many lights do I need over my kitchen island?
Your kitchen island lights should complement your space without duplicating the exact fixtures in neighboring rooms.
The number of lights you will need depends on a couple of factors: The size of your island and the type of light selected.
To create a balanced appearance most designers will suggest following the rule of three. Repeat an element three times for optimum balance. This will work well in most kitchen island situations but don't try to force it.
A small island will look even smaller if you try to cram in three lights. In this scenario it may be better to stick with two pendant lights or one larger light.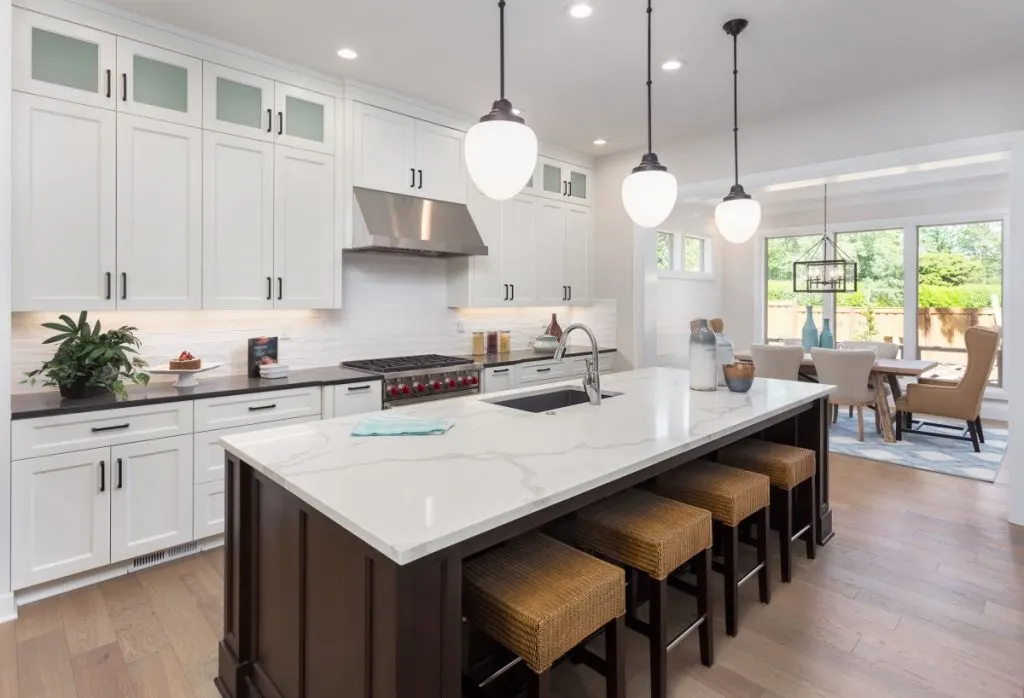 Height Matters!
The type and size of the light will determine how you hang your light fixtures. However there are some basic principles that can help you decide on the final placement.
Common placement of lights are at least 30 inches above the counter. You will want to make sure the final placement doesn't impact your sight lines.
Make sure you can stand comfortably and look across the counter into the next room or into the kitchen without having a light obstruct your view. If you can't see what you need to, raise your lights.
Additionally, test the placement by turning on all the lights and confirming you can see clearly on the counter. At the end of the day, you want enough lights, hung at the correct height to complete any prep work.
Conclusion
Great lights not only bring atmosphere to a room but they can also add a lot of character! Finding just the right ones that complement the rest of your decor can make a massive difference in a room.
In addition to great lighting, other items that can make a big difference include a stunning sink and table. Make sure to also take a look at our article on the best farmhouse sinks and farmhouse tables to complement the room.
Related Articles