Lowes is one of the most popular home improvement stores nationwide, but these mammoth buildings can easily overwhelm any potential buyer searching for anything more than a small pack of screws or a new drill. Moreover, people nowadays just usually lack the time to walk those many aisles.
This, in turn, has created the demand for a more convenient way to obtain Lowe's goods: curbside pickup. But is this even an option?
Lowes offers curbside pickup services at all its locations, free of additional charges. To use curbside pickup, patrons need to place their order on Lowes.com or through the Lowes mobile app and select the "free store pickup" option at checkout.
In this article, we'll answer all of your questions about Lowe's curbside pickup services, including how it works, what options are available, and where to go.
As you read, you'll also learn some more uncommon facts you might not have thought of, such as whether you should tip Lowe's employees for this service!
Lowe's Curbside Pickup Options and How it Works
Lowe's prides itself on creating high-quality products accessible to any individual, from DIY homeowners to skilled craftsmen and everyone in between.
While the service alone is an exceptional convenience, the many options provided regarding their curbside pickup service further support their value of accessibility.
Patrons interested in utilizing Lowe's convenience services can choose between:
Free delivery (up to 25 miles from the store)
In-store pickup
Pickup lockers
Curbside pickup
Those who opt for curbside pickup can then choose the store location for their order and any item in stock at that location.
One exceptional feature Lowe's offers is that patrons can order items from multiple stores for pick up and get all items under the same order!
You will still have to drive to each location for pickup, but you won't have to go through the checkout process multiple times for each store.
Once you've chosen your store location(s) and checked out (either on Lowes.com or from their mobile app), you'll then receive a confirmation text or email. When your order is ready for pickup, Lowe's will then send an additional notification.
While you can't choose the time of pickup, Lowes usually has orders ready within three hours after checkout, and they can be pickup up at any time during operating hours within the first seven days of their purchase.
So, even if something comes up and you can't grab your curbside order the day of, you still have plenty of time to get it. If the location is the issue, you can call customer care at 1-800-445-6937 to change it!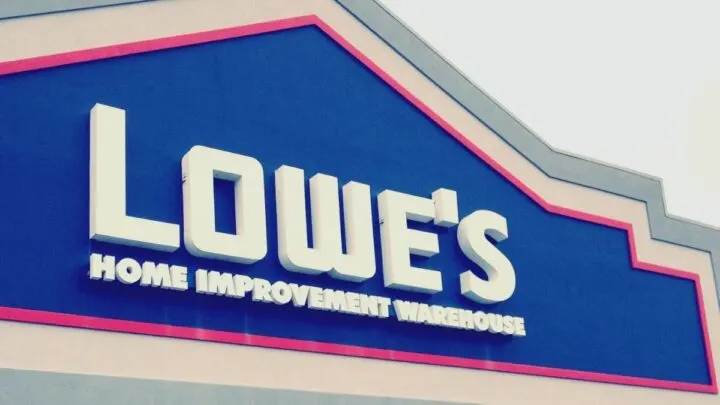 Where is Curbside Pickup at Lowe's?
After you've received notice that your Lowe's order is ready for curbside pickup, it's time to head to the store location you chose and get your items.
There are designated curbside pickup parking spots clearly labeled in every Lowe's parking lot.
Once you arrive, park in one of these designated spots and then select "I'm Here" on the email or text message you received confirming that the order was ready for pickup.
You'll then need to finish the check-in process and wait until a Lowe's employee arrives with your order. To confirm your order, you'll need a photo ID and the order number on your confirmation email.
How Late Does Lowes Do Curbside Pickup?
One of the greatest conveniences of Lowe's curbside pickup, and the reason they don't provide you with a time slot option, is that you can pick up your order at any time during the store's operating hours.
Therefore, the latest you can retrieve your curbside pickup order is before the store closes, usually at 8 PM.
Do You Tip for Curbside Pickup at Lowes?
Lowe's, as a company, does not permit its employees to accept cash tips.
So, even if your Lowe's curbside pickup associate went above and beyond with their customer service, it's not appropriate to try to tip them, as it is against corporate policy and will only put the employee in a difficult position to reject your offer.
While cash tips may not be your best option, verbally thanking them goes a long way to showing appreciation!
If they did an outstanding job, you can also ask where you can leave positive positive feedback for them as doing so may help them with future raises or promotions.
Final thoughts on Lowes curbside pickup
If you've been meaning to pick up a few things from Lowes but haven't found the time, we highly recommend purchasing them online and choosing curbside pickup so you can stop by and snag them at any moment during business hours within the week.
Alternatively, you can opt for one of Lowe's other pickup options if you'd rather go inside the store, or you can skip pickup altogether and simply have your items delivered within 1-4 business days.
Related Posts