Outdoor showers are handy and can be a necessity based on your location. Before deciding about a purchase, it's best to decide on the need and placement before pricing out a new shower system.
Outdoor showers are often cheaper than interior ones due to a smaller amount of materials. Their average cost falls between $1,000 and $5,000 and is impacted by the materials selected and ease of access to plumbing.
Outdoor showers can be multi-functional. They can be relaxing shower spots if you have a private backyard or a utility shower for rinsing off sandy feet, muddy children, or dirty pets.
Additionally, outdoor showers can be used to wash off bikes, tools, or other bulky items.
Read on to learn more about what can drive the costs for an outdoor shower and check out some items at the bottom to help you have an outdoor shower without breaking your bank.
Average Cost of an Outdoor Shower
The choices for an outdoor shower are unlimited and only restricted by your imagination. You can make them yourself or have them made into a magnificent piece of artwork that resembles stonework from the Roman Empire. That's extravagant.
Custom stone and tile find themselves right at home when you're designing an elegant landscape to house your outdoor shower or several showers with hot and cold running water. Or, if your preference is a more simplified version, a freestanding unit connected to a typical garden hose does a fine job, too.
You can even have the convenience of a complete, all-inclusive unit designed to stand by itself and provide a quick shower after a swim in the pool or the lake.
Hook up a garden hose, and you're good to go anytime and just about anywhere. These units are easy to move and put into storage during winter's long, quiet days.
The outdoor shower I'm referring to is a do-it-yourself kit that requires only a screwdriver for assembly. A professional may charge upwards of $100 per hour for the installation. You might have difficulty finding someone to install the kit because they are relatively easy to assemble.
The shower kit averages for around $350 and assumes a simple water hose hookup you supply. The two estimates bring the average total cost of an outdoor shower to $450. That's for a simple, standalone kit.
Prices for better and best units increase accordingly. Better units cost nearly $2000 without labor, and a best, a freestanding unit made from 316 marine-grade stainless steel, carries an average cost of $3000.
As you can see, costs vary based on materials, design, and labor.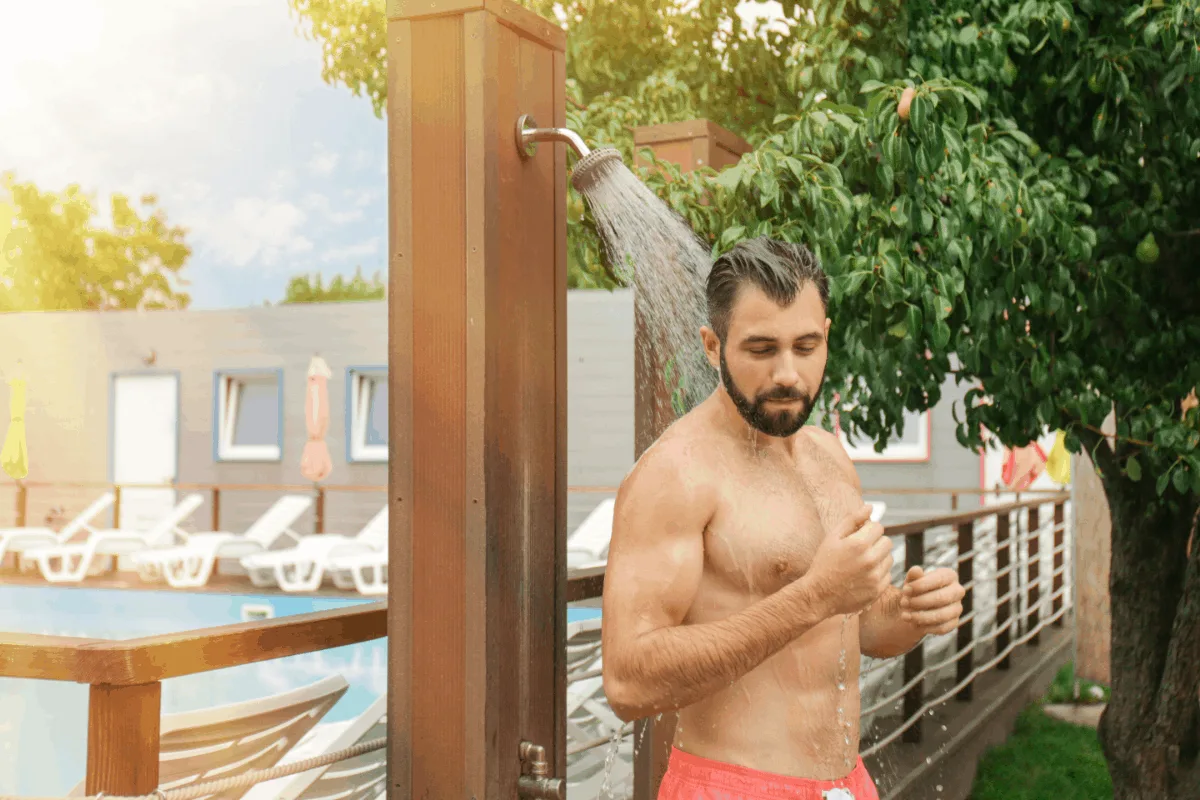 Cost Compared to an Indoor Bathroom With Shower
A major project that involves remodeling a bathroom and installing a new shower takes time, a lot of work, and patience. Depending on the level of detail and furnishings for an indoor bath and shower, the indoor variety can reach into the tens of thousands of dollars.
The costs could conceivably approach a similar amount for an outside shower, too, with the fundamental differences in the property's structure and design to accommodate the shower and its amenities.
Anytime builders price out custom work for remodeling interior spaces, the costs can easily go out of budget. For an indoor bathroom with a shower, over budget situations commonly occur when fixtures such as the shower, tub, or combo with sinks, take up more space in the budget than originally planned.
The final costs of a bathroom depend primarily on its size and the amenities you add. Remember that everything costs money, and every decision you make will have a price attached, so leave plenty of budget room for additions and changes as they come along.
As the work progresses, sometimes teardowns and debris removal become necessary, which adds to the project's final cost. It's best to consider every conceivable cost before deciding on a final plan of action.
Currently, a standard size bathroom costs approximately $10,000 for a remodel and $20,000 for new construction, but this estimate can explode upward with extravagant additions and more labor added.
Your final budget numbers should include estimated construction costs, with additional money for plumbers and electricians with custom work. Also, assume that your project requires permits, and expect each one to cost around $900.
Depending on your location, you will incur other expenses besides everything I've mentioned already. The codes for your area become critical as you move along with the project. Inspectors will focus intently on these and force you to make changes that could add to your already stretched budget.
Wherever possible, ask for suggestions and limitations regarding codes because the last thing you want to happen is to have everything almost finished before the inspection. On inspection day, be told that a major portion of the project needs a correction.
Not only is that a big inconvenience, but a modification or correction can run the final cost of the project out of your budget.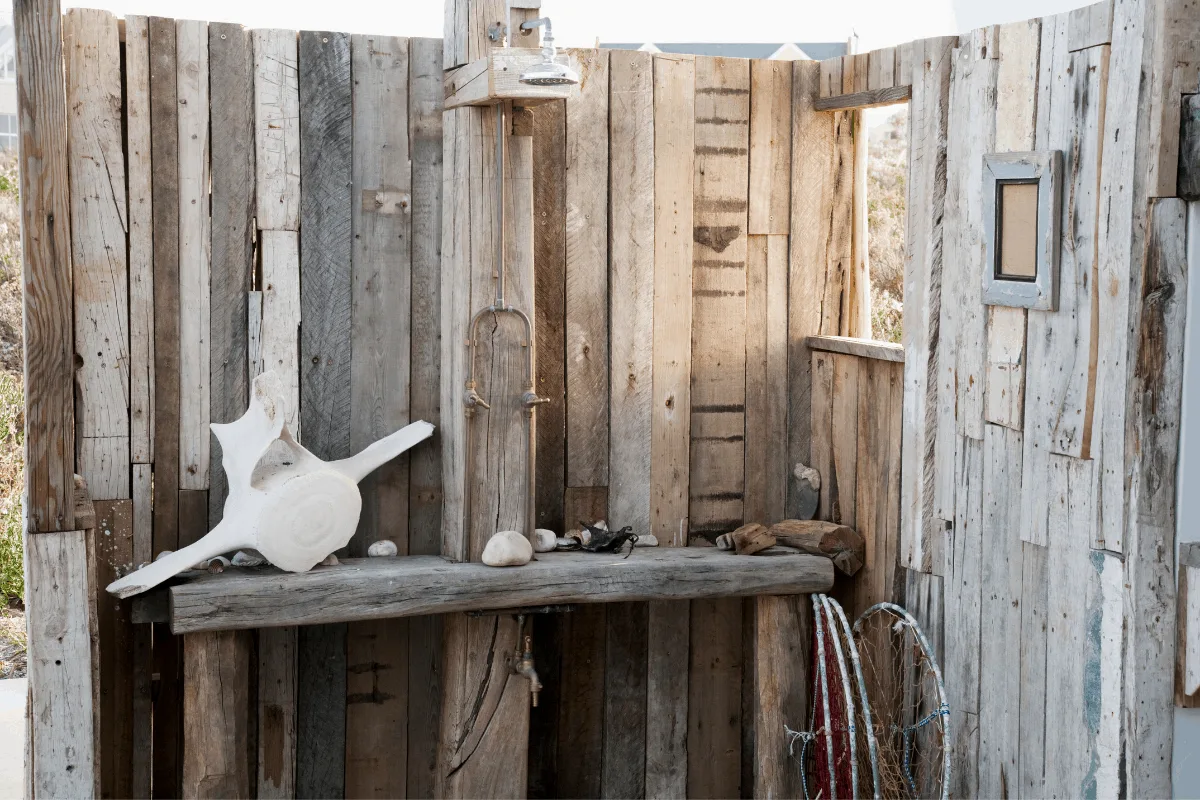 Does an Outdoor Shower Add Value?
We make home improvements for many reasons, and most of the time, it's because we feel the need for a change to help with some pressing need to make life better. I think a secondary reason is to increase the home's value because it's time to sell.
Regardless of the home improvement, adding an outdoor shower will add a surprisingly high monetary value to the selling price of the home. Most of the homes that have an outdoor shower tend to be homes on the water.
The showers are useful for rinsing off the sand from the beach before coming inside or into a more expensive area of a luxurious estate.
According to realtor.com, homes with an outdoor shower enjoy an average 97 percent price-per-square-foot premium or more, depending on location.
If you combine your outdoor shower with other amenities outdoors, the home stands out and with each addition, becomes more appealing to buyers. Fire pits, pools, and barbeques have their own desirable features that attract buyers, too.
Aside from the monetary benefit of installing an outside shower, an intangible benefit that rings true with many people is how it adds convenience and boosts the quality of life we all seek. There's just no way to put a dollar amount on the real value of a sensible and healthy improvement to your home like an outside shower.
How will an outside shower affect your life? Will it change how you feel about your home? To that, I would say, yes. That's because it can become a place where you can relax and enjoy your new space–like a resort vacation, for example.
If you added an outside bathroom and tub, it's a brand-new wide-open space outdoors that adds a little luxury that maybe you didn't expect.
Do Outdoor Showers Need Drains?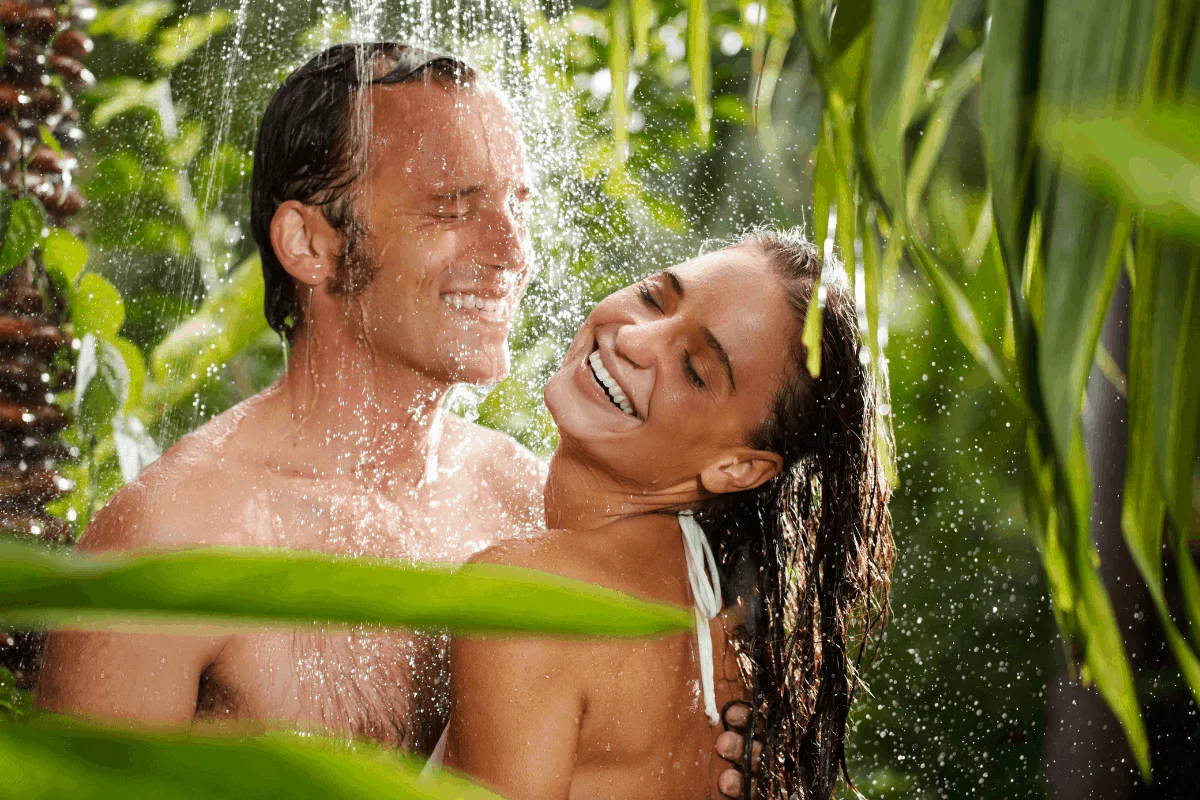 Most city municipalities have strict codes about drains and how and where to route them. Outdoor showers usually require normal plumbing and drain requirements as indoor plumbing to carry away wastewater.
Every locale is different, with varying requirements for drainage requirements, including in their building codes. Also, before installing the outdoor shower, it's a good idea to check permit requirements, too. A permit guarantees an inspection, so it's best to get everything correct beforehand.
As a suggestion to avoid future problems, do your due diligence and find out about the local building codes, then hire a professional plumber experienced with outdoor plumbing. You may need to install wastewater drainpipes per code. The drainpipes help protect the groundwater and the drinking water in the area.
Once your project meets the plumbing requirements, you're free to design the area with custom tile and a built-in drain system that adds a very attractive and valuable addition to your home.
If you want to take the design up a notch or two, you could enclose the plumbing and add hot and cold running water with a tub or spa.
Top outdoor shower products to create your own oasis!
Check out these outdoor shower items that won't break your bank!
Matte Black Outdoor Shower Head
Interlocking Outdoor Shower Tiles in Teak
Portable Propane Tankless Water Heater
Solar Shower Bag
Recommended Reading
Make sure to take a look at some of these other awesome resources before you go!