Nobody likes clutter, and a jumble of shoes in the entryway is most likely to trigger your nerves.
Similarly, you might lose your favorite pair of footwear among heaps of disorganized shoes.
Luckily, shoe racks are available in the market that makes the organization of your footwear much easier.
Shoe racks commonly go near the doorway, but are also commonly placed in mudrooms, laundry rooms, or inside a closet near the front door.
Strategically placing a shoe rack is important so that you can conveniently access your footwear while keeping everything neat and clean.
There are a few common places you can keep your shoe rack to keep everything accessible and tidy. Six of them are discussed below:
1. Near The Doorway
Your shoe rack is most convenient to place near the doorway. If you are going somewhere, your shoes should be within arm's reach so that you can put them on without looking for them in the entire house.
Similarly, if you enter the house, you can take them off at the door and avoid ruining the carpet or floors with mud or dust.
Some of us struggle with heaps of footwear scattered all around the entryway and have tripped a few times due to the mess. Placing a shoe rack in the entryway will help you keep shoes organized.
The passage will be clear, and no guest will trip over the scattered shoes. Shoe racks near the door will get rid of shoe clutter and the negative energy that your shoes may radiate!
2. Laundry Room
If you think that the doorway is not suitable to put your shoe racks in or you don't have enough space, the next best option is a laundry room or mudroom.
Laundry or mud rooms can accommodate shoe racks and make managing shoes easy and effective. It is possible to ask your family to remove their shoes at the door and carry them to the rack.
The laundry area is also generally concealed and hidden, so you would not have to worry about guests seeing dirty shoes. By doing this, your floors would also be clean and your house will be chaos-free.
3. Under The Staircase
The space below the staircase is usually empty and dull. Try to utilize the extra space by storing your shoes there. All of your shoes would be visible to you, meaning you'll remember to wear more of them and not let them collect dust.
And who doesn't appreciate having a corner of their house all to themselves? Dedicate this corner to your shoes!
Make sure to clean the shoes regularly for a better look. As the staircase is generally always around the middle of the house, you might find yourself picking up a lot of shoes from this area as well.
Now that you have a shoe rack right under the staircase, you might not have to clean every ten minutes.
4. Inside The Wardrobe
It only makes sense to put your shoes where you put your clothes. Adding a shoe rack to your wardrobe will end all your space management problems.
Closets with shoe racks are getting more popular, as they allow you to easily hide your shoes and keep track of them at the same time.
As everything is on a display, you will find the right pair of shoes in no time. Keeping your shoes clean will be easy since they will not be scattered on the floor and will not collect dust.
5. Terrace
Out of sight does not always mean out of mind. If you are opposed to the idea of keeping your shoe rack near the doorway, in the laundry room or elsewhere in the home, you can place it on the most distant place in your home, the terrace.
You can put shoes that don't come in use a lot or the shoes reserved for special occasions on the shoe rack. Make sure to put it in a sheltered corner of the terrace to protect it from water and sun damage.
6. In The Attic
You can easily place your shoe rack in the attic if you are worried about damaging them in the open environment.
If you own a big and bulky shoe rack, putting it in the attic as it is the most intelligent decision you can make, as this way, it will not occupy too much space in other parts of the house and make your space look small.
You can simply go and take out which pair you would like to wear and return them when you come back home. Your house will be tidied up and clean with no shoe mess in sight.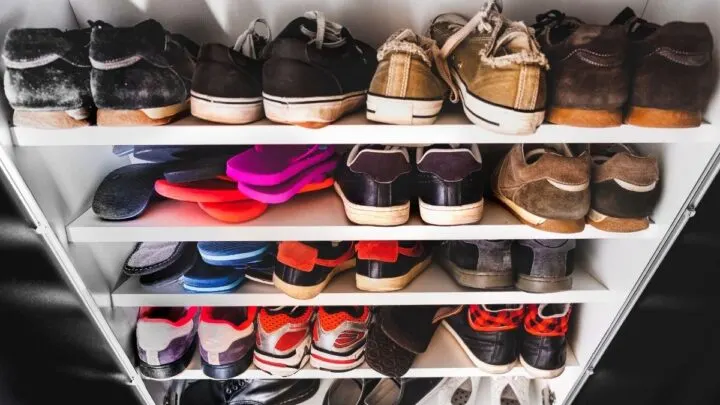 Frequently Asked Questions (FAQs)
Where should a shoe rack be placed in a bedroom?
It is recommended that shoe racks be in the closet of the bedroom. It only makes sense to keep it hidden in the closet as not everyone finds shoe racks aesthetically pleasing.
The shoe rack should also be in an area that allows you to keep potential smells out of the main room.
While you're getting ready, your footwear would be easily accessible, and you can match your outfit better since your shoe rack is present in the closet.
Where should a shoe rack be in a small apartment?
Small apartments come with restricted storage options and tiny spaces. You can place your shoe rack near the door of your apartment to utilize that space.
You can also place the shoe rack in the laundry area so that they are not cluttered in the entryway.
Another place to keep your shoe rack is to fit it against a wall and cover it with a beautiful curtain. This will ensure that your shoe rack is out of sight and add a beautiful touch to your interior!
Should we put the shoe rack in a specific direction?
According to "Vastu Shastra" which are texts on the traditional Indian system of architecture, one can place shoe racks in the northwest direction of the house.
People believe that there are certain energies in the ground/ and as we walk, these energies can cling to the shoe and be brought inside our homes.
It is also believed that placing your shoes in the west, south-west or north-west region of the house helps to lessen these bad energies the shoes carry.
Final Thoughts on Where to Put a Shoe Rack
You should choose to put the shoe rack wherever it is the most convenient for you. Functionality and accessibility should be your top priority. There is a wide variety of shoe racks available in the market that are functional, compact and aesthetically pleasing.
You will be able to store your shoes in an optimized way and have a clean, clutter-free home by cleverly placing your shoe racks!