Are you thinking about painting your ceilings but aren't sure if you need to? Well then allow us to advise you.
If you want to properly revitalize your ceiling and enhance the look and mood of your home's interior, then you should always paint the ceilings.
Experts have recommended painting the ceilings since they give the room depth and harmony.
You should choose a good paint color, as darker colors can make your homes look smaller.
Painting the wall with a lighter shade and ceilings with a darker one can make the space feel congested. Distinct colors, on the other hand, have different effects.
The shades below may help you choose the right color for the ceiling in any of your rooms.
What Color Should You Paint The Ceiling?
It is difficult to choose the right color for your ceilings.
For that purpose, we are here to let you choose the proper color when there are so many options available.
Using The Same Color As The Walls
If you are planning to paint your walls and ceilings the same color, keep in mind what size and style of the room you are painting and whether the dark shade or the light shade works best.
Medium tones are generally not recommended as they don't look very appealing, so you should always choose either lighter or darker shades.
You can use the same color theme in small spaces like tiny rooms. Choosing a deeper paint color for walls and ceilings will wrap it in rich color and make it feel more private.
Bathrooms are an excellent example of utilizing the same color as the walls to make the area look larger and more modern.
However, if you want to make your spaces look larger, then lighter shades should be your first choice. You can do the same color in large rooms as well.
Doing the same wall and ceiling color whether you choose a dark or a lighter shade will unite the space and draw attention to furniture and accessories.
Other than that, using the same wall paint color for asymmetrical, angled, or vaulted ceilings can help to simplify the overall shape of the room.
Choosing A Shade Lighter Than Walls
When you choose a shade lighter than your walls, it will make your room appear bigger.
A brighter color can make your room's walls feel higher as well.
To make ceilings lighter than walls is to whiten your wall paint by mixing 80% of it with 20% of white color.
You can use this painting method for making tiny spaces appear larger or rooms with lower wall ceilings look elevated.
When you start painting your ceiling a lighter color, you must consider the following:
You will get a low-contrast appearance.

When you dilute the wall paint that you have chosen, chances are it might not look great.

If you are not a fan of subtle tones and simplicity, don't go for it.

If the diluted color paint does not give you the desired look, you will then have to paint your walls again with a different color.
Choosing a Darker Shade
Choosing a darker shade for the ceilings is not a bad idea.
If you prefer a slight distinction between your ceilings and walls, or you are planning to add a high-contrast effect in a white-walled space, then you should start painting your ceilings with a darker shade.
Make sure you choose a color that is only two to three shades darker than the wall in order to achieve a sophisticated and finished look.
You should choose to paint the ceiling darker if:
The walls of your room are white.

You are okay with striking contrast after painting the ceiling dark.

You want to make your space feel more intimate and cozy.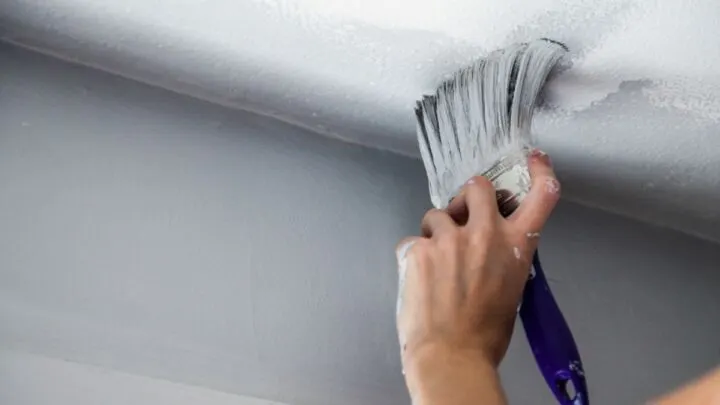 Why Should You Paint Your Ceiling?
Painting the ceilings adds aesthetics to your homes. Many homeowners are worried about the wall colors, but only a few of them pay attention to ceilings.
You can leave your ceiling white, but adding some colors to it will give it a finished look.
Let's take a look at several reasons to consider painting your ceilings:
1. It Adds Subtlety to Your Home
Details that can add subtlety to a room are painting the ceiling and walls the same color. However, if you choose a darker shade, it will make your space feel more private and tranquil.
Painting your ceilings adds cohesion, giving a seamless backdrop that highlights contrasting furnishings.
2. To Hide Imperfections
Ceilings generally don't get as damaged as walls do on a day-to-day basis.
However, they are not invulnerable. Sometimes flaws are caused by house settling, faulty craftsmanship, and harsh temperatures.
These flaws do not imply that you should ignore them and start to live with them. These flaws can be hidden with the use of the right paint for your ceilings.
For unwanted scars, you can use latex paint and cover them with a matte finish.
It will absorb the light to conceal minor problems your ceilings have and will give a smooth finished look.
3. To Add Aesthetic
Painted walls and floors are the centers of attention when homeowners decide to renew their homes.
They pay little to no attention to painting their ceilings as well.
You should include painting the ceilings in the interior design plan to add aesthetics to your rooms. The ceilings should not be overlooked.
You can improve the appearance of your room and its look by simply adding colors to your ceiling.
Conclusion to Painting Your Ceiling
Choosing the correct paint color for your home might be a difficult task.
But choosing your ceiling's shade should be your priority.
Believe me, you will be at peace of mind when everything is painted correctly after you have put your money and efforts to make your home look good.
Now it's time to make the most of your investment and start painting your ceilings too to make your homes look sophisticated and appealing at the same time.