Have you ever visited someone's home and seen wainscoting in their bathroom and wondered; is wainscoting good for bathrooms? Well, we will look into it and find your answer.
Wainscoting is a decorative wood detail. It is commonly used on the bottom half of a wall and is a great way to add charm to any room; Even bathrooms! Wainscoting can be a nice addition to small powder rooms because it can make the room feel larger.
Want to know more about what wainscoting is and how it can be good for your bathroom? Then, read on and find out everything you need to know before adding it to your home!
Table of Contents
What Is Wainscoting?
If you think you know what this means, but are not 100% sure, then don't worry. We will go over what it is, what its original use was, and how it is used today.
Wainscoting is a type of paneling that can be added to the walls of a home. They are usually made of wood and will often be seen on the lower half of the wall.
This was created to keep moisture and dampness from getting to the walls of the bathrooms in homes that had poor insulation.
However, with the standard of homes being higher, this has become a decorative feature that is often used for covering damage to walls or simply adding an accent wall.
These panels are typically made from wood and are commonly painted white but can be painted any color. Although it is usually only installed on the lower part of the wall, it can be used on the whole wall, fireplace, or ceiling.
Is Wainscoting Good For Bathroom?
The bathroom is one room in the house where you have to be more careful with what you decide to place inside it. With electricity and water both being a large part of the room, this could lead to issues with moisture that could cause problems with décor.
Wainscoting can help protect the wall from being damaged by water and moisture while also adding an extra design element to the room. Also, if there is any small damage done to the walls, like holes from an accident or a spot that was warped, then you can cover it up and make it look like a brand-new room.
Opting for wainscoting can make your bathroom look stylish and elegant while also making your guests feel at home.
What Type of Wainscoting Can Be Used in a Bathroom?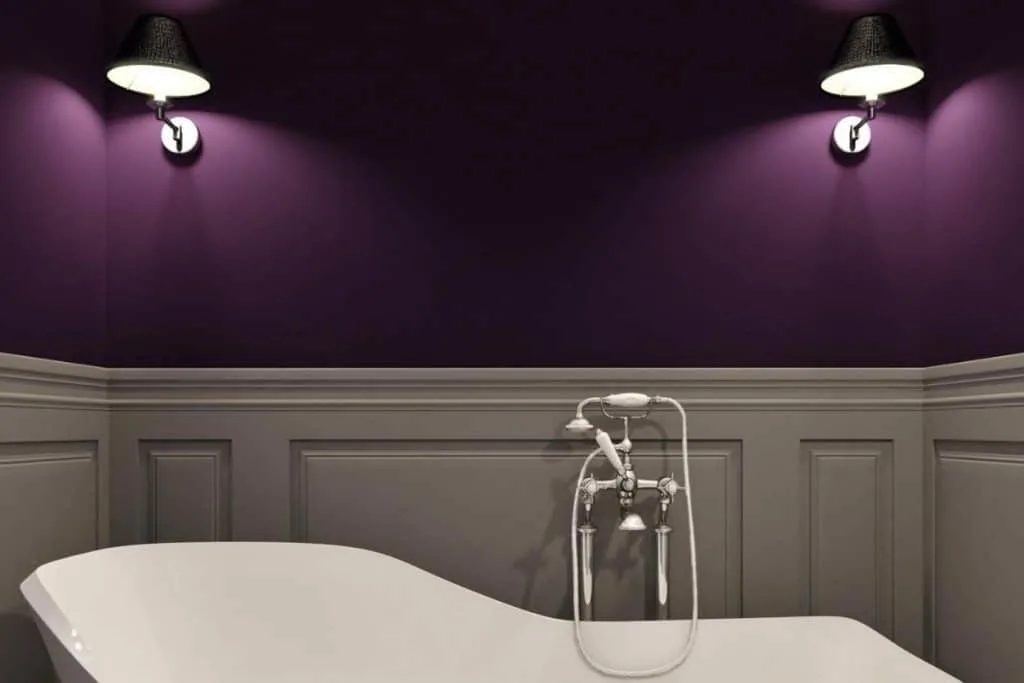 With a bathroom being a high-risk area for mildew and mold due to the amount of moisture that is in there, you want to ensure that whatever you put in this space will hold up over time.
So, when it comes to adding wainscoting to your bathroom, the best type that you could use is beadboard. This is a type of wainscoting that is ideal for bathroom use.
This type of wainscoting is ideal for bathrooms because it helps keep moisture from getting to the walls of the house. This will help will insulation a bit, which can also keep the room warmer in the winter months.
Although there are other types of wainscoting, like tileboard, they don't stand up to the moisture that will be in the bathroom. Tileboard is better used for smaller fixes in drywall since it is not quite as strong.
How High Should Wainscoting Be in a Bathroom?
Though there are average heights that designers and decorators tend to stick to when installing wainscoting, there is no particular height necessary for it. This means that you have the option to customize it how you like and have it taller or shorter than the average.
However, if you want to stick with the common heights that are normally used, then you will want to have it go just passed the height of your bathroom sink. This is usually anywhere between 38 and 42 inches from the floor to the tallest point of the wainscoting.
If your sink is a bit taller than the average height found in most homes, then it will be aesthetically pleasing to have the height a bit higher than common measurements.
This will help the room feel balanced instead of feeling like the wainscoting is taking over the room.
Work with a professional designer to help you choose what height will be the best for your specific bathroom.
Can You Use MDF Wainscoting in a Bathroom?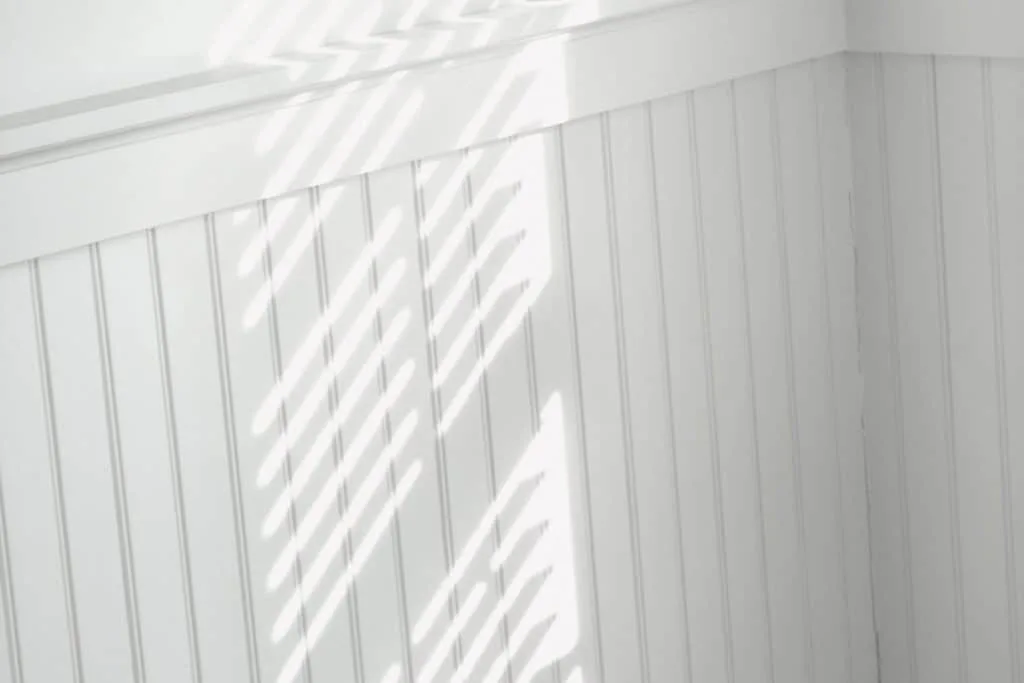 If you don't like the idea of using real wood for your wainscoting, or you would just like a cheaper option, then using MDF boards is a great option. Though many are not waterproof, some are.
If you want to use MDF for your wainscoting in the bathroom, you just need to make sure that you get a waterproof option. This will allow you to have it in the bathroom with water and moisture without being damaged.
If you attempt to use MDF boards without any waterproofing treatment, then you will likely have major issues with warping and rotting down the line. This is because these boards are not originally made for use in moist rooms.
Is Wainscoting Cheaper Than Tile?
When looking at the style of tiles and the sleek and elegant look of wainscoting, it might seem as though tiling would offer the cheaper choice for the walls of the bathroom. However, though wainscoting looks great, it is cheaper than bathroom tiles.
So, why is the better-looking option, not the highest priced?
Well, this comes done to the function of the option.
Wainscoting looks great on the walls, offers protection from moisture, and gives a more sophisticated look that separates itself from public restrooms. However, bathroom tiles used on the walls are almost completely waterproof if they are installed correctly.
Wainscoting is water-resistant and helps to keep moisture from ruining the drywall behind it, but it is not completely waterproof. This makes it a cheaper option that doesn't come with the same high functions as the tile.
Tile also requires more manual labor to install than wainscotting. More material and labor means more cost.
So, if you are deciding between tiles and wainscoting, you want to think about the price and the style. Whichever one you feel better about, that should be the one you go with.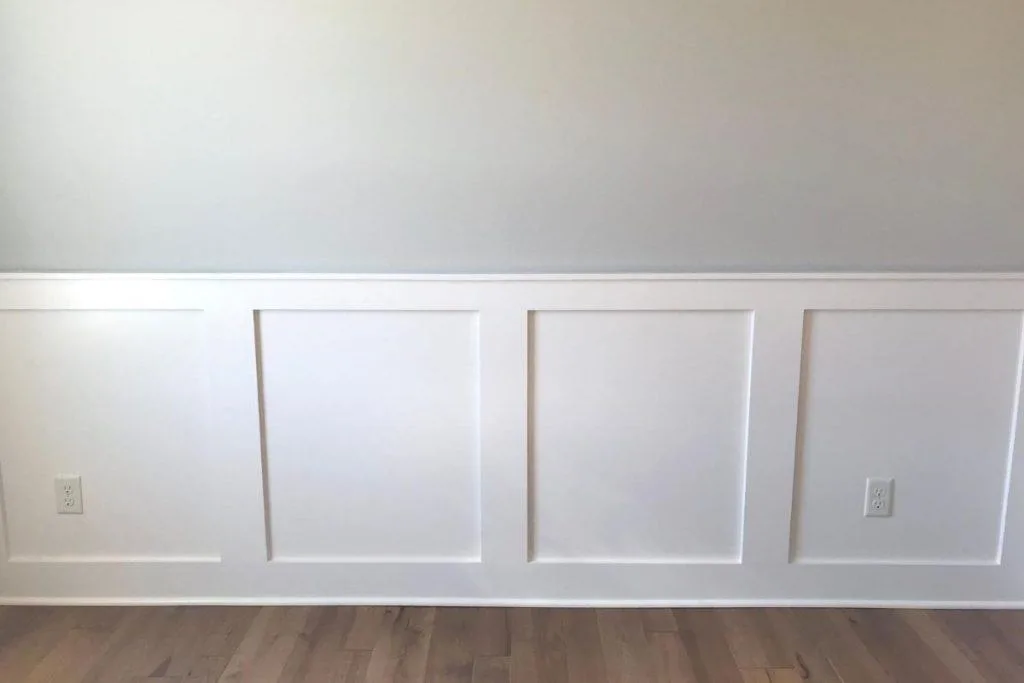 Final Words on Wainscoting for Bathrooms
Wainscoting is a timeless design feature that can be used in any room in your home, including your bathroom.
It can be utilized in a small powder room or an ornate master bathroom.
If you are considering adding wainscoting to your home, be sure to select your design, the height, and the placement before you begin.
You can work with a designer or a contractor to make sure your final product is exactly what you want.