Gardening and doing yard work are big jobs, but if you don't have a weed eater, then things are much harder. But with electric vs gas weed eaters, which is better? We will discuss the pros and cons of each to help you decide.
Gas weed eaters excel when needing to tackle large areas or extremely dense weeds. However, they are often heavier, louder, and more expensive than their electric counterparts. Use these criteria to help select one that will best fit your needs.
This is just a simple explanation, but if you want an in-depth look at the pros and cons to help make your decision for yourself, then keep reading and we'll discuss all that you should know.
What is a Weed Eater?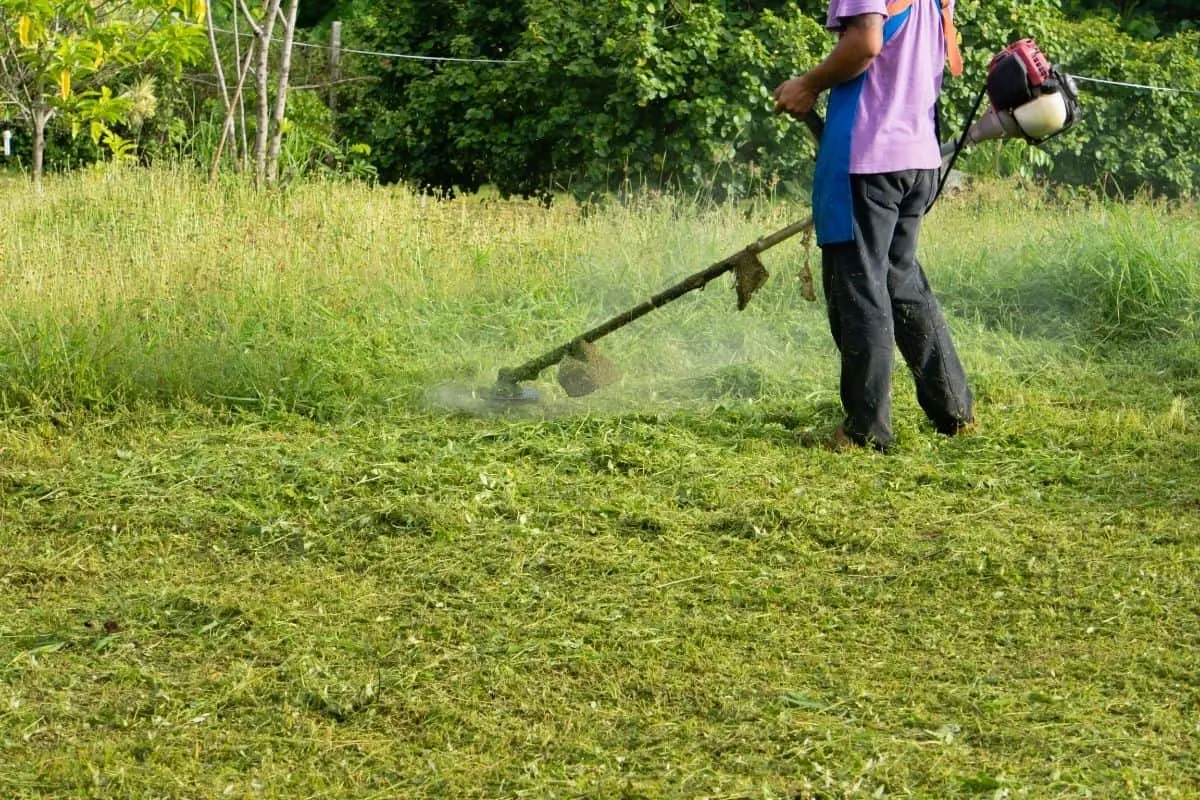 Well, these machines, also known as a week whacker, is a gardening tool that you can use to get rid of pesky weeds that have grown in your garden. This is useful because the alternative is to pull out each weed yourself, which can be very hard on your body.
Using a weed eater allows you to stand while taking out the weeds, and it ensures that they are out of your garden for a long time. As the weeds grow back, you can use it again as needed.
These are often also used for trimming the edges of the yard because of the preciseness of the blade that enables you to square off the grass along the outer rim. There are two types of weed eaters, the electric or gas options.
Both of these options come with their own advantages and disadvantages, so we will go into more detail about the differences between them, and why one might work better for you.
Electric Vs Gas Weed Eater
Both the electric and the gas weed eaters do the same job, they get rid of your weeds. They also do it the same way, which is done by powering the blade so that you can use it on the weeds growing in your yard or garden.
The main difference between these two options is how they power the blade. The electric option is typically plugged into a power source, which allows you to have the power you need to use the blade.
However, the gas-powered option has a gas motor attached to the machine that provides sufficient power for the blade to turn.
With these being the main difference between them, there are some limits and disadvantages that come with each type of power.
So, let us look at the pros and cons of electric and gas week eaters.
Pros of Electric Weed Eaters
Well, first, let's start with the good!
An electric weed eater is a great option for those who care about quiet operation. Gas motors on other weed eaters can be very noisy and often require you to wear earplugs or safety headphones when using it.
This is not an issue when using an electric weed eater because the electric motor is much quieter. This can also be ideal for those who have unusual work schedules and have to do their yard work at odd times since it won't wake up the whole neighborhood.
An electric option also tends to be a cheaper choice for consumers who want to save money. This drop in price is mainly because a gas option needs a motor that runs on gas and attaches to the machine.
This takes much more to add, and it costs more to do so. Therefore, the price is passed to customers to make up for the difference in cost.
This means that the electric options are much better choices for families or individuals who are trying to purchase a machine without going over a specific budget.
Also, since the power comes from the battery or cord, this means that the weight of the machine is much lighter than its gas counterpart. This is due to the motor not being needed, like the gas one, which takes some of the weight off.
Cons of Electric Weed Eaters
Although these advantages might sound good, you have to look at the good and bad to see which one will be the best option for you. So, let's get into the disadvantages that come from using an electric weed eater.
The first is the fact that it has to be charged or plugged-in to work. This limits the space that you can take it to, and if your yard is big, it might not reach the whole thing!
You can check the cord lengths when you buy them, but the freedom of movement that you get from the gas-powered option is still tough to beat. However, this can be done by opting for a battery-powered option, which might be considered a pro except for the fact that this limits your weeding time.
The second is that the electric weed eaters don't have as much power as gas models do. This is because the electric motors and smaller and don't have the same boost as the gas does.
This means that if you have really stubborn weeds that are difficult to get rid of, the electric models might not do the trick. The gas just has more power to do the job, so think about that when you are making your decision.
Pros of Gas Weed Eaters
When you are taking a look at the pros that come with a gas weed eater, the biggest has to be the amount of power that it has. Gas options tend to have a lot more power than their electric counterparts.
The gas engine helps the blade spin faster and cut into the weeds better throughout the yard. This is the best option for those who have large weeds that are difficult to get rid of.
Besides the power, the other big thing that the gas option has going for it is the freedom of movement. The gas motor is attached to the weed eater itself and allows you to take it wherever you need it.
This makes it ideal for larger yards that a corded electric option couldn't reach. Also, because you have room to walk around, you can have better control over the positions that you are standing in which can help your body from feeling fatigued.
Also, if you are something who likes to feel the weight and power of a tool that you use, then the gas option is for you. The added weight of the engine makes it feel very sturdy, which can make you feel more confident that it is doing its job.
Cons of Gas Weed Eaters
With these advantages, there are also some disadvantages of using a gas-powered weed eater. So, let's dive into what these are!
The first disadvantage is the fact that it is heavier than an electric option. For those who are on the petite side, this could be an issue. While you can use shoulder straps to help handle the weight, they still require more effort to operate.
Having to hold that extra weight on your body can be tiring, and it could make you unable to do the whole yard at one time. If this is the case, then weeding will take much longer.
Another con is the fact that you will need to pay for the added cost of gas. Though gas-powered options are typically higher-priced already, you also have the gas to buy too.
This is an expense that will be continual, so long as you keep using the weed eater. So, if you are looking to save money, this option is not for you.
The last disadvantage is that gas motors are much louder. This can be difficult for you to deal with and cause you to need safety headphones or earplugs while you work.
So, if you take a closer look at these disadvantages, you might find one that is a dealbreaker. If so, then maybe the electric option is the best choice for you to use.
Recommended Weed Eaters
Depending on which option sounds like the best for you, I've gone ahead and listed one gas and one electric weed eater that will get the job done.
While there are both fancier and cheaper options available, these both represent great all around value choices.
Best Electric Weed Eater
While there are many good electric options on the market, I really like the Worx WG163 GT 3.0. This model easily converts from a trimmer to edger in seconds, and comes with two 20V batteries to help you motor through the toughest of jobs!
Unlike other models, its string is easy to feed and helps you get the job done faster.
Click here to check the price of the Worx WG 163 GT 3.0.
Best Gas Weed Eater
I like the Husqvarna 128LD gas weed eater as a great all-around option. It has a wide 17 inch cutting path, while still maintaining a relatively light weight at 10.8 pounds. More importantly, it's 28cc 2-cycle engine provides ample power to take on some big time weeds!
It uses a "Tap N' Go" line release to keep new line feeding into the system to make for efficient work. It also comes with a 2 year warranty for residential use, so you can weed wack worry free!
Click here to check the current price of the Husqvarna 128LD.
Final Thoughts
When looking at electric vs gas weed eaters, you need to see which option will work best for you based on the pros and cons. One or two of them might not bother you, but if there is one that you know you don't want to deal with, then you could have your answer faster than you thought.
Whether you like the mobility of the gas options the best or you would rather have a lightweight option that doesn't make much noise, this will narrow down your choice so you can purchase the best option for you.
With both options being viable for different people, you just want to see what will work for you and your garden the best.