Gray is a versatile color that you may use in your home. If your floors are gray, though, what color paint goes with them?
Finding the right wall colors to complement gray flooring can be difficult. If you have gray floors in any house area, you can understand how tough it is to find the right combination.
Gray flooring usually looks great with lighter, more neutral wall colors, such as white, taupe, pale yellow, and sage green. It also depends on the shade of gray you have on your floors.
You can even pair it with orange, brown, and yellow for a real burst of color and contrast.
Since gray flooring is becoming increasingly popular in contemporary interior design, it is important to know the color combinations that go well with it.
Gray paint gives your floor a neutral theme, and this means you have quite a lot to play with when choosing colors to complement your gray flooring.
We have plenty of interior design experience, and in this article, we'll talk about some ideas and suggestions for the best wall paint color to match gray flooring.
Color Matching Gray Floors
White
White walls are suitable with any floor color, including gray!
Even though white and gray are both neutral hues, they have the ideal contrast to complement each other.
Any white paint will go with any gray floor, so you can choose whatever white you want, whether ultra-white, glossy white, or even matte white.
These pairings can be used to produce a magnificent modern aesthetic and attractive decor to give your house a great look!
Light Gray
While many people are skeptical about this color combination, light gray walls and dark gray flooring can create a whole new, sophisticated look.
In addition, this beautiful monochrome style gives the bedrooms or living space a gentle feel.
To give your home some personality, add light decorations. The use of light neutrals creates a more tranquil, gentle vibe, which will appeal to prospective buyers.
You may create a trendy and contemporary interior by combining dark gray floors with light gray walls. Think about adding some colorful accent colors like blue or yellow furniture to your gray decor to liven it up.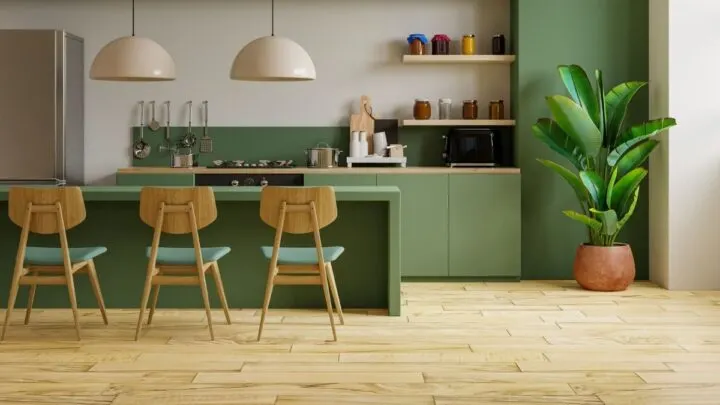 Green
Green might not have been your first choice for wall color, but when it comes to pairing gray floors with a vibrant and fashionable wall color, a brilliant shade of green is a great option.
You can choose from various colors, like mint, lime, and grayish-green.
Mint green has a modern, futuristic style that lends a comfortable vibe to a room, and it works well with dark gray floors.
When it comes to painting your dining room or kitchen room walls, a bold hue of green is a good choice.
Sage and teal are two other colors of green that go well with light gray floors. Sage is a cool-toned green with gray undertones.
In a minimalistic or modern setting, this is the ideal combo. Teal is a vibrant green with a blue tinge that is popular right now. Green also looks great with light gray floors.
Taupe
Taupe is a color that combines dark gray and brown. Because it contains a gray component, this hue can be used with any type of gray flooring.
This combination is ideal for those that want to create a stunning room with a welcoming atmosphere.
This wall and floor combo is even better if you're going to use many wooden elements in your room because it will create a cozy, natural atmosphere.
Orange
Orange is a warm-toned color that you can use to balance out a light gray floor.
To make the wall shine and stand out, this opposing hue for the walls is usually matched with subdued warm accent colors.
Natural wood furnishings and fabric textures look great against a subdued orange wall. Your lounge may feel energetic and inviting with a blend of warm oranges, hardwoods, and light gray.
Misty
Misty is a pale blue with a yellowish undertone.
This color is known for giving off a calming, soothing, and serene vibe. It's a terrific alternative to any traditional light blue color for creating a more breathtaking natural atmosphere.
When you want to use a blue spectrum for your furniture, such as a fashionable blue sofa or some beautiful blue wall hangings, misty as a paint color on the walls might be a terrific alternative.
Dusty Pink
Pink is a flexible color that comes in a variety of tones that may be utilized to accomplish a variety of effects, ranging from refreshing to vivid to more subtle highlights that can be produced with a dusty pink tint.
Another benefit of dusty pink is its gray undertone, making it suitable for use with a gray floor.
Utilizing a shade of pink will help prevent your room from looking like a nursery, which is a common problem when using other shades of pink.
Brown
Brown is one of the best complementing colors with gray. This earthy color may help your area feel beautiful and rich while also providing a soothing natural atmosphere.
It's much better if you choose a gray wooden floor with a somewhat brown tone, which will make them look immaculate.
One major issue with this combo is that it frequently results in a dark or perhaps gloomy appearance.
So, if you're thinking about painting your walls brown and having a gray floor, make sure you have adequate natural daylight to avoid these issues.
Yellow
Finding the right contrasting hue with a gray floor might be challenging, but yellow is one of the better possibilities if you want to achieve those effects.
A moderate tone yellow might be a great choice, particularly when paired with gray hardwood flooring.
Adding yellow could also help to brighten up your room and neutralize the floor, particularly if you're using deeper gray color for your floor.
Summing Up Colors That Go With Gray
Gray floors are very versatile, meaning you could honestly pick from any number of colors and have your room look beautiful. Some of the more popular ones, however, are green, taupe, orange, and yellow.
These can help elevate your room to the next level and give off an air of elegance. What color are you thinking for your room?