If you have built a house recently with red brick, you need to paint it accordingly to match the aesthetics. So, what color paint goes with red brick?
Brick houses may be left out of the fun when painting interiors and exteriors.
Moreover, deciding which color goes well with red brick can be tricky, as the paint not only has to complement the color of the bricks but also their texture.
Red brick blends well with many different colors, including gray, cream, black, dovetail, and several other combinations. The optimal hue will be determined by the design of the house and the brick color.
Bricks are available in a number of designs and colors, from sleek neutrals to more vibrant reds. You must first establish the natural hues to your brick exterior before choosing paint colors.
For instance, certain red bricks may have more brown aspects than others, and some may have more purple tones. You can utilize the tint of your brick to help you to pick the right paint colors for your design.
As experienced interior designers, we will be sharing the most widely sought-after combinations of paint colors that go exceptionally well with red bricks and leave your house looking luxurious.
These hues complement the colors and textures of red bricks no matter where they are used, be it on the trim, the front doors, windows, or siding.
Color Matching With Red Brick
Sherwin Williams Creamy SW 7012
SW Creamy is a great compliment to red brick. It's a pleasant off-white that doesn't turn yellow when exposed to the sun.
It maintains a neutral tone, making it a fantastic substitute for bright white. You will not regret choosing this hue for your home.
Sherwin Williams Keystone Gray SW 7504
Another fantastic paint color that goes well with red brick is Keystone Gray.
When coupled with brick, this semi-neutral color with a midtone shines.
Keystone Gray isn't a gray; it's more like a warmer beige. The warm colors of Keystone wonderfully complement the red brick.
Sherwin Williams Gateway Gray
Gateway has a faint green tint, which makes it ideal for pairing with brick.
It's a color with a hint of something special. It's also quite subdued, which is why it works so well with red brick.
Benjamin Moore Gray Mist OC-30
BM Gray Mist is a fantastic lighter paint hue that looks great with red brick.
Gray Mist appeals to many people because it has a beige undertone with a dash of mist or gray. It maintains a neutral tone and does not lean yellow.
Gray Mist is a perfect choice if you're looking for a softer paint color to accent your red brick house.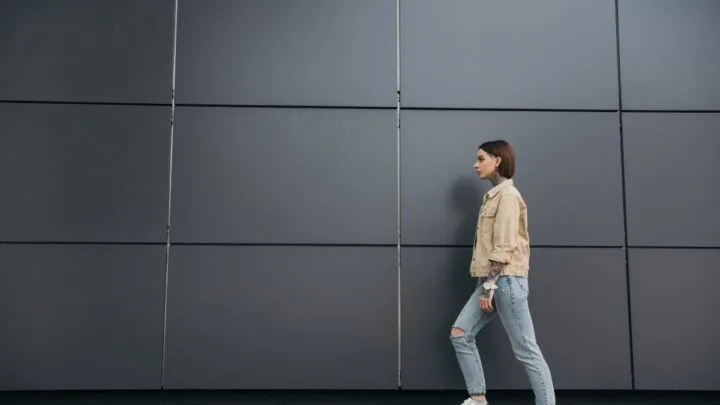 Benjamin Moore Black HC-190
Benjamin Moore's Historical Collection includes this color, which was originally recognized as Black PM-9.
You'll adore the contrast between the black and red bricks.
It has a natural classic appearance to it while also seeming fresh and updated. For brick buildings, black is a terrific contrast color.
Sherwin Williams Dark Night SW 6237
The greatest color on this list is undoubtedly Dark Night.
This paint hue is the beginning of luxury when coupled with subdued red brick.
The color Dark Night is a deep blue. It isn't quite navy, but it's close enough.
If you want a darker hue than black, this is the best exterior shade to mix with brick.
Benjamin Moore Stone Hearth CC-490
BM Stone Hearth is another fantastic taupe outdoor paint color that goes well with the brick.
This paint is more beige over gray, and it's a subdued mid-toned paint shade.
When utilized on the outside of the house, though, it appears to be lighter.
Sherwin Williams Svelte Sage SW 6164
Svelte Sage is a more subdued and dialed back version of various sage paint colors. When selecting a green paint color to complement red brick, you must be cautious.
Why? For the simple reason that you don't want your house to resemble a Christmas tree decorated in green and red.
Svelte Sage is an excellent subdued green exterior color to mix with brick because of this.
Benjamin Moore Salamander 2050-10
Another popular color is Benjamin Moore Salamander. This rich, dramatic paint hue is a great compliment to red brick.
Even though it is green, it is not Christmas green; therefore, it works. Salamander is more colorful than some of the other exterior paint color possibilities discussed until now.
SW 7018 Dovetail
This is one of our all-time favorites and a tried-and-true classic! This gray contains sufficient red pigments to be qualified for taupe.
Dovetail has a warm feel with light brown undertones.
Due to its light reflective value (LRV) of 26, the color can reflect little light, meaning that it will feel warm in several areas, even when there is a lot of natural light.
It will instantly brighten up your red brick house and look exquisite.
Summit Gray SW 7669
This deep gray color makes even the lightest red pop up.
Try this color combination once, and we can assure you that you are never going back to any other color to blend with your red brick walls.
Sherwin Williams Naval Blue
Blue can be an excellent choice to combine with red brick. It isn't associated with red on the color wheel, but the two shades work well when put together.
A darker blue or naval blue combination will look better, so go for them instead of choosing azure or royal. White trim on a dark blue home with red brick looks amazing.
Summing Up What Color Goes Well With Red Brick
It may seem difficult to figure out which colors go well with red brick, but it doesn't have to be. Gray is a great color available in several shades to help complement your red brick.
If you want something a bit more upscale, choosing a navy blue or green can also pair well. Just be careful that you choose the right shade so as not to overwhelm the red!