There are many different types of saws people use to cut wood and metal, each with different advantages. What is a skilsaw?
Skilsaws are portable saws with circular blades that you can use for many projects. They are more powerful than circular saws, as you can cut through hardwood and sometimes even metal with a skilsaw.
Skilsaws offer many other benefits as well.
What Is a Skilsaw?
Skilsaws are portable saws with circular blades that you can use for many projects. The skilsaw was invented in 1923 by Emond Michel who created what became the SKIL company.
These remarkably convenient portable circular saws quickly became popular. Today, a portable circular saw made by any company is referred to as a skilsaw.
What Do Skilsaws Do?
Skilsaws are electric and use a round cutting wheel to cut various materials. Skilsaws are usually handheld, but you can mount them on a table. They are effective enough for experts and easy enough for amateurs to use.
Usually, skilsaws cut wood materials. The steel teeth are much more than a match for the hardest wood. Different teeth are right for cutting different types of wood.
Can You Use a Skilsaw to Cut Metal?
Some skilsaw blades are capable of cutting some metal. You should never try to cut metal with a skilsaw unless you are sure the blade is right for the kind of metal you are cutting.
However, skilsaws can cut tougher things than hardwood.
Do Professionals Use Skilsaws?
Professional builders use skilsaws for timber framing work and many other projects. They are tools for both hobbyists and professionals.
Is a Skilsaw Safe?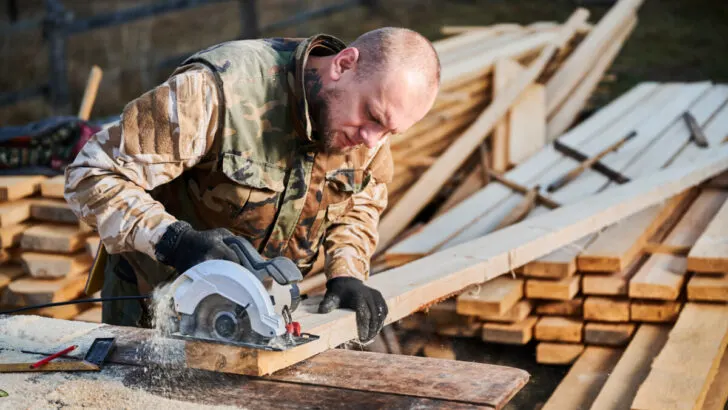 You can use skilsaws safely if you follow certain precautions. They are not safe for completely inexperienced people who don't use them cautiously. Take the risks of power tools seriously.
Use appropriate protective equipment, especially safety glasses, because there will be wood or metal splinters. Make sure you use the right blade for the material (don't take any risks with what blade you use), and make sure it is connected to the saw securely.
You also need to make sure whatever you are cutting is secured in place properly. Grip the skilsaw tightly so it doesn't move anywhere you don't want it to. Enable the safety switch before you press the switch and start the saw.
Check the Skilsaw Before You Use It
Make sure the retracting lower guard works before you operate the saw. The lower guard is the most important safety feature, so you could get severely injured using a skilsaw with a malfunctioning lower guard.
Don't accidentally turn the saw on when inspecting it. You might unplug it or remove the battery to make extra sure.
More Skilsaw Safety Tips
Again, protect your eyes – the most common skilsaw injuries are eye injuries. Use these safety tips to avoid injuries:
Wear a mask and wear hearing protection. This is not as important as safety goggles, but you can still gradually damage your ears or lungs without protection.
Make sure you know how to hold the saw properly.
Don't use power tools under the influence of drugs or alcohol.
Make sure your blade is sharp and easily capable of cutting the material. You could get injured if you force the dull or inadequate sawblade through the material.
Don't leave the saw plugged in when you aren't using it. This prevents you or anyone else from turning the saw on accidentally.
If your saw seems to have problems, don't use it. For example, if it is vibrating way more than normal, don't use it. Diagnose and fix the problem first.
Don't Lean too Far Forward
You also should not reach far ahead of you. If you do something like lean forward to reach far enough you could get hurt. Always keep your balance solid.
You could get electrocuted if you accidentally cut through an electrical cord. Keep live cords away from your work area.
Check and Secure Whatever You Are Cutting
Make sure the material you are cutting does not have things like screws or nails in it. Finally, secure whatever material you are cutting properly.
Skilsaws vs. Circular Saws
Skilsaws are similar to but not the same as circular saws. A circular saw is smaller, more compact, and has a different handle.
You don't hold a circular saw in your hand the same way. A circular saw's trigger is above the saw blade, and a skilsaw's trigger is behind it. You do not hold the two saws the same way. 
A lot of the time, a circular saw is faster and/or more precise than a skilsaw. However, a skilsaw is more powerful and has a higher RPM. A skilsaw's power and torque make it better for cutting timber and other hard materials.
Takeaways to Skilsaws
A skilsaw is a portable saw with a circular cutting blade. Skilsaws are powerful enough to cut through strong wood and sometimes even metal. Make sure you use an appropriate saw blade for the job.
Skilsaws are dangeous if you don't use them the right way. Wear eye protection, inspect the saw before you use it, and make sure whatever you are cutting is secured in place properly. Never use a dull sawblade or the wrong saw for the material.