Windows are an essential part of any home and probably the first thing you notice after walking in. They can alleviate your interiors by a large margin, but if not treated appropriately, they can very well destroy the aesthetic.
There are plenty of ways to dress a window without curtains, such as using window films, blinds, stained glass, or even hanging plants.
This guide has all the info you need to transform your windows, so let's have a look:
How To Dress Your Windows Without Curtains
A few of the best ways to really make your windows pop without curtains include:
1. Window Films
Window films are an instant solution to filter the blinding sunlight coming through your window. You can use a non-adhesive sticker or stickers to achieve the frosted glass effect and completely transform your window into a style statement! Window films also serve as an exterior screen because your visibility will be almost zero.
You can also choose from different frosted glass patterns to make your window complement the rest of the room. 
2. Blinds
Blinds are the most common way of covering up your windows because of their affordability. They're cheap to install and also available everywhere. With blinds, you can control the amount of light and also prop them at an angle to reduce visibility.
You also don't have to worry about cleaning 24/7 because blinds are super easy to maintain! You can also experiment with different kinds of blinds, for example, Roman blinds, pleated blinds, cordless mini blinds, roller blinds, and much more!
3. Hanging Plants
Adding a bit of green in the room always proves to be beneficial. Hanging plants can cover your window and also improve the air quality of the microenvironment. If the window you wish to cover is situated near a sink or washroom, you can make use of gray water instead of disposing of it. This will not only reduce the carbon footprint of your house but also boost oxygen levels!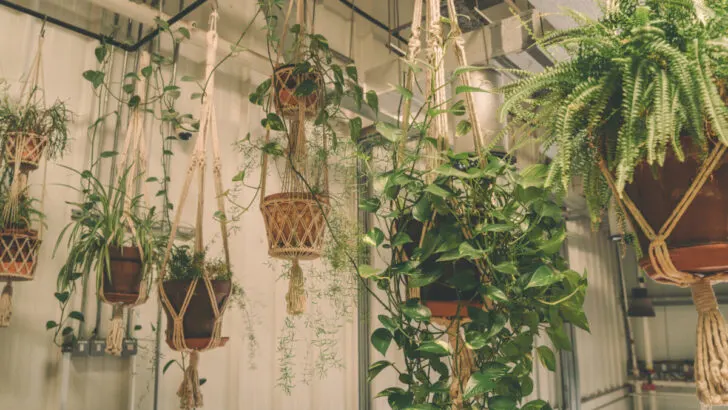 To install hanging plants, be sure to observe the amount of sunlight near your window. Many plants require quite a lot of light, and windows, unfortunately, let in a very sparse amount of natural light. Don't worry, though, because options like Spider plant, Snake plant, and Peace Lily always have your back!
4. Privacy Screen
Have a huge window to dress up? Install a rustic privacy screen and transform your interiors! Mostly made out of wood, these screens can give an aesthetic essence to your room and also provide you with a screening option.
Perch the screen halfway to let in some light, or close it completely when you want less interference! These screens work best in front of full-length or big windows because they mostly act as a door.
You can also go all out with the designs because wood can easily be customized with quirky colours and accessories like encouragements.
5. Stained Glass
Add a stained glass effect to your windows, and watch the mood of your room completely change! The best thing about stained glass windows is that there's no limit to colours.
You can choose any colour you want, according to the rest of your room. Light falling through stained glass also becomes slightly tinted, so be ready for a colourful room! Stained glass can also significantly reduce visibility, so you won't have to worry about privacy at all.
6. Wreath
Christmas is around the corner, and the smartest way to dress up your window is by using a wreath. Depending on the size of your window, choose a handsome wreath and either perch it on the sill or hang it in front of the window.
Using wreaths to dress a window cannot just save you from using curtains, but it's also a great way of getting into the holiday spirit. Once the festive season is over, you can replace the wreath with a floral one and keep it around the year so that your window always appears to be chic!
7. Herb Garden
Windows are a great place to start indoor gardening because it's less messy and has more outcomes. A herb garden can easily nurture right in front of your window, where you can experiment with growing herbs, spices, and much more.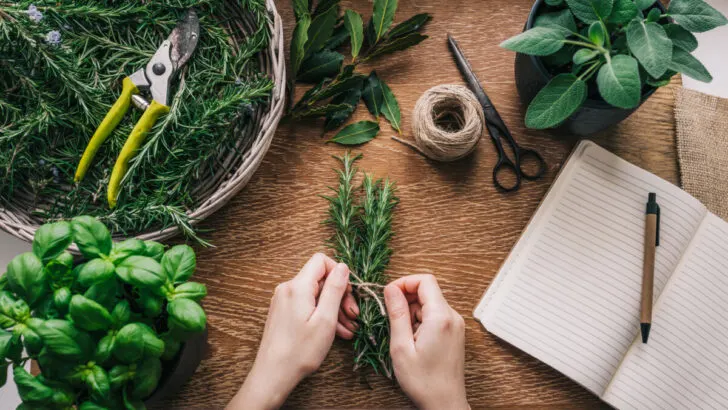 You can use small shelves or hanging racks to perch your herb garden but make sure that the soil is getting an ample amount of light. Placing a herb garden near your window can also liven up the dead space because all the family members can take part in the activity.
The idea of creating a herb garden is a perfect option for people who want to dress windows in their kitchens.
8. Window Shelves
Need help finding a place to keep your TV remote? Head over to the window! Window shelves go hand in hand with windows in the living room. You can experiment with racks, hanging shelves, and even storage boxes.
Use these shelves to store everyday items or decorate them with ornaments and showpieces. Window shelves may take quite a lot of effort to perch successfully, but the result will take your breath away! Remember not to place books or expensive items on these shelves because the direct light hitting might affect their durability.
9. Tie-Up Shades
Have a theme running in your interiors? You don't have to ruin it just because of one window! Choose tie-up shades and give a beautiful, chic look to your window. These shades, as the name suggests, can be tied up to block the light and also serve as a beautiful addition to the room.
Since they're made of fabric, you can customize them with sequins, paint, or even embroidery. They are quite see-through, so your window will be one aesthetic sight during the day when the shades light up.
10. Macrame
If your house follows a modern and trendy theme, there's no better way of covering your windows with macrame. You can experiment with size and color and also approach macrame artists to weave a customized macrame for you.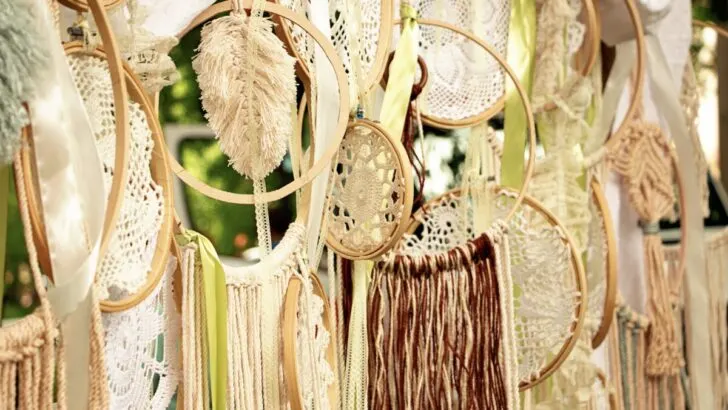 Since they're loosely knitted, you'll have rays of light filtered into your room, making it a pleasing sight for everybody.
Be vigilant about cleaning your macrame, though, because hanging it directly in front of a window means that you'll have to deal with a lot of dust. The good thing about macrame is that you can always give them a thorough wash!
11. Art
When all else fails, art saves the day! If you have an eye for DIY projects, use framed paintings or posters to change the look of your window. You can cut out various pictures from magazines and paste them on the window in an abstract manner.
This will cover your window nicely, add to the privacy and also give you a trendy corner. Don't use thick photo-grade paper, though, because that will completely block light from entering your room. 
If art is your go-to choice for dressing your window, you can also pick up a bunch of paints and start painting the glass!
12. Lace
If you wish to cover your windows subtly, lace is the best option! You'd have to make a few efforts, but the results will have you lacing up every window in your house.
All you'll need is a bit of lace and some adhesive. Cut the lace to fit your window panels and stick them on using transparent glue. Lace is super light and intricate, so it won't add weight to your panels and also allow you a bit of privacy. 
Go all out with the window patterns because the intricate patterns are in sundance!
13. Valences
Valences cover the top part of your windows and are a perfect choice for people who just want to accentuate their windows. You can explore the hundreds of designs and choose one which compliments the rest of the house. Valences make a good choice for dressing windows where privacy is a concern. You get awesome views through your window and also a chic cover at the top!
14. Ribbon Garlands
Want your windows to have a trendy, fancy look? Choose ribbon garlands and get ready to be greeted by pretty windows every time you walk into the room! Ribbon garlands are a very light addition to your windows and are a perfect alternative to conventional curtains.
You can choose from the hundreds of designs available, from glitter to colourful to even pastels. Ribbon garlands also don't involve any complex installation process, so be sure to check them out!
Final Words on Dressing Your Windows Without Curtains
Curtains have been an essential part of windows forever, but it's high time that you make the shift to other options. This guide has plenty of ways to improve the aesthetics of your window so go through them carefully to find yourself the right fit!