Gone are the days when basements were creepy or dingy places for storing old stuff. Nowadays, people have started utilizing their basements to their fullest potential.
Having a basement in your house always proves to be an added perk. Whether for storage or extra spaces, basements have now become almost a necessity.
A few common basement types that homes have are finished basements, crawlspaces, or a walk-out basement, among others.
If you have a basement in your house and somebody makes you choose between having it or not, there's a high chance that you'll choose not to let it go.
Understanding Different Basement Types
With so many types of basements available, it gets difficult to decide what kind of basement is the most useful.
The types of basements also depend on your usage; if you wish to have a basement as an inhabitable space, the architecture is a lot different as compared to using it for storage or as a den.
Though basements have become extremely common, there still are many houses that don't have that luxury.
This decreases their value by almost 70% because new buyers prefer houses that have added basements.
1. Finished Basement
Finished basements hold the most value in the real-estate business because of the convenience they provide.
You don't have to worry about any furnishings, plumbings, or other systems because that's what a finished basement already has.
This type is often preferred by new buyers, but it doesn't mean that you can't turn your current basement into a finished one.
Take care of the architectural finishings, get the electrical systems sorted, and have an external temperature control system installed; and there, you'd have a finished basement which would largely add to the resale value of your house.
A finished basement should look no different than the other rooms in your house. 
This means that all the walls should have proper varnishes, and none of the plumbings or constructional elements should be visible.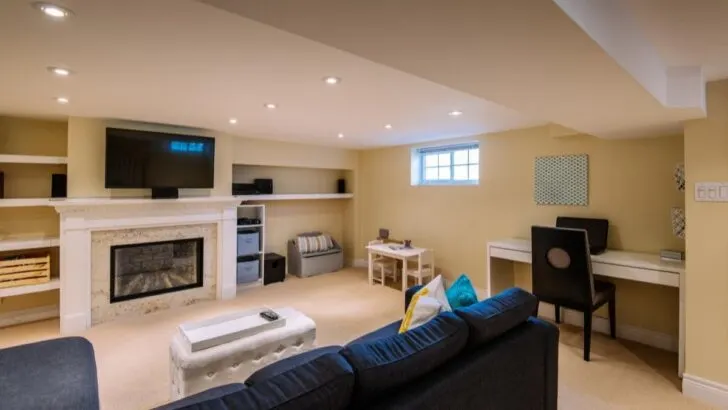 Finished basements also have access that is no different from the rest of the staircases in your house.
2. Crawlspace
Crawlspaces, as the name suggests, will have you navigate the basement by being on your fours.
These types of basements are rather unpleasant and are mostly used for storage purposes, as opposed to being inhabitable spaces.
In most cases, crawlspace basements have exposed plumbing that are meant to be accessed in case of any repair works.
There's a high chance that you never get to access the entire basement in this case because of all the jagged levels involved.
If you want your basement to serve as a live-able space, crawlspace basements are not for you. You can increase the horizontal and vertical area of this basement type, but the effort involved usually discourages the activity.
3. Walk-Out Basement
Walk-out basements have multiple accesses, which allow you to get into the basement from within the house, as well as the outside area.
This type of basement is another preferred choice amongst the masses because of its accessibility.
If you intend to use your basement as a place that has increased public activity, look into walk-out basements because that way your visitors won't have to navigate through the rest of the house.
In many cases, these basements also contribute to the overall facade of the house by having huge, overlooking windows.
The incoming daylight also reduces the dingy aspect of conventional basements.
If your house is under construction and your basement is not finalized yet, you can ask your contractor to transform it into a walk-out basement.
Pre-constructed basements can unfortunately not be converted into walk-out ones because of structural complications.
The best part about this type of basement is that any time you change your mind, you can close the exterior access and have your walk-out basement converted into a complete basement.
4. Walk-Up Basement
The main quality of a walk-up basement is its flight of stairs. These types of basements have you walking in and out through a major staircase.
They make an obvious choice in places where the ground level is not smooth.
The downside to walk-up basements is that it is always at the risk of getting flooded.
Since there are many slopes involved, water entering your basement is very commonly observed with walk-up basements.
However, you can get around the problem by installing anti-basement flooding systems. These will help keep your basement dry, but a lingering smell of water might still not be completely avoidable.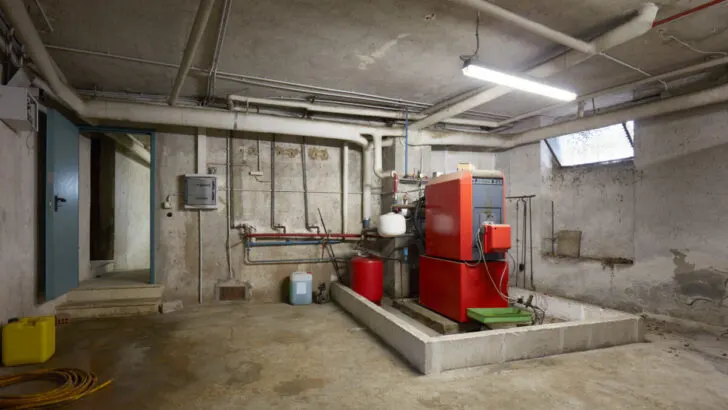 5. Daylight Basement
Ever seen a few feet at the bottom of the house having windows? That's probably because it has a daylight basement.
This type has small light inlets which allow the basement to be completely illuminated throughout the day. 
They usually have unfinished floorings and are also built a few feet above the ground. With the right kind of finishings and furniture, you can very well use this basement type as a liveable space.
Daylight basements are also useful for people who don't have much area above ground because this type can exceed the floor area of your house in most cases.
This allows you more space without having to build too much.
6. Sub Basement
Sub basements are basically the connecting element between walk-out/daylight basements and the rest of the house.
They are mostly used for storage purposes because of the limited area, and they also don't have any fenestrations.
Sub basements are not usually found in residential areas because of the construction hassle involved; people prefer having direct access to any finished basement type.
You also can't demolish or add a sub basement after the construction is complete because, for that, you'll have to demolish the whole house.
7. Cellar
Cellars are some of the most common types of basements found in homes.
They serve as excellent storage spaces, and the cold temperature helps you preserve edible items for an extended period of time. They're not typically very roomy, but they do allow a generous standing room.
The best part about cellars is that you can easily convert them into a room anytime you want. This allows you to expand on future possibilities while also being useful in the present.
Converting a cellar into a fit-to-occupy space might have you make a few revisions on the foundations though, so only take up on the task if you're willing to put in the effort!
Final Words On Types of Basements
Basements play a major role in adding or decreasing the value of a house. People nowadays have even started adding basements to their current houses just so that they can sell out at a better price.
There's no doubting the convenience of a basement; it provides you more with less. They largely help in a house's storage and can also double up as extra rooms without having you pay for additional floors.
If you've made up your mind about having a basement in your next house, these types will help in informing your decision.
Make sure you go through all the types briefly so that you know what you're getting into. Happy house hunting!