If you've been wondering how to make your bathroom more stylish, chances are you might be struggling with the right curtain size!
Choosing a shower curtain is a chore that is frequently overlooked. Therefore, it is beneficial to begin with knowing the standard shower curtain size, which is equally important in selecting the right look.
Shower curtains come in three standard sizes: 70 x 70 inches, 72 x 72 inches, and 70 x 72 inches. One of these three sizes will fit most of the showers in homes.
There are some exceptions, and if you have an oversized shower, a curved curtain rod, or a stall shower, you may require a different size.
Still confused? Don't worry; we will walk you through some simple steps for selecting the right size for your shower curtain. Let's get started with it.
Common Shower Curtains Options
You must also consider the style of the curtain you'd like to use as well. Shower curtains come in various styles, each with its own distinct characteristics.
Vinyl Shower Curtains
They are generally opaque shower curtains that repel moisture well.
If you prefer not to be completely shut off while showering, the choice of clear paneling is also available.
Cotton Shower Curtains
They have nearly limitless design options. Make sure to align a cotton curtain with a polyester or vinyl liner, as cotton tends to absorb moisture rather than repel it.
Decorative Shower Curtains
Suppose you are more into the form rather than function.
In that case, you might consider a decorative shower curtain, typically made of more luxurious fabrics, such as linen or faux silk, and paired with embellishments. You just need to pair it with a functional liner to avoid mold.
Hookless Shower Curtains
For a more streamlined look, skip the curtain rings and go with a hookless shower curtain, which glides directly over the shower rod.
Hookless styles are available in various styles and materials, including built-in liners.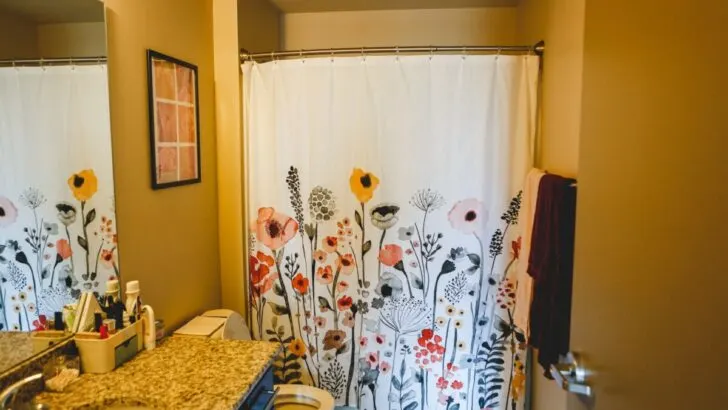 How To Find The Right Shower Curtain?
Now you know the different options available in the market, you must be wondering how to find the right shower curtain. Here are a few things to keep in mind:
1. Start With Measuring The Width
To begin, take the width of your shower curtain. Simply measure the length of your shower area from wall to wall with a tape measure.
Then, add about 12 inches to ensure the curtain can move freely while still reaching both walls and providing adequate coverage.
Pick a good curtain that is the proper size for the opening.
As previously stated, a standard shower curtain is available in one of three sizes that are; 70 x 70 inches, 72 x 72 inches, and 70 by 72 inches.
2. Determine The Position Of The Rod
If you haven't already installed the shower curtain rod, you'll need to figure out how to do so.
You'll also need to decide whether you want your rod mounted on the inside or outside of your shower.
Inside mounts fit precisely between the openings and lengthen from wall to wall. Outside mounts are more adaptable and can extend beyond the actual opening.
If you use a rod permanently mounted to the wall, always purchase a shower curtain before mounting the rod to adjust your measurements if required.
It's sometimes helpful to use a spring rod to temporarily hold the place of the curtain rod so that you can measure correctly. Once you've determined the rod details, you'll need to determine the curtain height.
3. Determine The Height Of The Curtain
Next, decide how high you want your shower curtain to hang from the floor.
Ideally, you would like to hang the curtain so the bottom is only 1-2 inches off the floor.
While there is no hard and fast rule, if you hang your curtain too high, it will allow water to leak and pool on the floor, while if you allow it to hang too low, it will cause it to bunch on the floor, causing mold or mildew to grow, or worse, you may trip over it while getting out of the shower.
So, it is better to measure the distance from the top to the bottom where the rod will go to the floor.
Subtract about 1-2 inches for the space between curtain panels and an inch for the hooks.
4. Unique Shower Curtain Dimensions
You should now have all of the measurements.
Remember that the standard shower curtain is 72 x 72 inches; give or take an inch or two.
They are made to accommodate a 60-inch tub and include 12 inches of additional fabric to ensure complete coverage.
If your rod and shower are standard sizes, you should be fine. Not all showers, however, are created equal. Below are some of the examples that deserve special consideration.
Extra-Large Showers
Although most homes and apartments have standard-sized showers and tubs, they are available in various sizes.
The good news is that if your shower is more significant than a standard 60-inch tub, you can purchase designer shower curtains ranging from 72 to 108 inches.
Another possibility is to purchase two curtains and hang them together.
You must be cautious with this option since you may have more than 12 inches of curtain left over based on the actual size of the shower. Tie-backs are sometimes a good idea in this situation.
Stall Showers
If you have a stall shower rather than a full-size tub, the basic measurements and method of measurement will be slightly different. Stall showers are narrower and taller than standard showers.
Stall curtains are usually narrower but bigger in size than standard shower curtains. They come in standard sizes of 50 x 78 or 54 x 78.
The stall's width is measured the same way a standard tub is measured. Measure from one end to the other with the measuring tape and add 12 inches to enable curtain movement.
Regarding height, ensure the curtain is long enough to stop water from spilling into the floor but not so long that it drags.
It must only reach the shower's curb, enabling it to direct water inside without posing a hazard.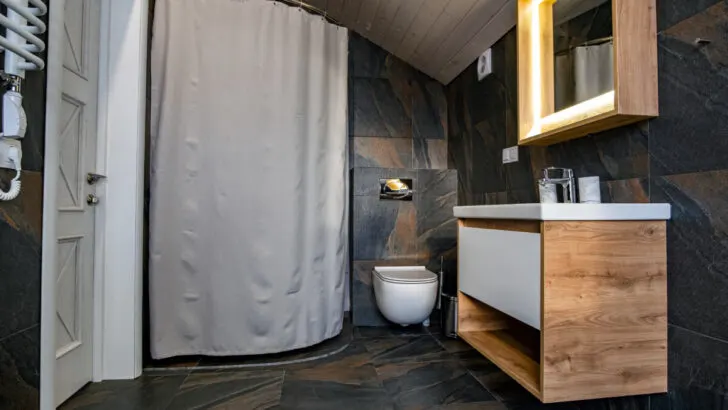 Curtain Rods with Curves
If you have curved curtain rods, measure the entire length of them. These are typically 6 inches longer as compared to standard shower curtain rods.
While the standard 72-inch curtain can still be used, you would get only about six inches of free-moving fabric.
Although this might still provide sufficient coverage, an oversized shower curtain is your safest choice in this situation. You might have to order, but the wait will be worth it rather than giving up the extra inches.
Other Suggestions For Choosing The Best Shower Curtain
Aside from ensuring that you get the correct size, some essential factors to consider when shopping for a shower curtain.
If your shower does not have a light, you should go with a sheer or transparent shower curtain that allows light to stream in from your windows and fixtures
Prevent mold growth. Mold will always be one of your shower curtain's worst enemies. Always use a liner to protect your curtain; if your bathroom lacks adequate ventilation, a vinyl curtain is the best option.
Consider the design of your bathroom. When selecting a shower curtain, you want to ensure that it will not compete with the rest of the decor in your bathroom.
When selecting a shower curtain, consider the style of your bathroom and the color palette you want to use.
Final Words on Shower Curtain Sizes
Finding the ideal shower curtain or the one that complements your space is much easier when you start with measuring the right size.
Therefore, keeping in mind the standard size of the shower curtain and the style of your rod makes the whole process painless.