Are you constructing a new building and are completely caught up in the numbers? Are you also one of those people who find the concept of square footage absolutely baffling?
You don't have to worry anymore though, because we have a guide that'll sort things out for you in no time!
The most confusing thing when determining the square footage of a building is the idea of a basement: should I include it? How much area should I add? Should I include it if it's completely underground? What if a part of it is above the ground?
Typically, basements are not included when calculating the overall square footage of the home. This is especially true if the basement is entirely below grade, or underground.
While this may vary to some extent, depending on the rules set by your county assessor, the basic notion remains the same, implying that basements are generally excluded or only some part of it makes it into the total square footage of any building.
For more info regarding the total living area of your locality, you can reach out to your county assessor's office.
Still figuring out how to work around basements? Let's help you get clarity by answering some common concerns: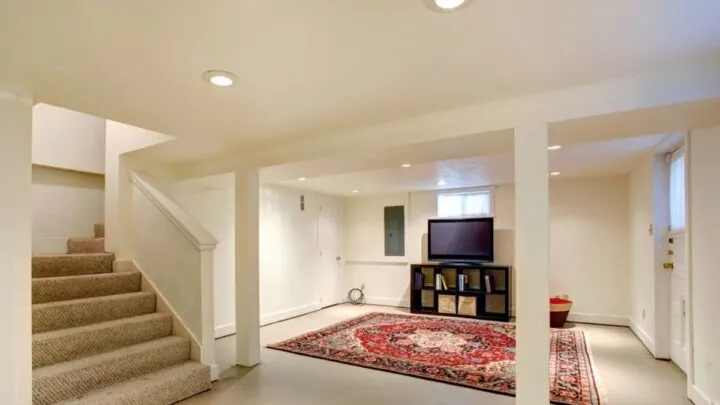 When Is The Basement Excluded From Square Footage?
Generally, a basement is excluded from the overall square footage when it's not finished or when some part of it is underground.
Putting HVAC units in your basement is also an important factor to consider, because unheated basements won't be counted either.
Having said that, you should always refer to cases in your locality and see how they've treated their basements because these conditions vary depending on many nuances.
To make things less complicated for yourself, having a look at precedents in your area is always helpful.
When Is It Included?
The legal regulations regarding basements vary from state to state, and sometimes different agents follow different rules.
You will often find that the state doesn't require the inclusion of basements in total square footage, but agents will include it in their projects so that it looks like it's a huge building.
This implies that you need to be very careful when you go to buy a home, because you don't want to be purchasing a house that is said to be 2500 square-feet only to realize later that 1200 of that is dedicated to a basement.
Entry And Exit Points
Safety becomes an important factor to consider when dealing with basements because of their enclosed and confined nature.
To avoid mishaps and ensure safety, a basement must have a legal ingress or egress so that there is an exit in case of emergencies.
These exits can be of any type and size, and will also be included in the total square feet.
Walk-out basements, windows, and egress are a part of Federal Appraisal Standards.
They cover the safety aspect quite well because walk-out basements lead you directly outside and can also be accessed from the interior of the house.
Don't get confused here though, because only the area which is dedicated to these services will make it to the square footage of the entire building.
Garden-level lot basements, on the other hand, don't lead you directly outside but instead are half-way above the ground level.
These types of basements let in natural light with the help of windows and also provide you with views, as opposed to looking at a boring egress window's well.
Basements Higher Than The Ground Level
If the basement is completely underground, it doesn't need to be added to the overall square footage.
Despite all these regulations, it is quite possible that you could be ripped off when buying a home, because as a buyer, people tend to only look at total square footage instead of studying its breakdown.
This makes it a bad deal because the built area on the ground has a lot more value, as compared to anything that is built underground.
It is therefore important to do your homework and compare the numbers you're getting with the listings, to make sure that the facilities and the amount of area is worth the money you're paying.
A basement will only be counted if its finishing matches all the other interiors of the house.
If you see a lavish house having a dingy, smelly basement, it is your call to either walk away or make a deal that is appropriate to the scenario.
Even though many experts have the opinion that a basement with concrete walls and carpets suffices as a "finished" one, you'd often see an appraiser disagreeing with that.
This is because it is generally regarded that all the finishing in your basement, including flooring, walls, and lighting shouldn't be majorly different from the rest of the house.
Conditioned Basement
Your basement should be livable and for that to happen, it should have a similar means of conditioning with the rest of the interiors.
It should be warm enough for it to have a chance of being counted in the total area. Incidentally, space heaters don't count in this case.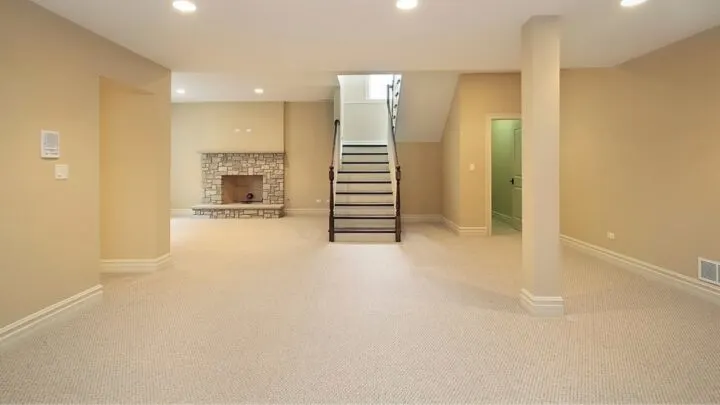 How Do Finished Basements Affect the Value of Your Home?
Square footage plays an important role in determining the price when it's commercial real estate, but that's usually not the case in homes.
This means that it doesn't really matter if a basement makes it into the total square footage or not. The important thing to note is its convenience and whether or not it is beneficial to the home.
If it does serve a purpose and is well-designed, it sure will add to the economic value of the house.
Basements generally don't have a high price per square foot, as compared to other levels. However, it still adds largely to a house's value.
A buyer is much more likely to pay more for a mediocre house that has a basement as compared to a lavish one that has none, regardless of it being either walk-out or below ground.
Real estate specialists suggest that you price a house based on its total living area and add a fair amount for the basement, depending on its finishes.
To avoid last-minute back-outs, you can also make an appraisal contingency as part of the offer.
The most important thing to bear in mind when deciding the value of your home is the amount of space that is usable.
What Is The Connection Between Financing And Basement Square Footage?
If you willfully choose to make the basement a part of the footage, you should be ready for a major impact on the financial aspect.
Square footage is an important factor when it comes to buying a house because it serves as a reference.
Your real estate agent will majorly focus on the square footage and show you properties that have the same living area.
You can then compare all those projects and come up with a fair price to offer. Appraisers do this as well to determine the actual value of the house, with the addition of an on-site review.
When deciding on your offer, square footage plays a key role and also helps you compare different cases. This makes the offer more accurate and enables you to be hopefully have a successful deal.
If inaccurate square footage comes into the equation, you can see the case get sketchier in front of your eyes.
This is because it not only gives you a wrong cost but also gives way to a whole lot of confusion.
If you and the seller make the basement a part of the square footage but the appraiser doesn't, you might lose the chance of completing your potential purchase.
Be Vigilant When Purchasing A New Home
Real-estate professionals witness such cases on an everyday basis, which makes it even more important to be on your toes while purchasing a new home.
Your house can dip from a good price to a mediocre one just because of a failed appraisal, so you must take all the things into consideration when dealing with a potential offer.
It is better to either negotiate with the homeowner in such cases or simply walk away, instead of wasting time, energy, and resources.
Also, if your basement is completely underground, government officials will not consider it when determining the square footage.
This means that if you're working on a government-sponsored project, you must look at their requirements before making decisions.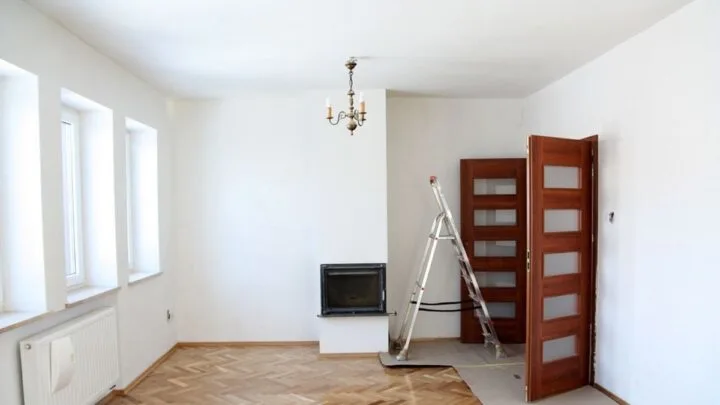 How Is Usable Square Footage Related To Basements?
The most important thing to know about usable square footage is that it has to be inhabitable. If the living conditions of your basement are not suitable, its square footage won't be counted.
A simple example of this is the space under staircases. Can you stand there?
If no, then that space is automatically deemed unlivable and hence, its square footage doesn't matter.
Every space of a house has certain criteria to meet and for it to be called a home, it needs to have appropriate height clearances, conditionings, and fenestrations.
You can have a lavish house with the best of everything; but if it doesn't have any doors or windows, it's suffocating and hence, unlivable. Square footage isn't applicable to such spaces.
It often acts as a way of determining the value of a home, but since total living area only means the spaces above ground level, basements often make the cut, regardless of how well or poorly they're designed.
Can You Add Finished Basements To Your Offer?
As discussed earlier, basements do play quite a role in deciding the value of your home.
They have many benefits attached to them and serve as a crucial space in most homes.
Many people have all of their clutter hidden away in a basement, and for many others, it serves as a space for kids.
The diverse nature of basements makes it a popular priority amongst people looking for new homes.
In many cases, the basement is also used to make temporary bedrooms with the help of partition walls.
Basement offices are also very common in homes nowadays, thanks to the world adapting to work-from-home methodologies.
It is therefore important that your basement is designed in a way that compliments the rest of the house; you wouldn't want to be taken by surprise every time you walk into your basement from your cosy little living room.
Thus, when buying a home or selling yours, you need to carefully assess the decision of including a basement in your offer or not because it will directly have an impact on the financial value and living conditions of your home.
If you're not attentive while communicating your offer and accidentally omit the basement requirement, you might end up walking away from a home you love.
Next comes how to decide the value of your basement.
Consider all the interior and conditioning aspects to come up with an amount that justifies the worth of your basement. If you quote an exorbitant amount when your basement clearly has architectural issues, you might face a lot of problems with the appraisal.
Conclusion to Basements Being Included in Square Footage
Buying a house or selling your own can be quite a tedious business, and if you throw in the woes of calculating square footage and it becomes mayhem!
You won't have to spend a lot of time on numbers though, because this guide gave you a well-rounded insight into the confusing world of basements, homes, and square footage.
If you're dealing with buying or selling property, you need to be well-versed in these domains in order to avoid any regrets in the future.
Go through this guide carefully and all your queries regarding basements will be answered thoroughly!